We interviewed Technopolis' project manager Minna Käenniemi and Leadoo Marketing Technologies' Customer Success Manager
Madeleine Jalava
to find out all about how the
conversion
platform helped Technopolis to gain better quality leads.
Technopolis are *the* experts in work environments. They offer flexible workspaces, beautiful offices, and related business services. These include meeting rooms, restaurants, parking and cleaning, to make life easier for their client companies, and to keep their office spaces looking spic and span. The company's mission is to create places where you always feel like you want to work. Technopolis has 16 campuses with 1,400 clients and 45,000 employees, spread over six countries in Europe.
According to Minna Käenniemi (Project Manager over at Technopolis), their main aims were to  improve both customer service and conversion rate on their website, and this is what triggered them to begin the search. But Leadoo's tools were desperately needed the most for situations where more extensive language skills and context were needed: the company wanted to be able to serve all business units in every country it operates in. 
Technopolis was familiar with several service providers that offered "do-it-yourself" bot solutions. However, they ended up with the Leadoo Conversion Platform primarily because of the service element: 
"Leadoo adds value, because their Conversion Experts are on hand to help where needed, and they take the time to gain a really deep understanding of our needs, meaning they know exactly what the purpose of each bot is," explains Käenniemi. In addition, she says Leadoo's Experts are well-versed in the conversion points we needed and where – on the basis of which, they offer a practically publishable draft of each of the bots required.
Käenniemi adds that Technopolis had made a clear decision from the beginning as to what the role of the bots would be on their site; Leadoo's bots were harnessed primarily to support sales and collect both contact requests and leads. In the first phase, the tools were introduced to streamline the collection of high-quality meeting space contacts and requests for quotations.
Käenniemi says that about 30,000 different meetings or events are held at Technopolis' premises, so the higher the quality of each contact request, the better it is for the sales team. "We need customers to visit the site to actually have anywhere to begin with collecting leads, but the higher the quality of each lead, the faster our sales team can act to convert them to a sale," Käenniemi concludes.
Technopolis' Leadoo-side contact Jalava says that the meeting room-specific presentation pages ended up with a traditional-style ChatBot, as it fits best on the page and is easy to manage, even though there are dozens of pages. 
"An InpageBot is well suited for a community-specific front page, where it works really nicely at the end of the page to round off the content and collect engagement," she concluded.
Technopolis used CRO integration with Leadoo tools. According to Käenniemi, when in the workspace industry, it's really important that the relevant, high-quality contacts for whom you have good contact information go directly to the CRM system, so that the salespeople can go through them, contact the customer and close the deal swiftly.
In addition, the bots feature Technopolis' stunning array of facilities in the form of videos and GIF animations, to give prospects a taste of what they have to offer.
Technopolis has used the bot on the conference room page for the longest time, and Käenniemi's colleagues have said that even just this solution has made their workflow much smoother as the quality of leads has improved.
Of course, it also helps improve the customer and employee experience – the bot has seamlessly collected and sorted the information, allowing the sales team to get in contact with each prospect straight away. According to Käenniemi, the bot asks qualifying questions, such as location or number of people, that humans taking bookings could easily forget, but now they get the right information- and consistently. That's another reason why Leadoo's tools have been praised, especially by the conference service team.
According to Jalava, the ratio of chat triggers to discussions within all ChatBots is about 6%, and almost half of those who begin a discussion are generated as leads. She also emphasised how InpageBot had also been utilised in other ways; to present campaigns, and to offer the ability to reserve meeting facilities as a temporary office to support remote working/flexible arrangements.
"Bots are one important channel to increase the interactivity of our visitors. They are now an essential part of marketing automation," Käenniemi summarises.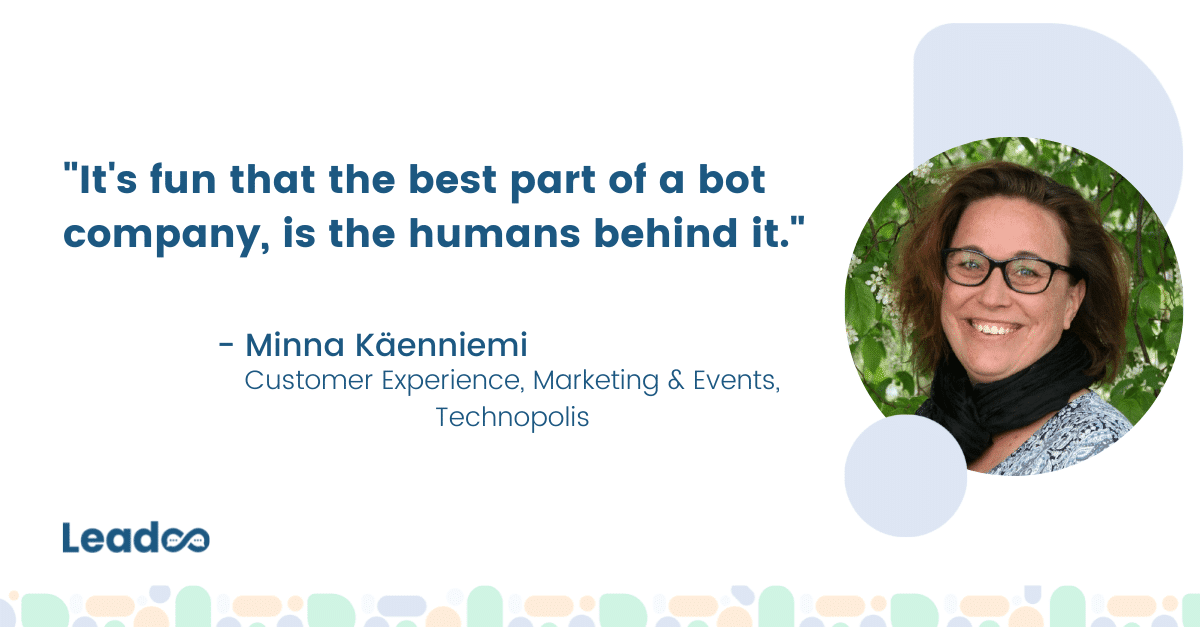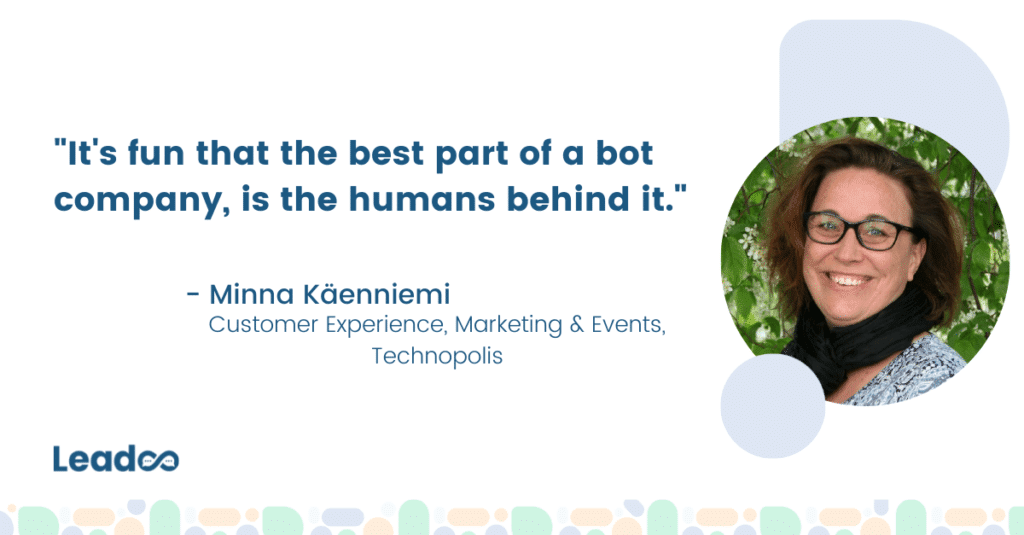 On the whole, Käenniemi says that the journey with Leadoo so far has been fantastic, and the company has been more than satisfied with Leadoo's service. She added that the translations into different languages ​​are handled quickly and the staff are possibly one of the best parts of the whole package. She emphasises how important it is for the client to have a named contact with whom they can have regular contact, and who knows the client's goals and aspirations as if in a bigger picture: 
"We've had the same contact person for a long time – Madeleine – and without her expertise we wouldn't have been able to achieve what we have. We can rely on her expert opinion and then work together on what we want to achieve."
Jalava also describes the two-year cooperation as close and fruitful. She says she is excited about the next development phase, where bots will start developing – such as by facilitating the scheduling of meetings and presentation of different types of office space. They have openly started testing new and innovative solutions, which has made the cooperation between Leadoo and Technopolis fun and easy.
"It's fun that the strength of a bot company is the humans behind it." smiles Käeenniemi.
As for the onboarding process, Käenniemi has only positive things to say; she describes Leadoo as fast-responding and agile, in addition to which their wishes were mapped and understood throughout the process. She explains how charmed his colleagues were when their Onboarding Manager was able to demonstrate with ease how simple and agile the Leadoo platform is and how easy it is to make changes to bots when, for example, a final check is made to the language version of the target country before going live.
Käenniemi recommends Leadoo's solutions to those who want to get that little bit more from their website. In addition, he praises the rich selection of bots, all of which they have not yet had time to try. 
"I especially like Leadoo for the future focus. The Experts keep us updated with what's new, what features are coming, and whether it's worth a try for different areas of our business. After all, we don't have time to get acquainted with the limitless possibilities of bot technology, so we appreciate such a service a lot."
If you want to hear more about how we can help improve your conversion rate, chat with our bot here 👇