InpageBot
Aloita konvertoivia keskusteluja aina oikeaan aikaan.

01
Aktivoi vierailijoita
Aktivoi verkkosivuvierailijoita kontekstisidonnaisilla keskusteluilla. InpageBotin avulla aloitat oikean keskustelun aina oikeaan aikaan, oikeassa paikassa. Saumattomasti verkkosivujen sisältöön uppoavat botit tarjoavat miellyttävän käyttäjäkokemuksen sivustovierailijalle – ja sinulle läjäpäin hyviä liidejä ja käyttökelpoista dataa.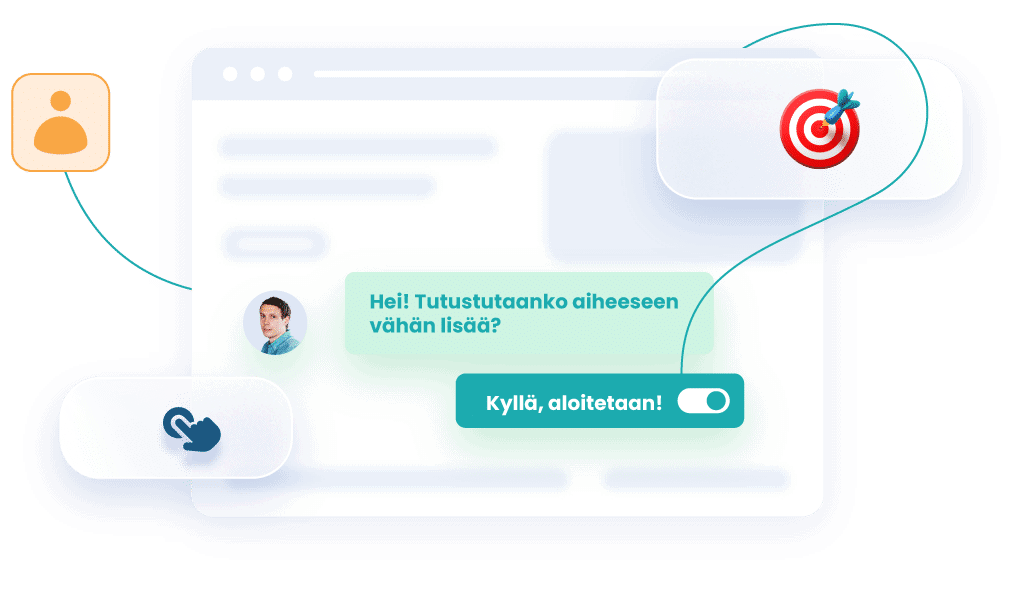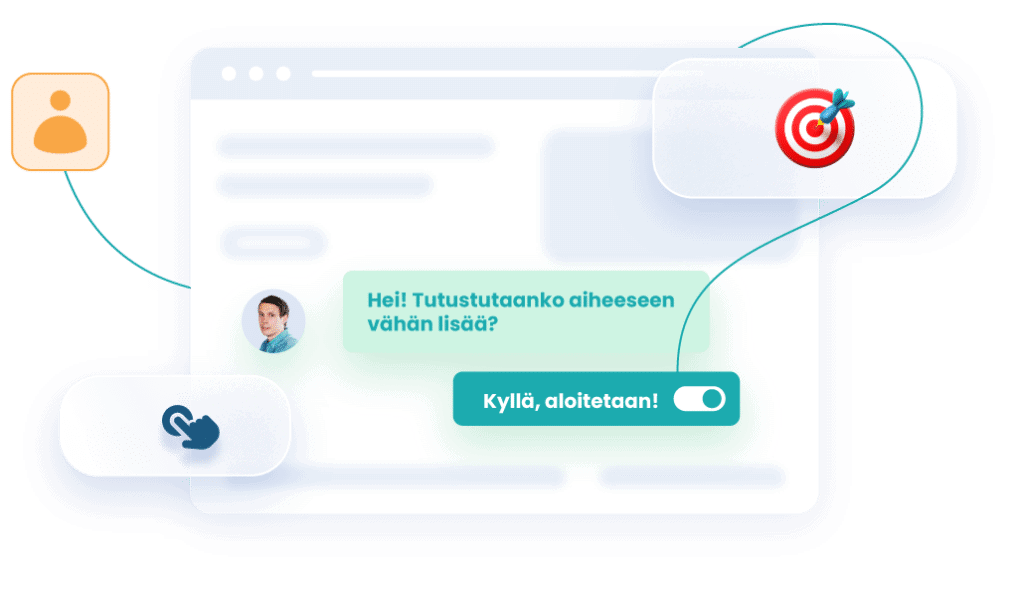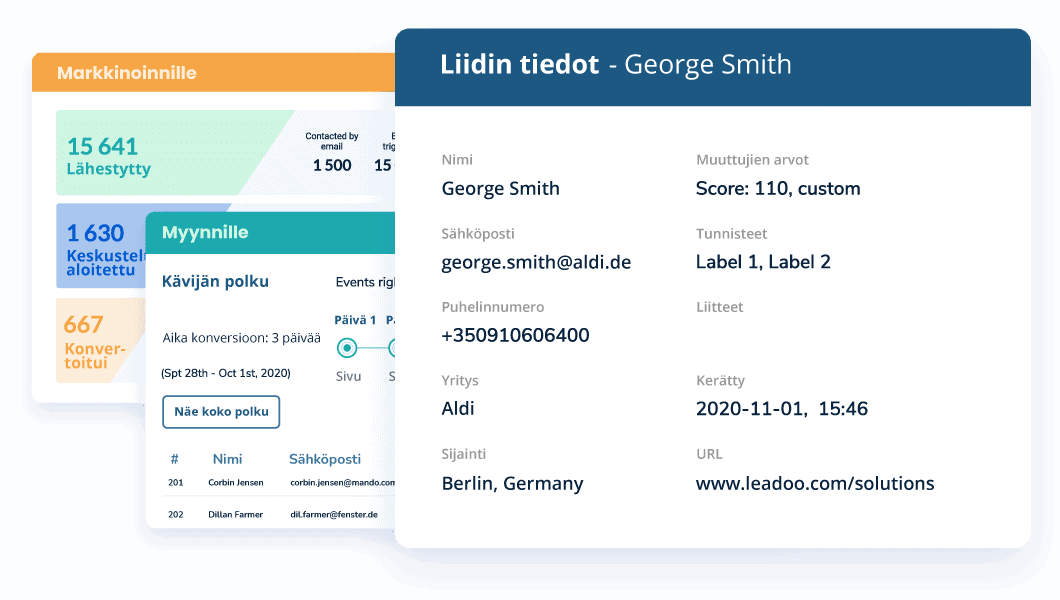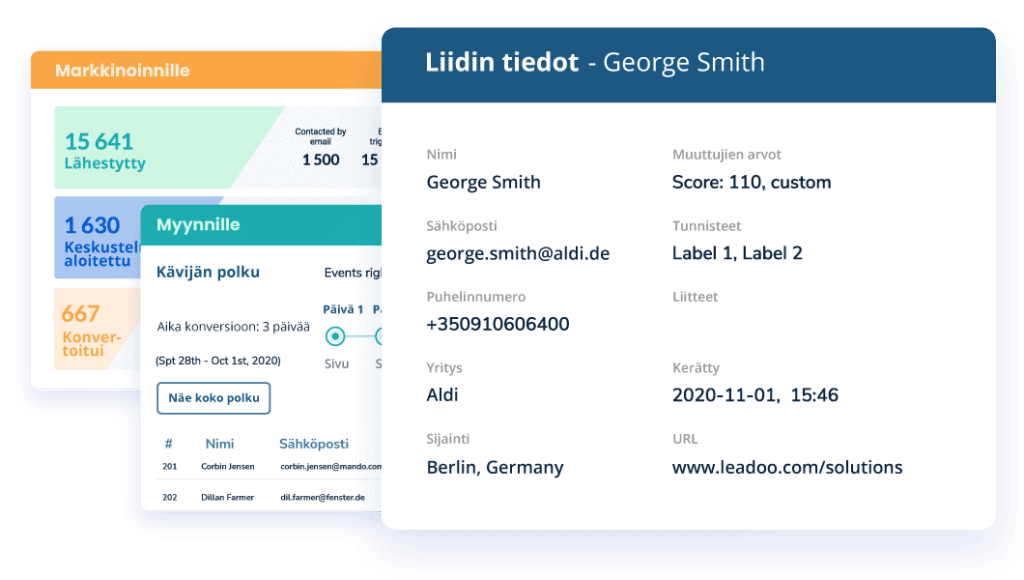 02
Konvertoi koko ostopolun matkalta
Tarjoa sivustovierailijoillesi mahdollisuuksia konvertoitua aina heille sopivimmalla tavalla, koko ostopolun matkalla. Provide customers with the ability to convert at every stage of the funnel, and book meetings directly onto your calendar for the best customer experience
03
Teknistä etumatkaa
Useimmiten verkkosivuille lisätyt ekstrat hidastavat sivun latautumista ja vaikuttavat negatiivisesti kävijäkokemukseen.
InpageBottien kanssa tämä ei ole ongelma. Olemme kehittäneet ne olemaan niin kevyitä, etteivät ne vaikuta lainkaan sivustosi latausnopeuteen. Ne myös toimivat saumattomasti ja sujuvasti kaikilla laitteilla.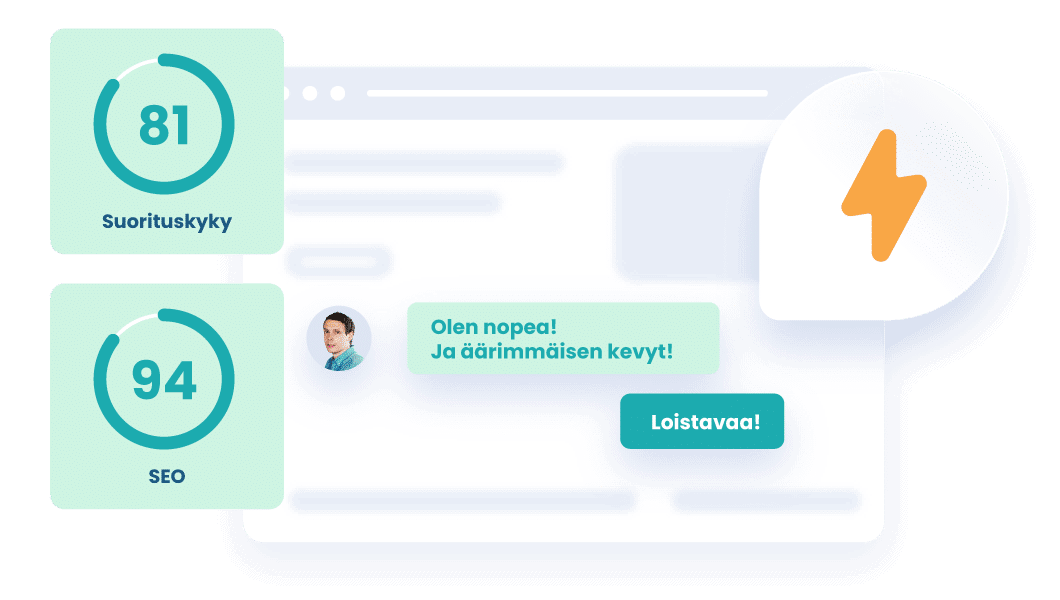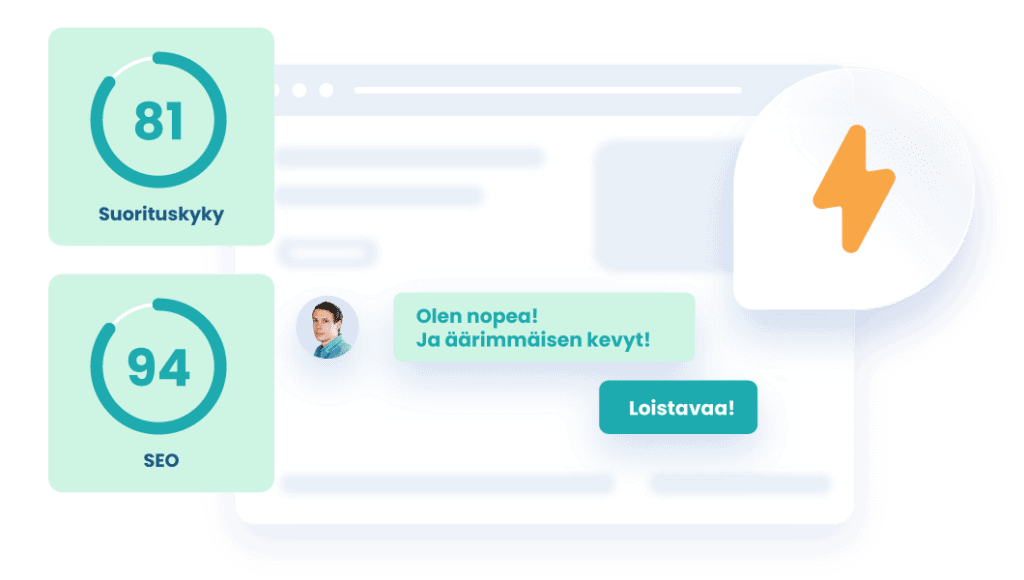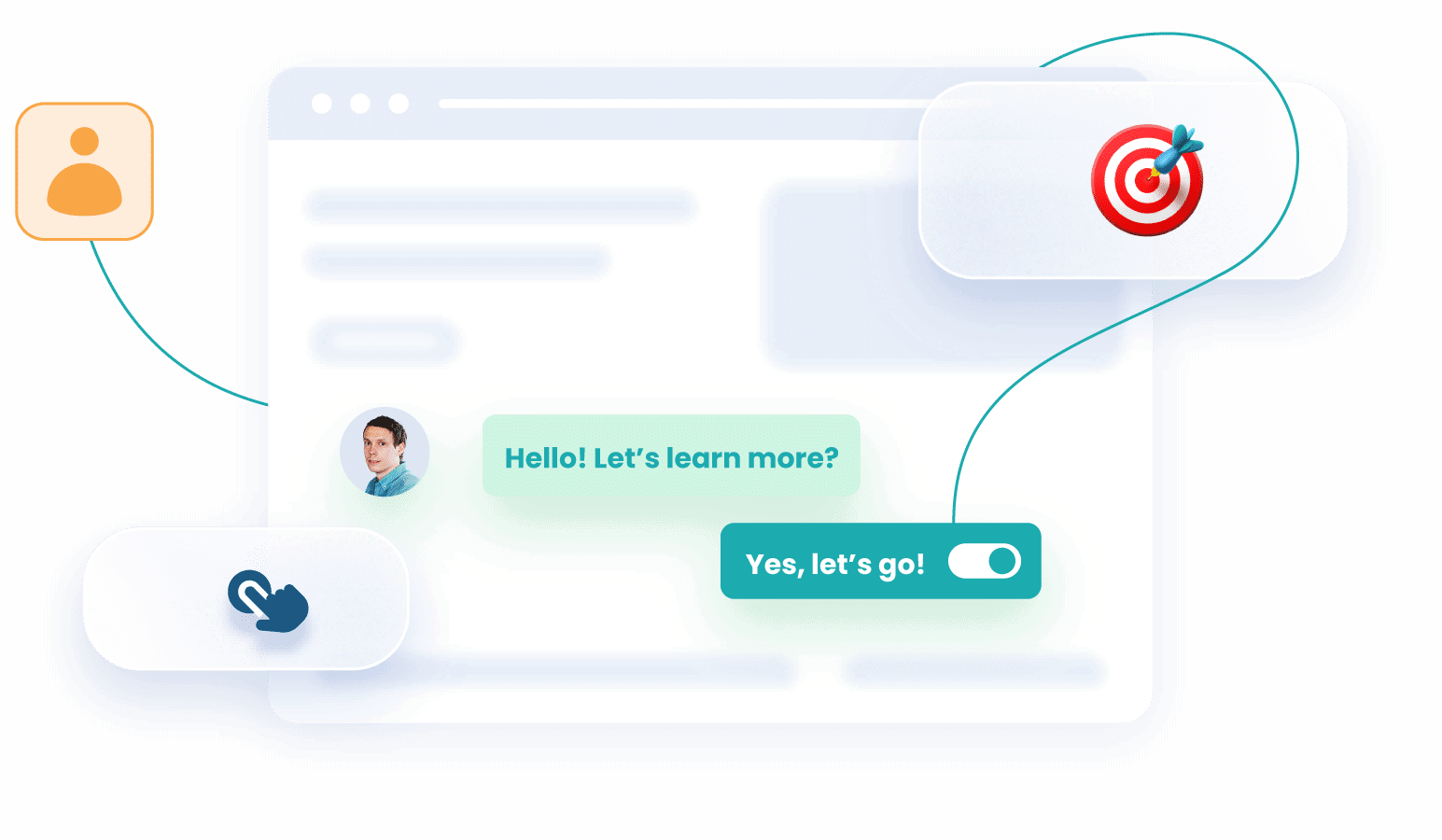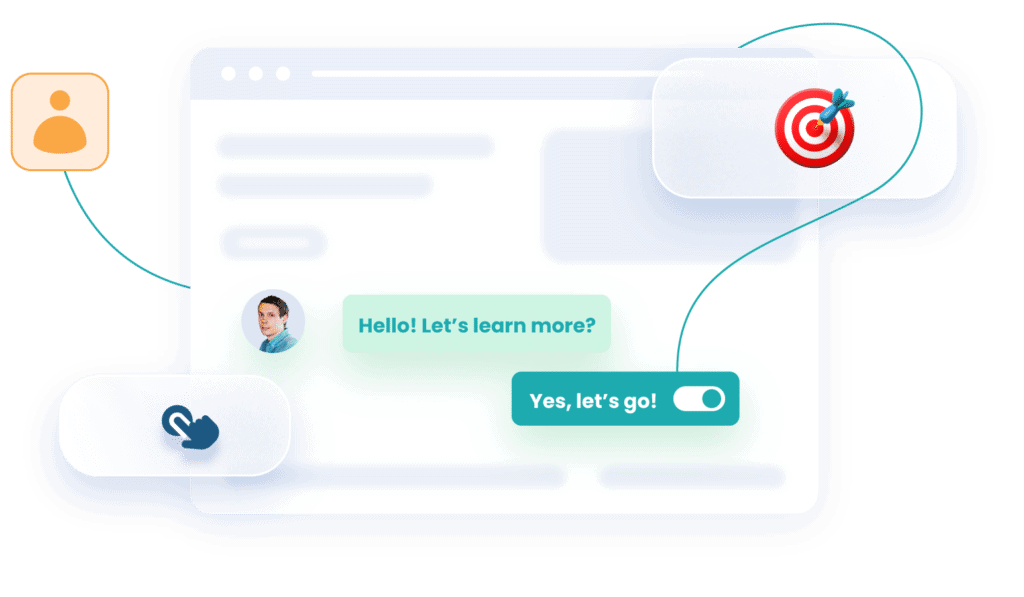 04
Parempi käyttäjäkokemus
InpageBotin kanssa otat helposti huomioon verkkosivuvierailijasi kokemuksen ja varmistat, että tämä saa tarvitsemansa tiedon aina oikeaan aikaan ja oikeassa paikassa.
Kokeile ja ihastu!
Voit käyttää InpageBottia käytännössä mihin tahansa, aina myynnillisistä tarkoituksista rekrytointiin, tai vaikka hauskojen testien tekemiseen.
Liidien generointi
Pistä InpageBot saumattomasti sisältösi sisälle aktivoimaan passiivisia vierailijoita, konvertoimaan heistä laadukkaita liidejä ja keräämään arvokasta dataa.
Testit ja laskurit
Sitouta vierailijoitasi tarjoamalla heille aktivoivia elementtejä, kuten testejä ja laskureita, joiden kautta kerrytät myös merkittävästi asiakasymmärrystä.
Rekrytointi
Tee avoimiin paikkoihin hakemisesta äärimmäisen helppoa ja henkilökohtaisen tuntuista. Pisteytä hakijoita heti hakuvaiheessa ja hoida esihaastattelut automaattisesti.