TWI Agency and Leadoo Marketing Technologies announce a strategic partnership – "Leadoo is the missing element that every website should have!"
TWI is a UK-based digital marketing and communications agency that delivers consistent cross-platform solutions for clients across the UK and internationally thanks to their creative thinking combined with practical methods and dedication to transparent service delivery.
Founded in 2008 as TWI saw the future potential of content-driven digital marketing, TWI has spent the last decade building a reputation as a leading communications and digital marketing agency.
TWI was quick to jump on the Leadoo Partnership Program as they've seen the added value the platform can provide to websites.
"We were getting great results for our clients in organic website traffic, but nowhere near the number of conversions we would have liked," explains Kate Everett, Managing Partner at TWI.
"We could see the problem, but not the solution," says Kate. "If you're not getting engagement and conversions, spending money on Google ads is pointless – you'll only get more of the same results. When we heard about Leadoo and saw what it could do we were really excited."
TWI has seen Leadoo in action – and also analysed the data and results. The increase in the amount of conversions vary depending on the client but number state the obvious: on average the increase in quality conversions is between 30% and 70%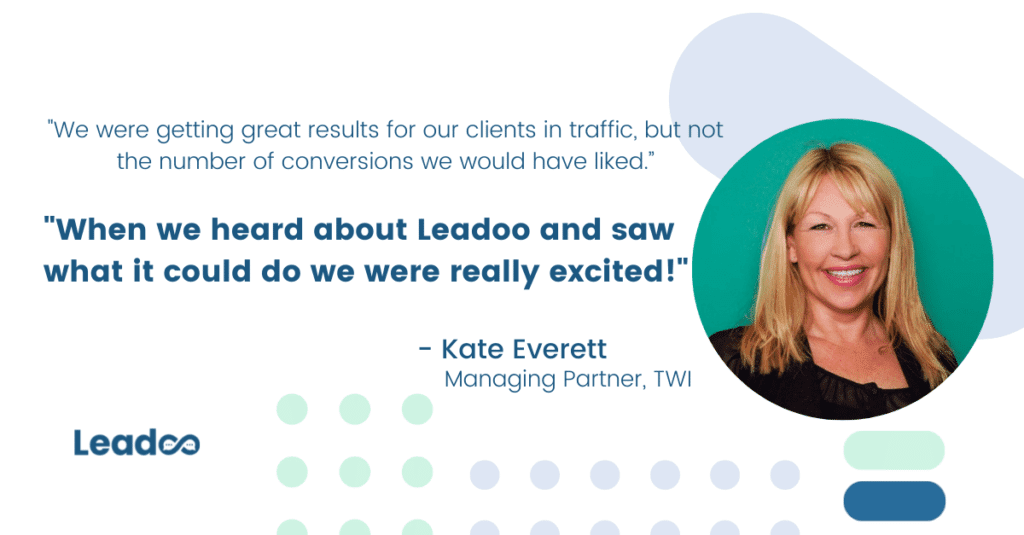 "We worked in partnership with the Leadoo team to go live with our first client, a public sector technology company and the results were incredible," continues Kate. "Within hours engagement and conversions were transformed – we got more leads in the first day than in an average 28 days and that pace has continued month-on-month."
"As well as creating valuable conversations and lead conversions, Leadoo gives us detailed insight into our individual users by company size, sector and product. Additionally we can see heat maps and threads that enable us to get a forensic view of every website visitor."
"Website conversion rate is a critical KPI. As an agency it's important that we always innovate and consider what's best for the client that may be beyond our capabilities. Partnering with Leadoo gave us the missing link in our marketing and communications cycle with the support of a team of experts to help us develop and deliver the best results," finishes Kate.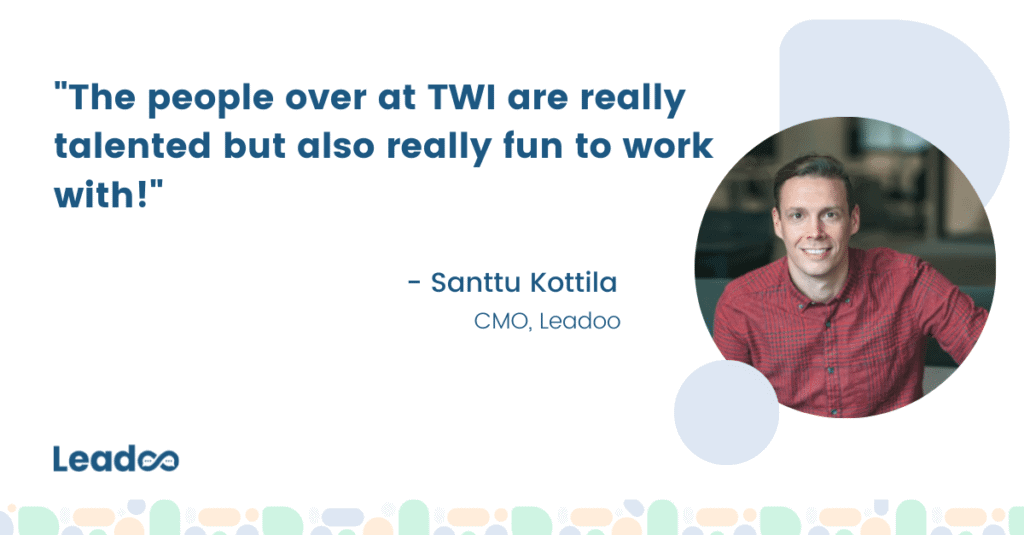 TWI and Leadoo are investing time and effort in educating companies about conversions and they've already lined up an event for December to raise awareness around conversion optimisation.
"Conversion optimisation has long been a myth where you are supposed to have a black belt in web development and at least a University degree in design in order to master it. We want to change that. Most of the time it's quite small and obvious things – and a lot comes down to figuring out ways to engage and interact with your visitors and not that much about button colours and placements."
Leadoo is really excited about the partnership with TWI. We see this as a great opportunity to do awesome things with the talented people at TWI.
"TWI has a solid track record helping companies in digital marketing and communications. Their take on the importance of conversions is really similar to ours, and so there's a lot we can do together. The people over at TWI are really talented but also really fun to work with," says Santtu Kottila, CMO at Leadoo Marketing Technologies (and the person orchestrating the Leadoo Partnership Program).
"My team loves Leadoo, our clients love Leadoo and it works. I just want everyone to have Leadoo on their website!" Kate concludes.