Leadoo are proud to announce (sorry, we know 'announcing' is a cliche now) that we have created a new partnership together with digital communications agency Salgado Kommunikation. Salgado Kommunikation is a Swedish digital marketing agency, with roots in social media. "From the beginning it made sense for us to partner up with Leadoo to bring our customers the most value," explains Oscar Flores Pena, Digital Marketing Specialist at Salgado.
Strategic Partnerships 🤝
"As an agency, we are our clients' strategic partner across various marketing channels and our experience is that a marketing strategy is never fully complete until you've figured out how you are going to one, drive traffic, and two, to convert traffic," explains Oscar, "In many cases, businesses put most of their efforts on driving traffic and tend to forget how they are going to take care of all that traffic."
Oscar recognises Leadoo's expertise in this field: "Leadoo is such an important partner to have, not only because of the flexible and smart toolkit they have to offer, but because they truly are the conversion optimisation nerds of this world," he smiles, "That is a friend every business needs."
Santtu Kottila, Chief Marketing Officer at Leadoo, values the close working relationship Leadoo holds with its partner agencies: "We get to work alongside so many excellent agencies such as Salgado, and each bring their own pool of clients, their own curious issues and conversion questions that need answering, and our team of conversion nerds (as Oscar put it) love to see what we can achieve in a new or different industry with different customer profiles. Our work alongside the agency is key in gaining a good understanding of the clients' customers and what they need so we can best support the agency in the implementation of our tools and solutions.
"Something else that we value about Leadoo is that they have always been, at their core, a conversion optimisation platform, with the customer conversations via chatbots as part of that Leadoo offers a great platform for chatbots that are easy to build, maintain and analyse/optimise performance of. We love building chatbots, and this is very much according to our own philosophy surrounding conversions," explains Oscar.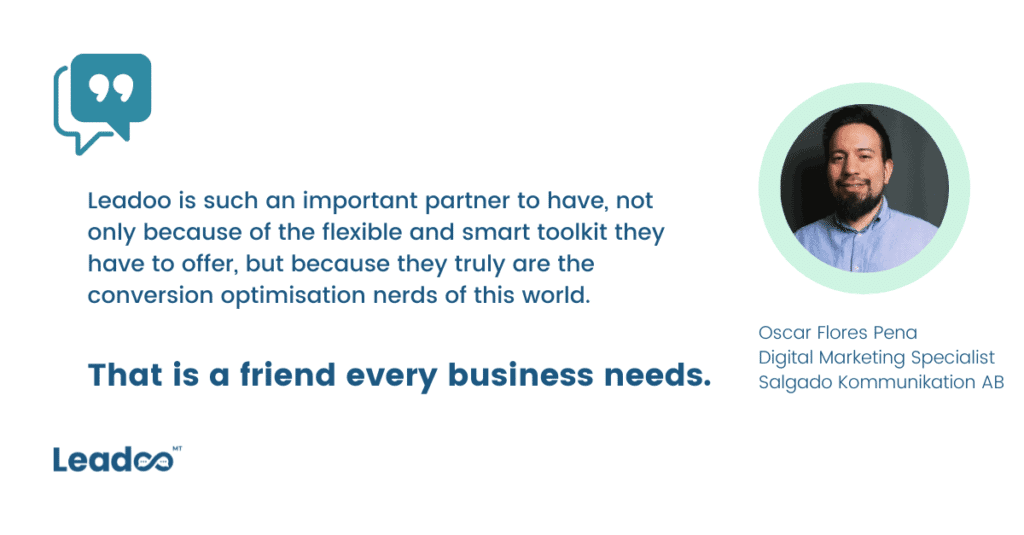 Continuous conversion optimisation is key 🔑
"A key part of our offering as a Conversion Platform is the support our Conversion Experts are able to provide, and with over 900 clients and thousands of bots built. Regular, collaborative conversion optimisation sessions are part of every package with Leadoo, and are your dedicated slot with a conversion expert to ensure you are continuously improving your conversion rate," explains Santtu.
Oscar agrees: "People's behaviour, opinions and preferences online are always changing and therefore we always recommend working with conversion optimisation continuously. Many businesses either forget this completely or see conversion optimisation as a one-time thing.
In many cases, businesses experience difficulties adding changes or tweaks to their site in order to optimise for conversions. But with a tool like Leadoo you can easily add different points of interaction and opportunities for users to engage. Together with the very intuitive analytics dashboards you are able to fully understand your marketing funnel."
"Often our sales teams are met with the objection that clients are about to overhaul their website, or that their website needs work. The reality is that conversion optimisation should be the focus of any and all improvements to your site – that is of course, if you use your site for converting, which most organisations do," Santtu continues, "Our experts can be involved in that process too, advising on placement of tools across the site and creating them in line with your wider strategy."
Oscar finishes by summarising his thoughts about Leadoo: "From prior experience I know that the Leadoo team are great people. From the very beginning, we at Salgado felt that partnering up with Leadoo was a great fit with the possibility of achieving great things together. We are looking forward to further exploring our partnership and the very exciting Leadoo platform that we now can offer to our current and future clients."
If you'd like to know more about partnering with Leadoo, get in touch via this page, or chat to the bot below 👇