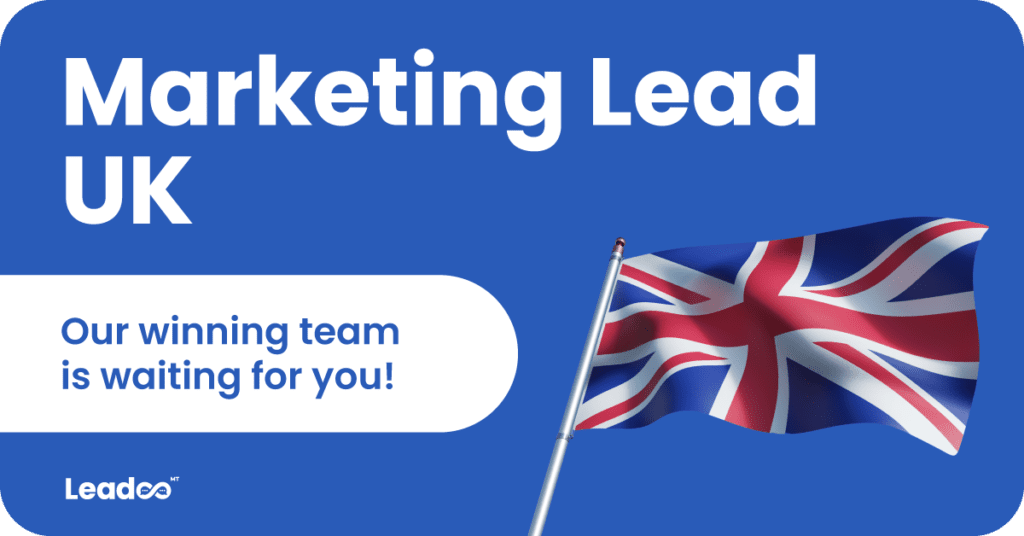 Are you a passionate marketer with extensive experience from strategic marketing and brand development in the UK market, and you are not afraid to get your hands dirty? Do you want to be part of an international martech company, with the mission of making sure our clients never miss a lead again? Then this could be your next career step!
ABOUT US
Leadoo Marketing Technologies has built a conversion platform to help it's clients convert more online sales and/or leads from their existing website traffic. Our technology is already being used by over 700 companies worldwide from global household names to local SMBs. Now, we are offering you an exciting position where you can really make a difference and show the world how good you are.
We have launched our UK operations in 2020 and look to expand the team that currently consists of 9 people. We have almost 100 clients from the UK from a wide variety of industries.
ABOUT THE ROLE
As a Marketing Lead, UK your main responsibility is to lead our marketing activities throughout the funnel. You will be responsible for planning and implementing our local marketing that thrives to support our growth both in the short and long term.
You will work closely together with our local UK sales team, BDR team and Onboarding & Customer Success team, and also with our global marketing team. You will be responsible for planning, executing and developing our UK marketing strategy together with key stakeholders (sales, BDRs, CS) and with the support from the global marketing team. In this role you will get your hands dirty by organizing online events, launching campaigns, writing (or coordinating) content efforts, and making sure we are visible in the right communities, events and expos.
We work remotely so this position could be based anywhere but preferably in the European timezone.
In more detail you will focus on the following:
Plan, implement, manage, monitor and constantly optimize the local marketing plan

Work closely with the sales team to make sure we hit our growth targets

Work closely with different external partners (eg. relevant communities, event organizers) in order to gain the benefits of those partnerships

Be an active and strategic partner for sales planning in UK

Last but definitely not least: be willing to roll up your sleeves and get your hands dirty as we are not looking for someone who sits behind the desk!
WHO YOU ARE
We think you could be a great match for the position if you possess the following traits and capabilities:
5-10 years of experience in marketing

You know how to build and execute marketing plans

You don't need an agency to do everything for you. Instead you like to produce things on your own

You possess a wide network of relevant decision makers (CEOs, Sales Directors, Marketing Directors, agencies) and preferably have a reasonable following on LinkedIn

You are not afraid of sales people, and hopefully you'd enjoy doing a bit of sales yourself too

You have the hunger to show the world what you've got

Past experience from SaaS and/or MarTech products is considered an advantage

You have work experience from a media company, marketing agency or from a digital agency

A university or college degree at the bachelor or master level, or comparable working experience.

Your career experience proves you can motivate people around you by leading the way

The entrepreneurial spirit is in your DNA and you would describe yourself as a strategic person who has excellent implementation skills and passion to drive things into action

Colleagues see you as a problem solver and forward thinker. Fast-paced and complex environments do not scare you, on the contrary they make you thrive! You navigate new territories by taking ownership and driving new initiatives forward

Native English speaker, you are an expert communicator and negotiator
Apply here 👇 
WHAT WE OFFER

A once in a lifetime opportunity to join a rapidly growing MarTech company

The opportunity to work in a global but compact company with 80+ sales and marketing experts

Our Team UK full of enthusiastic professionals waiting for you to join us

Support from our global marketing team that consists of a Growth Marketing Manager, Content Manager, Video Producer/UX Specialist, Graphic Designer, and CMO

State of the art tools and software

A start-up culture with minimal bureaucracy and maximum opportunity for you to take charge of your work

International and highly supportive working environment with the opportunity to learn and grow beyond your current responsibilities

Flexible working hours, WFH

Base salary £50,000-60,000 per year + benefits + bonus structure 10-15% of the base salary
If you have further questions about the job, don't hesitate to reach out to our CMO Santtu Kottila, [email protected].
We will be hiring the right candidate as soon as we find one, so don't wait too long to apply!