Welcome. We know talking to people is a lot.
That's why we've made it so you don't have to.
Our team are pretty awesome, but no hard feelings if you don't want to come and speak to us today. You can read all about what we can help you achieve right here. And, if you like what you see, you can even book in an online meeting with one of our team – all without needing to speak to a single soul.
If you're feeling brave and you fancy a side quest to spice up your day at the event – as well as the chance to win some awesome, secret, introvert-only prizes – click the option for the curious on the bot below.
Leadoo helps you turn your website into your best performing sales channel
Complete set of conversion tools from in-content widgets to calculators, tests and chatbots to help you activate your passive visitors.
Understand your inbound prospects with in-depth journey analytics and insights, 0% cookies, 100% GDPR compliant.
Superlight tools that are quick to load, offering awesome UX – without the hit on your website SEO and technical performance.
Close more deals by alerting sales people automatically whenever a prospect is visiting or interacting on your website
A unique combination of tools, insights and expert support to ensure your website is always aligned with, and working for, your sales and marketing strategies.
Personalised website experiences meaning a better experience for visitors, helping you build rapport and convert more.


01
How to convert an introvert with Leadoo
Contextual, personalised conversations are the new gold standard in website experience. 98% of your visitors leave without a trace – using the tools within Conversion Kit means you can activate these passive visitors and understand their intention in the process.
30-70% increase in conversions
Personalised website experience for visitors
Alert your sales team when a live prospect is browsing or interacting on your site
No coding skills required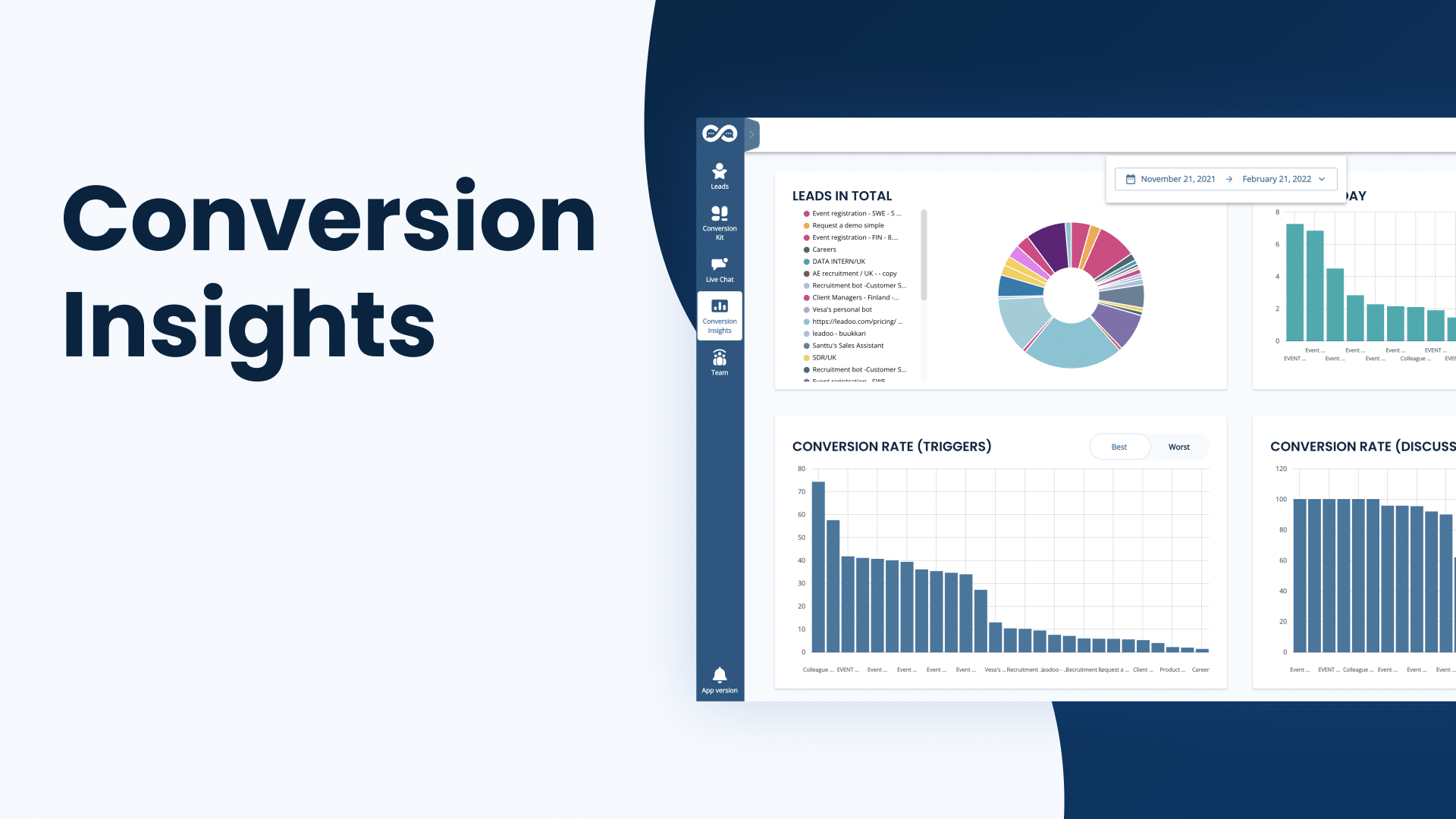 02
Take a magnifying glass to your visitors and their behaviour 🔎
Understand the behaviour and intention of your website visitors, including multi-touch attribution, to inform your marketing decisions. See your lead data, identify visitors, identify trends down to conversation level, track visitors' interactions across your site, and monitor conversions – all from one user-friendly interface.
Identifying visitors, companies and their needs
In-depth analytics of buying funnel and how visitors behave
Make proactive changes to increase conversions
03
Continuous improvement and support from our experts
There is nothing worse (or more wasteful) than investing in technology, only to be handed the keys and for the vendor to disappear into the sunset, never to be seen again. That's why our in-house conversion experts will meet regularly with you to optimise your site – providing a world class onboarding and customer success experience.
Initial bespoke solutions built by our experts with your goals in mind
Full training provided on the platform and metrics
Regular optimisation sessions to continuously improve your results