If conversion rate is on your marketing agenda this year (it should) and if you're anything like most people (uniquely ordinary!) – then you will be interested in conversion rate benchmarks from around the world, and especially in your industry or vertical. 
Because.. Knowing how others are doing is key to beating them, right? 😉
I've collected a list of resources on conversion rates to save you the trouble. Find the most impressive conversion benchmarks and get inspired to crush your conversion goals. But first..
What is a good conversion rate, anyway?
It depends. (sorry)
Conversions come in many forms. At the most fundamental level, conversions are actions that you want your website visitors to take. Actions like: making a purchase, booking a demo, downloading a material, signing up for a webinar, requesting a quote, and so on. 
Conversion type naturally affects conversion rate. The reason is simple. For example, booking a demo with a salesperson is a much heavier commitment than signing up for a webinar.
The general rule is, that the closer you get to the point where money is exchanged, the harder it will be to convert people.
Conversion difficulty increases hand in hand with conversion value.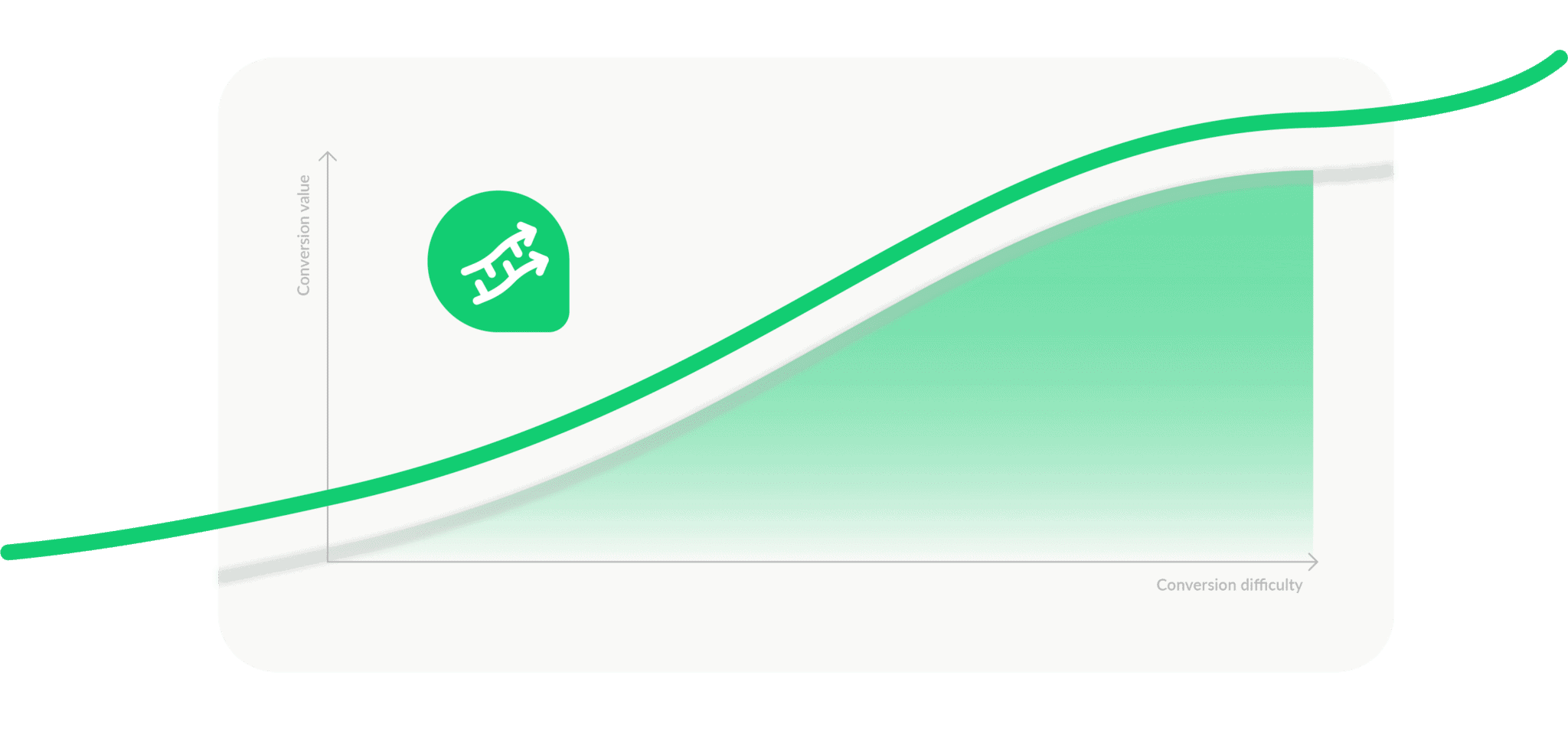 Besides this, tens of other variables impact conversion rate (incl. landing page content, CTAs and more), so it really is near impossible to compare conversion rates directly between two or more different cases.
Unfortunately, I cannot say what is a good conversion rate in your case.
Hopefully these conversion benchmarks, resources and stats help you form an image of a conversion rate that you can aim for. New to conversions and conversion rate? Be sure to check out this article as well.
Landing page conversion rate benchmarks
Median conversion rate for landing pages in 16 industries: 3.2%
Average conversion rate for landing pages in 16 industries: 9,6%
Top performers (75th percentile) convert at a median conversion rate of 25%
Half of marketers would be happy with a conversion rate between 6% to 15%
25% of marketers would only be happy with a 20%+ conversion rate
(Source: Unbounce)
Based on these numbers, marketers have high hopes, but that actual conversion rates are lagging far behind expectations.
Average landing page conversion rate: 2,4%
Median conversion rate in B2B is 2,2%
Top performing landing pages (75th percentile) convert at 5,3% or more
Best in class landing pages (90th percentile) convert at 11,5% or more

(Source: WordStream)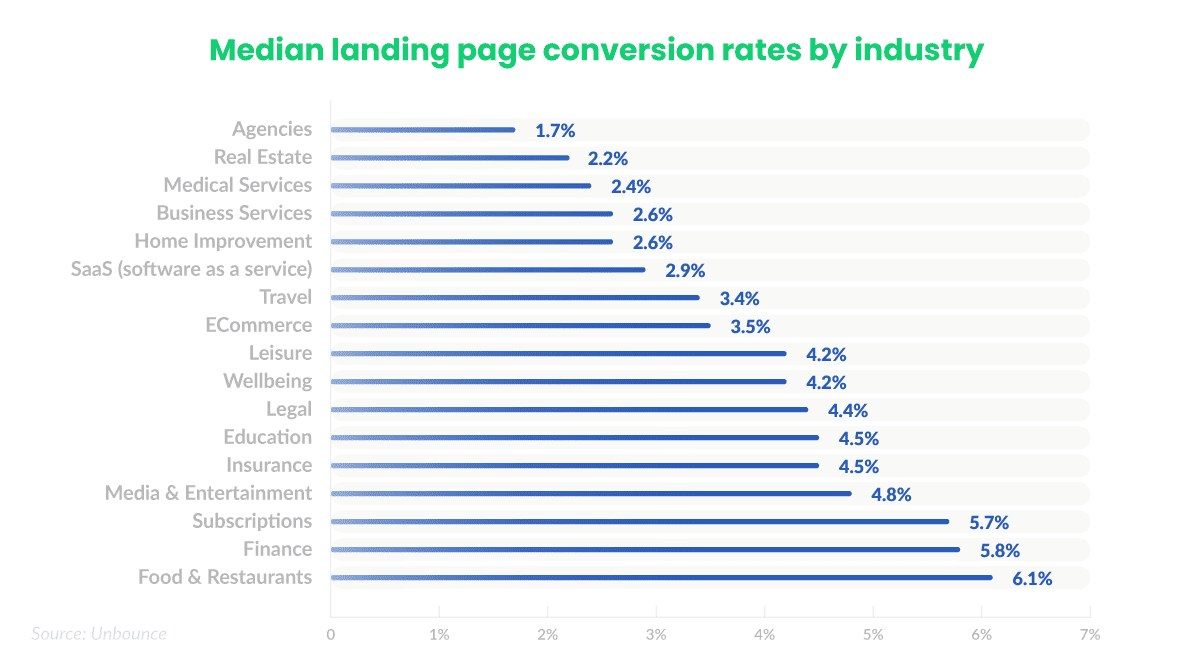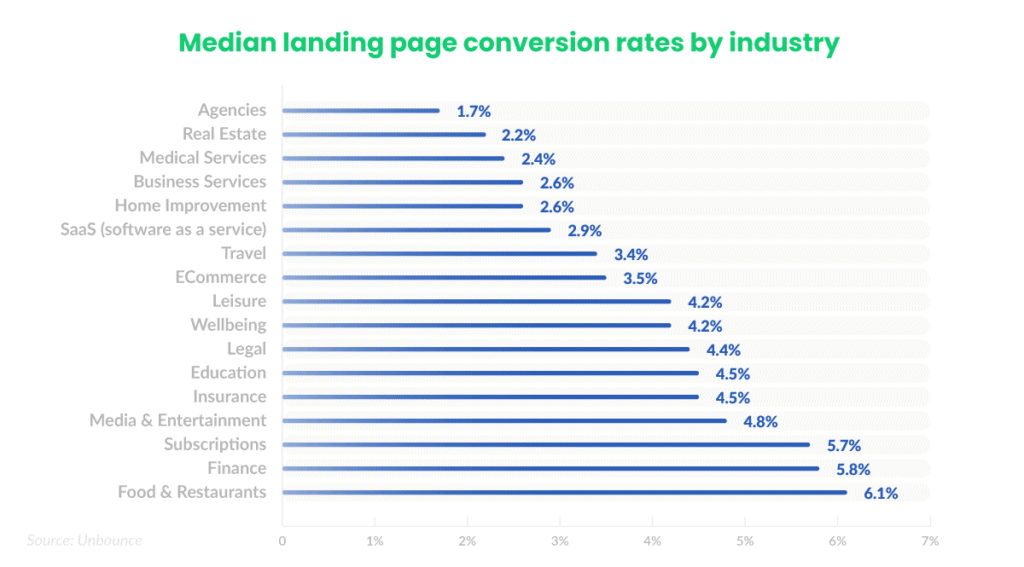 Median landing page conversion rates by industry
SaaS (software as a service): 2,9%
ECommerce: 3,5%
Subscriptions: 5,7%
Agencies: 1,7%
Business Services: 2,6%
Food & Restaurants: 6,1%
Education: 4,5%
Leisure: 4,2%
Finance: 5,8%
Insurance: 4,5%
Wellbeing: 4,2%
Home Improvement: 2,6%
Legal: 4,4%
Media & Entertainment: 4,8%
Medical Services: 2,4%
Real Estate: 2,2%
Travel: 3,4%
(Source: Unbounce)
Average conversion rate by traffic source
Average conversion rate (traffic source: Organic): 16%
Average conversion rate (traffic source: Google Ads): 3,8%
Average conversion rate (traffic source: Paid): 2,5%
Average conversion rate (traffic source: Social media): 0,7%
(Source: WebFX)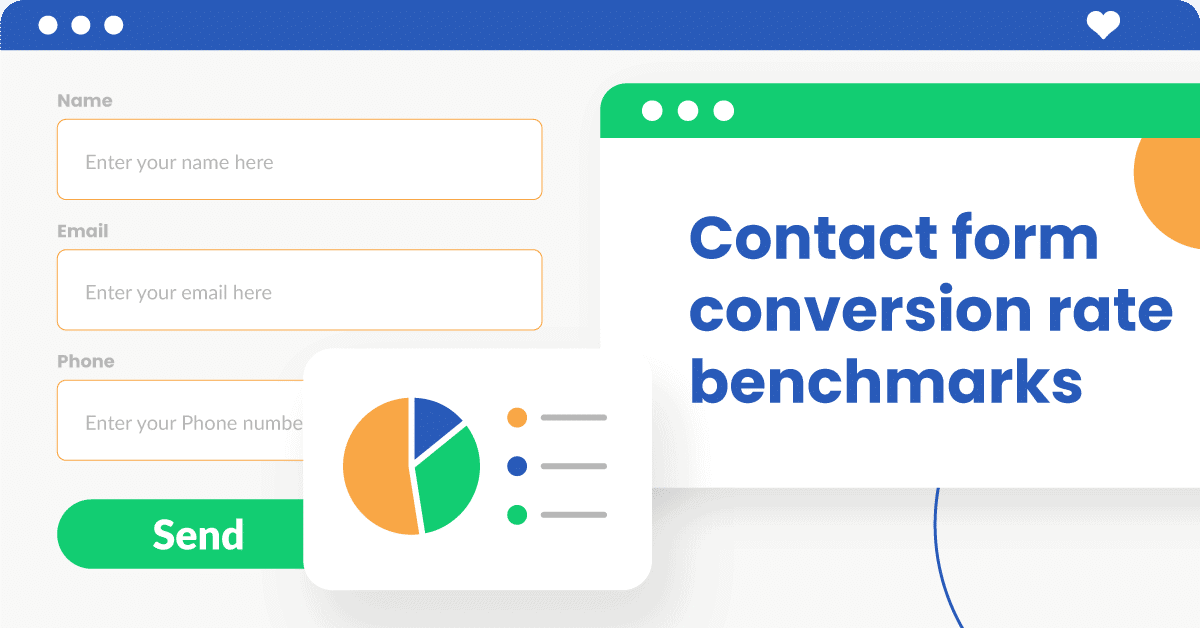 Contact form conversion rate benchmarks
Median form conversion rate across 16 industries: 2,2%
20% fewer conversions from forms in Business Services than other industries
30% higher form conversion rate in Finance & Insurance than other industries
40% higher form conversion rate in Legal than other industries
2X form conversion rate in Media & Entertainment compared to other industries
18% lower form conversion rate in Real Estate than other industries
(Source: Unbounce)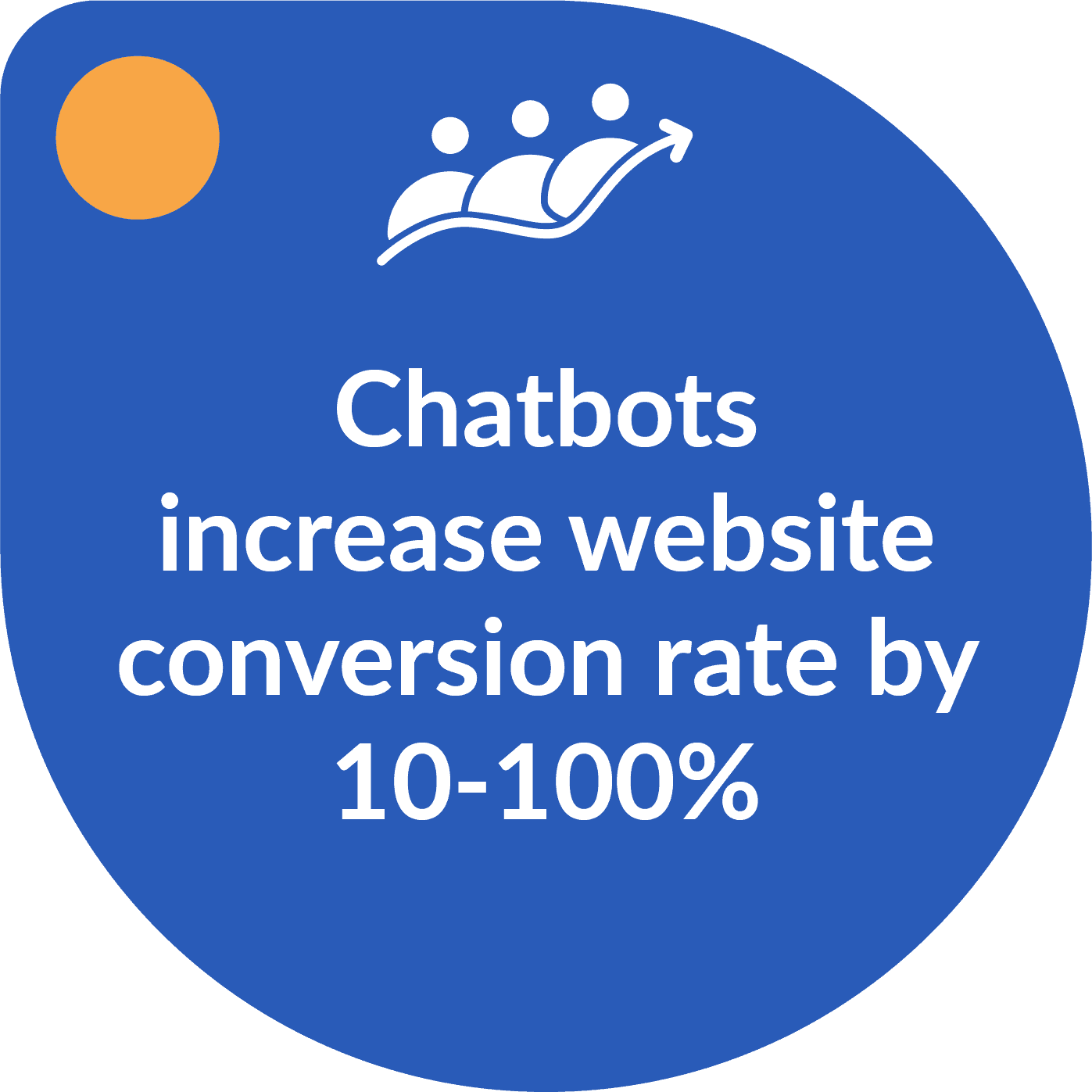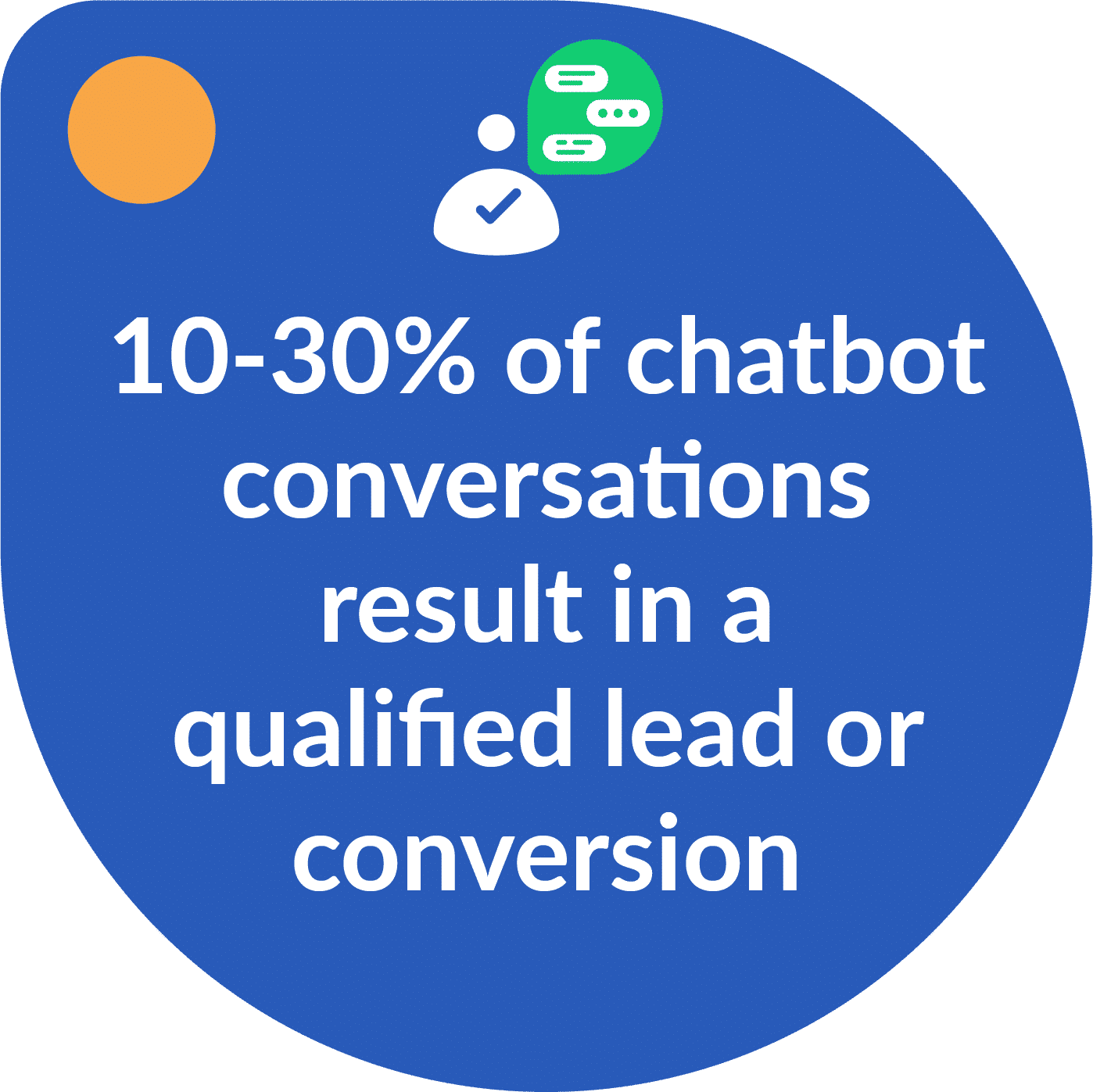 Chatbot conversion rate benchmarks
Chatbots are a great alternative to traditional conversion methods, like static contact forms. You can find industry-specific chatbot conversion rate benchmarks in this report. 
Two overall chatbot conversion insights:
Chatbots increase website conversion rate by 10-100%
10-30% of chatbot conversations result in a qualified lead or conversion
(Source: Leadoo Marketing Technologies)
Conclusion: how to benchmark conversion rate?
First of all, reliable conversion rate benchmarks are hard to come by. In many cases, percentages are thrown around without much context, even though conversion rates are always highly contextual.
Based on the figures above, the median landing page conversion rate lands between 2-4%. Averages are in this case less reliable, because extreme values distort the big picture.
For most companies out there, reaching a 5-10% conversion rate will deserve a pat on the back. Keep in mind, however, that in certain cases even a 10% conversion rate can be considered a failure.
It just depends.
Whatever your relationship to conversion rates, remember that you need to consider several factors when doing any kind of conversion rate analysis. The most notable ones include your industry, conversion type and traffic source.
By the way, there are some extremely effective ways to destroy your conversion rate. Find out what they are and how to avoid them in this article.
At Leadoo Marketing Technologies, we're working to disclose the truth about chatbot and conversational conversion rates. Watch this space for more data on those.
Read this next: Complete Guide to Conversion Rate and CRO.
Useful links
Here's a collection of links to useful resources on conversion rate benchmarks: