Every sales professional needs a tool to help book meetings and close more sales. So we made one. And even better? It's free.
We are super proud to release our newest (and coolest) product within the Leadoo Conversion Platform – the Leadoo Sales Assistant. It's been carefully designed, with a bit of Finnish love, for salespeople to help them save time on mundane tasks that don't help them close deals. If you are already convinced create your own sales assistant in just a few minutes here.
Our new tool allows you to book meetings hassle-free, calculate price estimates, give quotes and answer frequently asked questions without having to actually be there. That means you can generate interest and opportunities to close more deals with minimal effort or time spent. #Winning.
For the first time ever, we've made it possible for individuals to take advantage of our cutting-edge conversion platform capabilities, all in the form of your very own personal assistant. We're introducing Leadoo Sales Assistant BETA. Anyone can start using Leadoo Sales Assistant in just two minutes – and the best bit is it's completely free!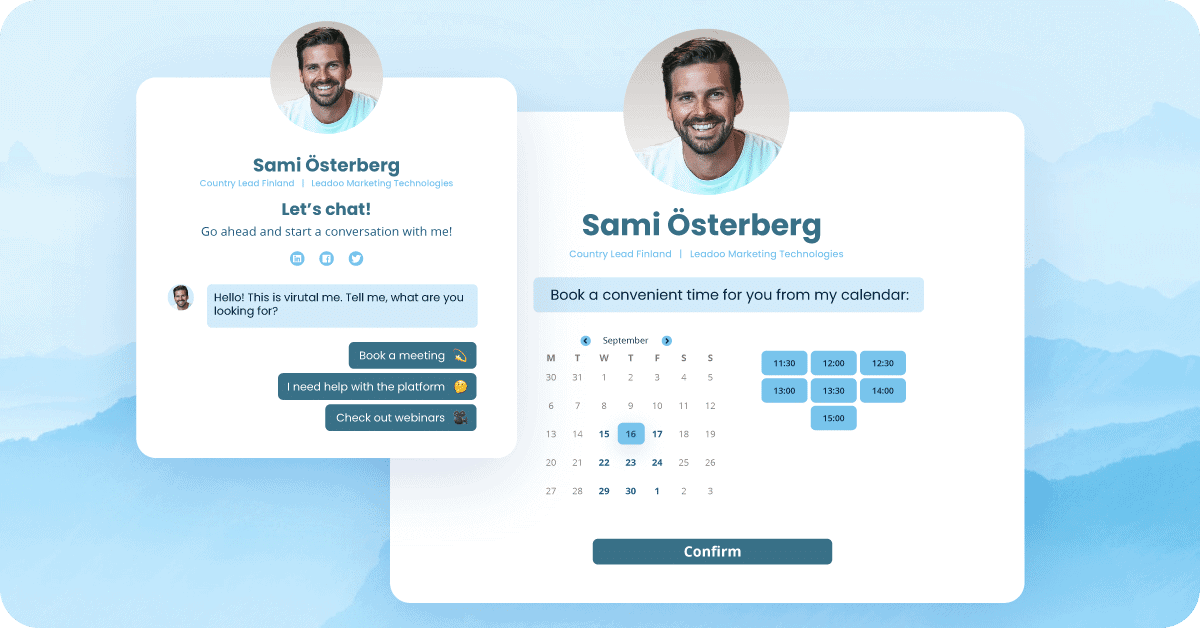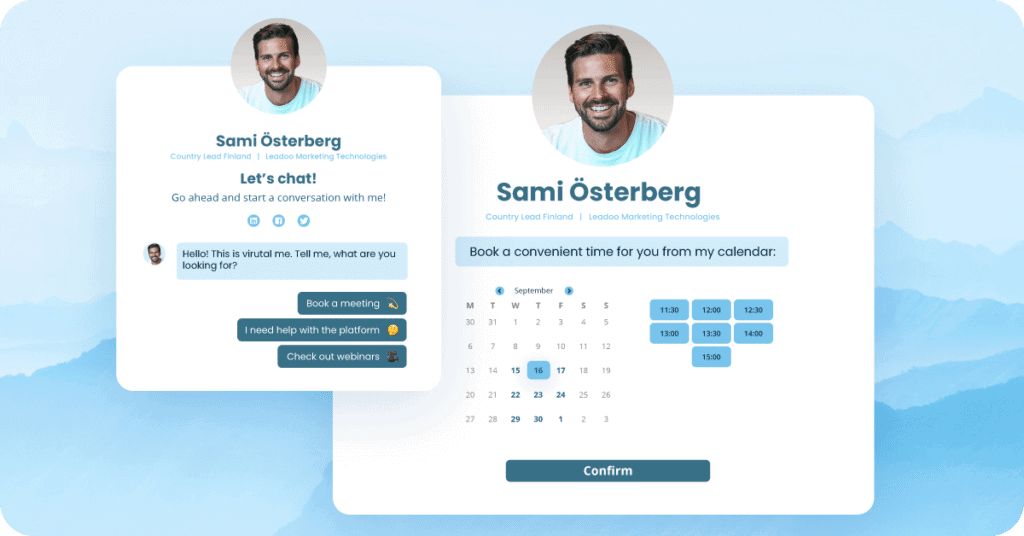 Leadoo for individuals too – how does it work?
Leadoo Sales Assistant is your very own interactive landing page where prospects:
✅ can book meetings to your calendar, 
✅ access your sales FAQ (you know – those questions you keep on copying and pasting to your prospects), 
✅ get price estimates, and quotes
…so basically anything that slows down your daily sales routine. And you know what? It can also be integrated into your CRM so you stay organised and keep your boss happy.
It's designed to free up your time from these routine tasks by delegating them to your virtual self – who's available 24/7, 365 days a year. All you have to do is share your personal contact short link to your prospects:
👉 by email, 
👉 add it to your social media bio, or 
👉 use it as a virtual business card in any other preferred channel.
Leadoo Sales Assistant takes care of the rest. You might even have time for that Friday morning Starbucks trip. Caramel Frappuccino, we're coming for you.
How do I set one up?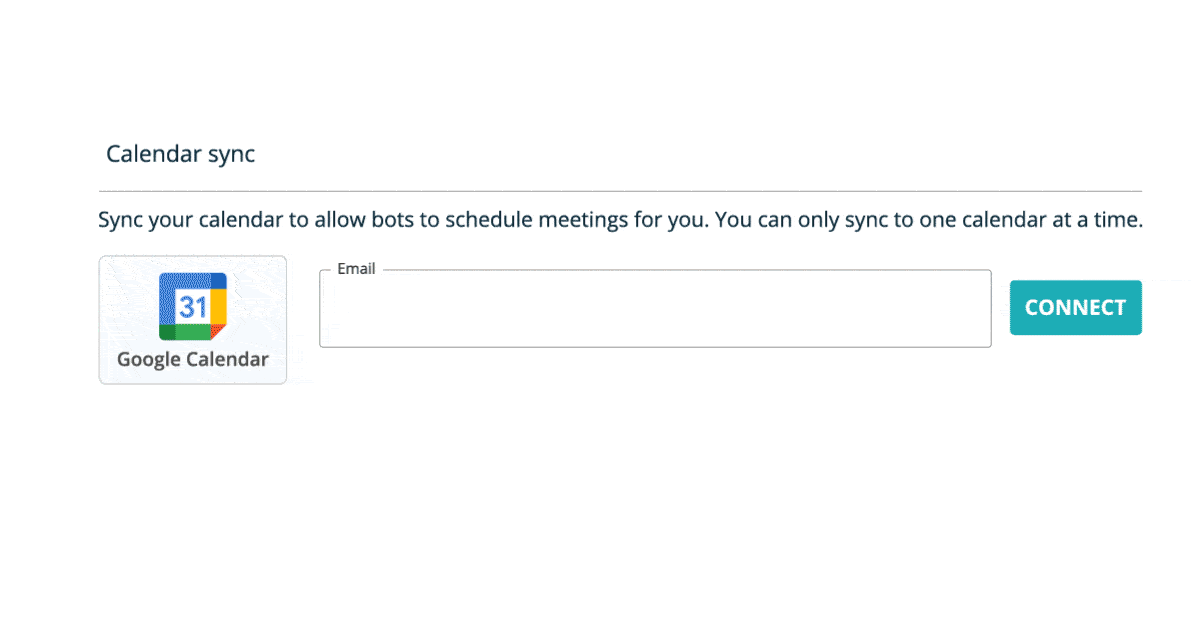 It's a no-code solution that you can set up in less than two minutes. The setup process has five easy steps:
Sync your calendar with Leadoo
Prepare your personal landing page
Personalise your FAQ/quote conversation
Share your Leadoo Sales Assistant through a unique link.
Sit back and relax and let virtual you do all the hard work.
You can set up your own Leadoo Sales Assistant for free in just two minutes . You won't need any techy knowledge – the process is super easy and intuitive.
Get started with Leadoo Sales Assistant 👇
What's included?
 

BETA FREE

CORE FEATURES
 
Unlimited event types,
duration opportunities
and scheduled events
✅
FAQ with unlimited questions
✅
Possibility to offer quotes
✅
Calculate price estimates
✅
Amount of Leadoo
Sales Assistants per account
1
BRANDING & CUSTOMIZATION 🛠

 
Visual customization
Own profile photo
5 Background images
5 visual themes
URL
mypage.leadoo.com/yourpagename
ANALYTICS
 
Conversation analytics
✅
CALENDAR BOOKING SPECIFIC FEATURES
 
Connect to Google Calendar accounts
and Outlook/Office365 Business accounts
✅
Connect with Google Meet
✅
Combine meeting scheduling with FAQ bot
✅
Combine meeting scheduling
with price estimate and quote calculator
✅
Combine meeting scheduling
with price estimate and quote calculator
✅
Unlimited scheduled meetings
✅
Meeting notifications
✅
Unlimited event types
✅
Sounds good, but what do the users say?
Leadoo Sales Assistant has been tested by pilot users and other sales professionals involved in the project, and we think they were pretty impressed. Don't take our word for it though; here are some of things they had to say about the Leadoo Sales Assistant:
🔥 "I have used similar calendar booking apps before but Leadoo Sales Assistant takes this genre to a new level. It's no longer only about booking meetings but also helping my prospects forward with my personal FAQs, and also providing prospects with preliminary price estimates and even quotas."
🔥 "I can spend more of my time doing the things that matter the most as Leadoo Sales Assistant has automated several repetitive tasks that earlier took too much of my time. My sales numbers prove it too: my monthly sales have gone up by 34% since automating these tasks and spending more time on meeting and listening to clients."
🔥 "I couldn't see myself not using Leadoo Sales Assistant. It truly is my very own sales assistant."
So there you have it, straight from the horse's mouth. Get your hands on your own virtual you here.