I caught up with Ella, our Sales Development Representative (SDR) for our UK Team, to hear how it has been working at Leadoo. Ella joined Leadoo in April 2022, so she is getting very close to her 1 year anniversary. Read more about her Life as a Leadooer.
Let's get into it!
So who is Ella? 💙
Ella is one of our fab SDRs who works remotely from her home in Valencia. Although she works remotely from there, she has visited our Malaga office plenty of times to work alongside her team.
'So I am in a remote position, but I have been to the Malaga office many many times. It's an important thing for the company to meet regularly and engage in fun activities. So I have met everyone, and I feel very much a part of the team, even though I am in a remote position'.
So what does Ella actually do in her job as an SDR? 🤩
'So as Sales Development Representatives, we are the start of the sales cycle for the UK team. We act as the primary outreach to set-up initial meetings with new businesses for our account executives. And that kind of entails emails every day, calls every day, making videos for people and reaching out to new clients via LinkedIn.'
'You also set up meetings with the account executive and the new businesses, so you actually get to be a part of the initial sales process, and see how the meetings go. And you are constantly working on growing the UK sales team and to get new businesses onboard with Leadoo, which is super fun. Leadoo gives you kinda a lot of liberty and freedom to do that within certain boundaries. If something isn't working, you can switch it up and be flexible.'
'It is quite a dynamic route, in terms of the fact that you're speaking to new clients every day, you're speaking to new personas of different companies like marketing, head of marketing, CEOs and finance representatives within the company. So essentially speaking to a lot of different people. It's a sociable role in that sense.'
What do you like the most about your role?
'We use video and vidyard a lot of the times when speaking to new clients to try to become more personal and authentic in our sales approach, which I like the most. I think it is a very real format of speaking with people, rather than just calling them the whole time. And I really enjoy being part of the initial discovery we set up for the account executives, because then you get to meet the client that you spoke to'.
How was the recruitment process?
'I applied for the job via LinkedIn, and I remember that I just did the LinkedIn application and Kevin (our Sales Operations Manager) viewed my profile straight after I had applied. So it was such quick outreach in terms of setting up my initial meeting and having my first interview. From then I think it was like a 2 weeks process of a couple of meetings, and then I was hired!' Ella finishes with a big smile.
So how is it being part of the team?
'So Kevin is our immediate boss, and he is super motivated when it comes to the team's goal. Being a part of the UK team, and being a part of the wider sales team within Leadoo means you have a lot of communal goals that are continuously discussed and you work towards them the whole time. I find it motivates me, because you are not just working towards your own metrics but the whole team's.'
'In terms of working with the SDR team and the sales team in the UK, everyone is pretty tight-knit and really open in how they speak with each other. Even when it comes to speaking with someone outside of my immediate team such as one of our C-Team, they are open to speaking with you on slack or google meet all the time.'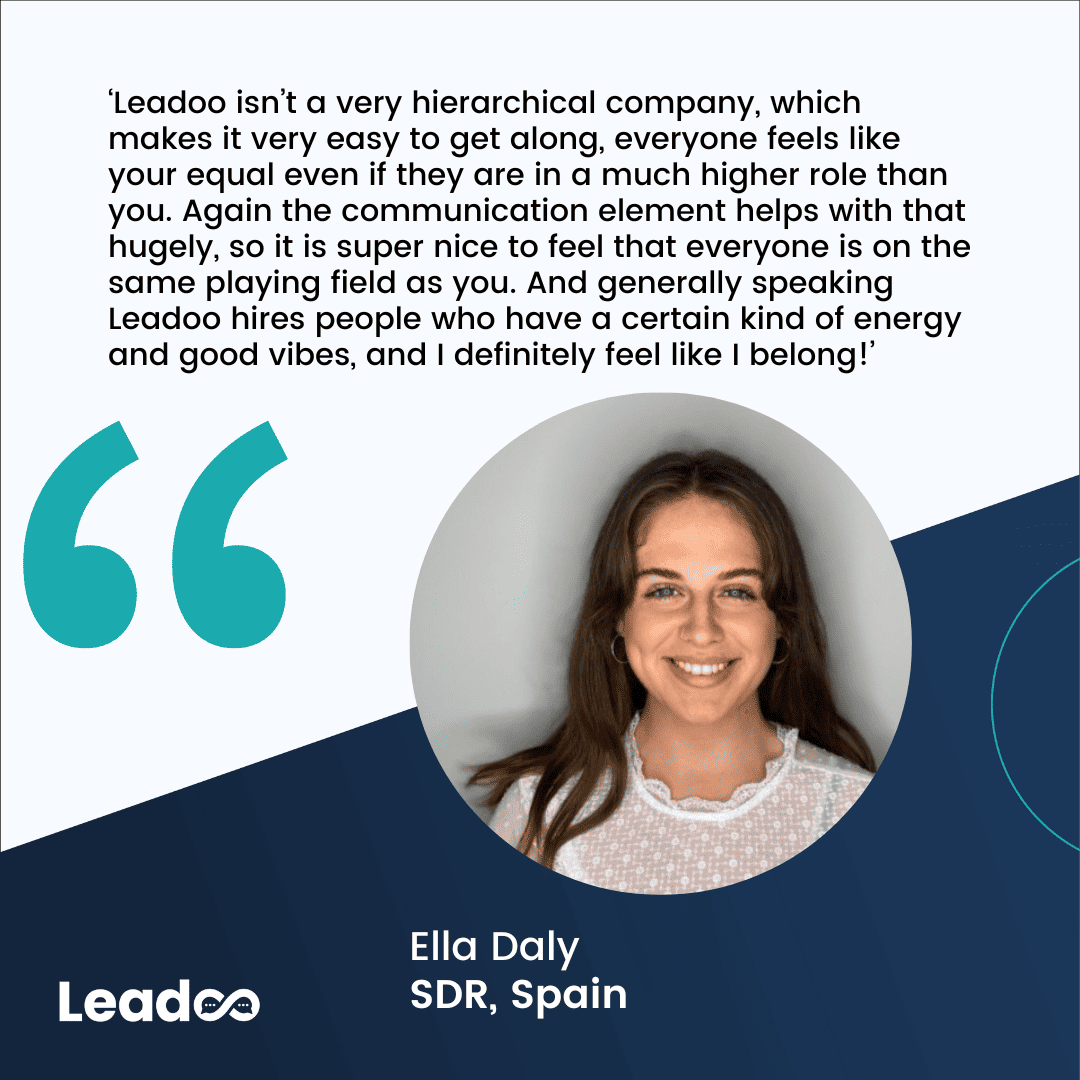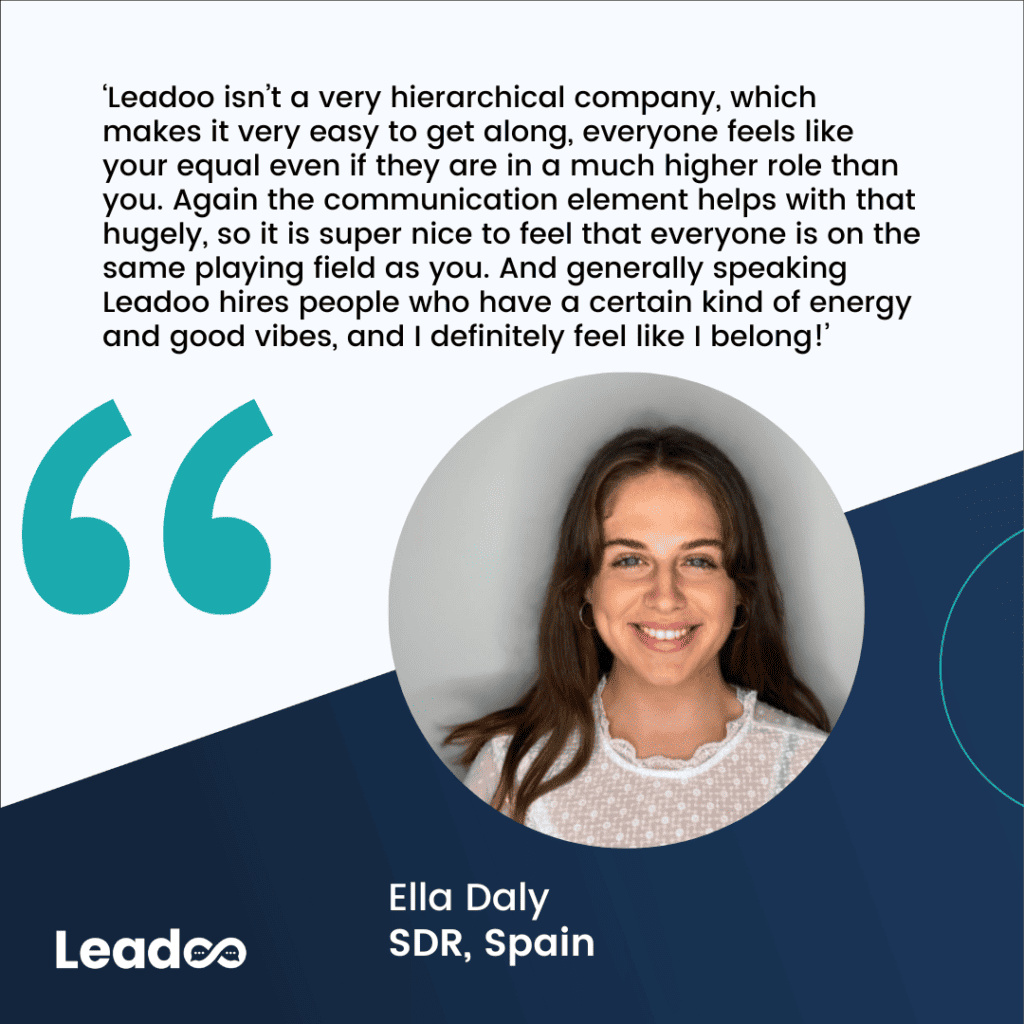 Any closing words about working for Leadoo?
'Leadoo isn't a very hierarchical company, which makes it very easy to get along, everyone feels like your equal even if they are in a much higher role than you. Again the communication element helps with that hugely, so it is super nice to feel that everyone is on the same playing field as you. And generally speaking Leadoo hires people who have a certain kind of energy and good vibes, and I definitely feel like I belong!'
Read more Life as a Leadooer blogs here