You've spent hour after hour on website creation and content, but you just can't get visitors to stick around – and your bounce rate keeps increasing. Sound familiar? It's not surprising; the average time people spend on a website is only 54 seconds, and 50% of visitors leave after browsing just one page.
So the competition for people's attention, not to mention conversions, is fierce. What if I told you that we at Leadoo had come up with a solution to this problem? With our help, you can create a conversion tool tailored to your needs , which is equipped with the Exit Intent feature. Now, you can include an entire bot conversation as part of the Exit Intent pop-up, and take the last opportunity to activate your site visitors before they go.
The user experience with pop up features is often poor – pointless and non-personalised at best, and annoying and intrusive at worst. Why would you want to subscribe to the newsletter if you are leaving the site anyway? But now, you can turn the user experience into a valuable and useful one with our new Exit Intent feature.
In addition to simply subscribing to a typical newsletter, you can bring whatever options and features you want to the Exit Intent conversion tool, and you can modify the appearance to suit your brand. With Leadoo, you can also adjust the appearance of the Exit Intent to be time-dependent instead of based on mouse action. Convenient, right? Let's also keep in mind that with a good Exit Intent pop-up you can increase conversions by up to 46%! 🚀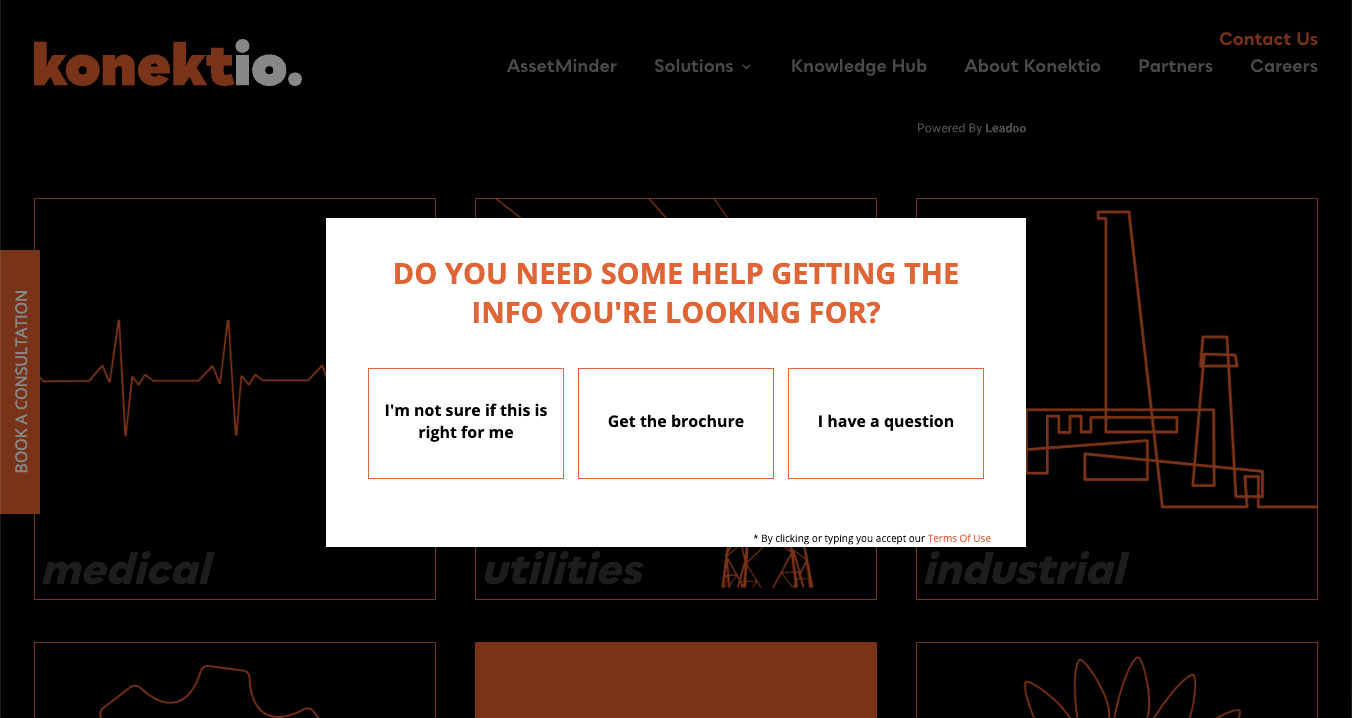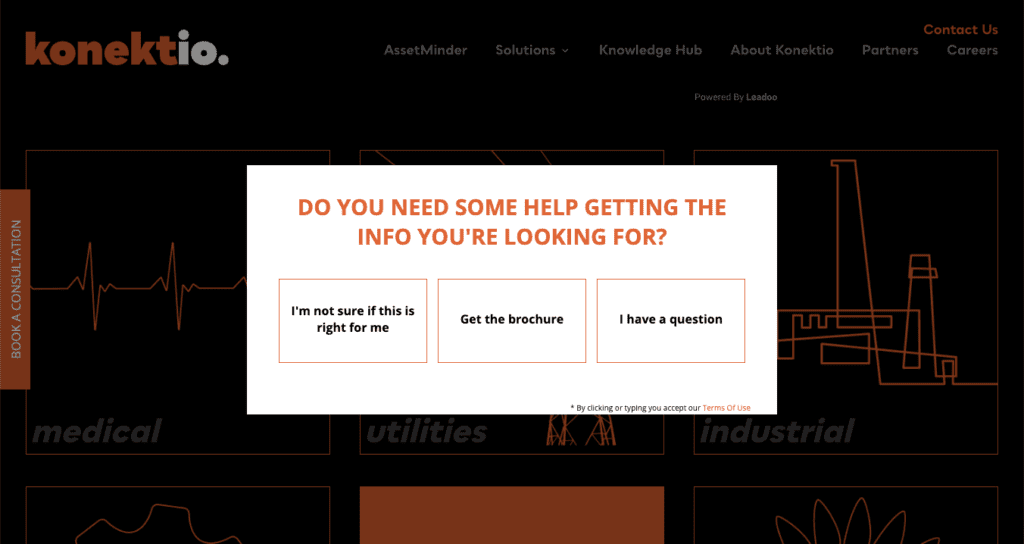 Why does exit intent work?
With Exit Intent, you can get the attention of the website visitor at that prized moment, just before they go. Since we can place the pop-up on a specific page, we already know what the visitor is interested in. That means we're able to bring useful direction to other content or tips into the pop-up, alongside the regular newsletter subscription or 10% discount for example. 
You know your customers, and we know the best ways to convert them – these, combined with the Exit Intent feature, guarantee a nice boost in conversions.
One of the undeniable benefits of the Exit Intent feature is that the visitor is not given options in a certain way – you either close it entirely or choose from the options you have. Even if the visitor ends up closing the pop-up window, the content could still be interesting enough that the visitor remembers it when the conversion is relevant – and returns to your page to check it out at a later date.
The Exit Intent pop-up is usually a familiar sight, for example, on a product page or in an online store, but it can actually be used anywhere you want to activate website visitors. Naturally, the feature is useful for boosting sales, but it can also activate the visitor, for example, on contact pages or with open jobs.
So in a nutshell – Exit Intent works because we can bring personalised conversion opportunities to the website visitor, options to solve pain points, or whatever you want to bring there – just at the right moment!
What can you do with exit intent?
Exit Intent especially helps to increase conversions. Whether they are sales leads, requests for offers or, for example, subscriptions to the newsletter. The Exit Intent feature gives you a second chance to convert a visitor – if the website didn't convince the visitor, maybe you can embed an irresistible offer in the conversion tool with Exit Intent that turns the visitor into a lead.
The Exit Intent feature can also help with web page navigation. If you know that your website might be a bit confusing because you have, for example, a lot of different product options, then the Exit Intent conversion tool can help the visitor navigate to the right information or page. 
Since we at Leadoo believe in continuous optimisation based on data, it is good to remember that you can also practise AB testing with Exit Intent. You can try out different options to convert visitors, and make decisions about what will be used in the future based on the data.
The list of possibilities for using the Exit Intent feature is actually endless, because you can use it in exactly the way you want. And remember that our conversion experts are always there to help you if you need support or guidance with creating the perfect tool.
What makes for good exit intent content?
In short: something that provides a targeted precision strike! You shouldn't add too much text, instead explaining things simply and briefly. This way, it is easy for website visitors to activate – without having to read something the length of War and Peace to get to the point.
As already mentioned earlier, knowing your target group is important in order to know how to offer them the right tips and CTA buttons. Personalisation makes the website visitor feel noticed, and this in turn increases the likelihood of conversion.
Websites are often visited on a phone, so optimising for mobile devices is also really important. No one likes a huge window on the screen that can't be closed easily. We at Leadoo have naturally taken this into account when developing the feature, so you can be sure that the user experience will not suffer.
Gotta catch 'em all…
…as the wise Pokémon Master once said. 
Exit Intent, as well as many of our other great features are ready and waiting to help you make the most of every visitor. Our Conversion Experts are always there to lend a hand – from making the first drafts of your solutions, all the way to analysing data and results and optimising your tools for conversion. We can promise that when using Leadoo, you won't be alone, but that we will support you throughout your journey with us.
If you want to know more about the Exit Intent feature and how this can help improve your conversions, get in touch via this page, or chat to the bot below 👇