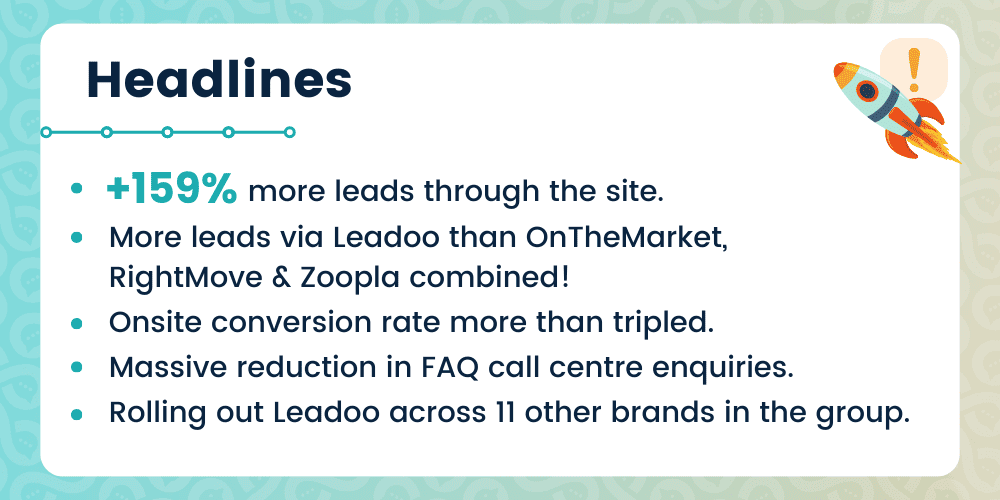 Who are DJ Alexander? 🏠
DJ Alexander is an established and popular Estate & Lettings agent in Scotland, and one of the main brands within the wider Lomond property group.
In early 2023 they became a Leadoo customer after a competitive tender process. Within a year, Leadoo has transformed not only DJ Alexander's approach to lead generation, but also their marketing and commercial strategy across the 12-brand strong Lomond group.
We sat down with Adam Graver, Head of Performance Marketing at Lomond and Sofia Dedyukhina, their Leadoo Account Manager, to explore how those incredible outcomes have happened so quickly.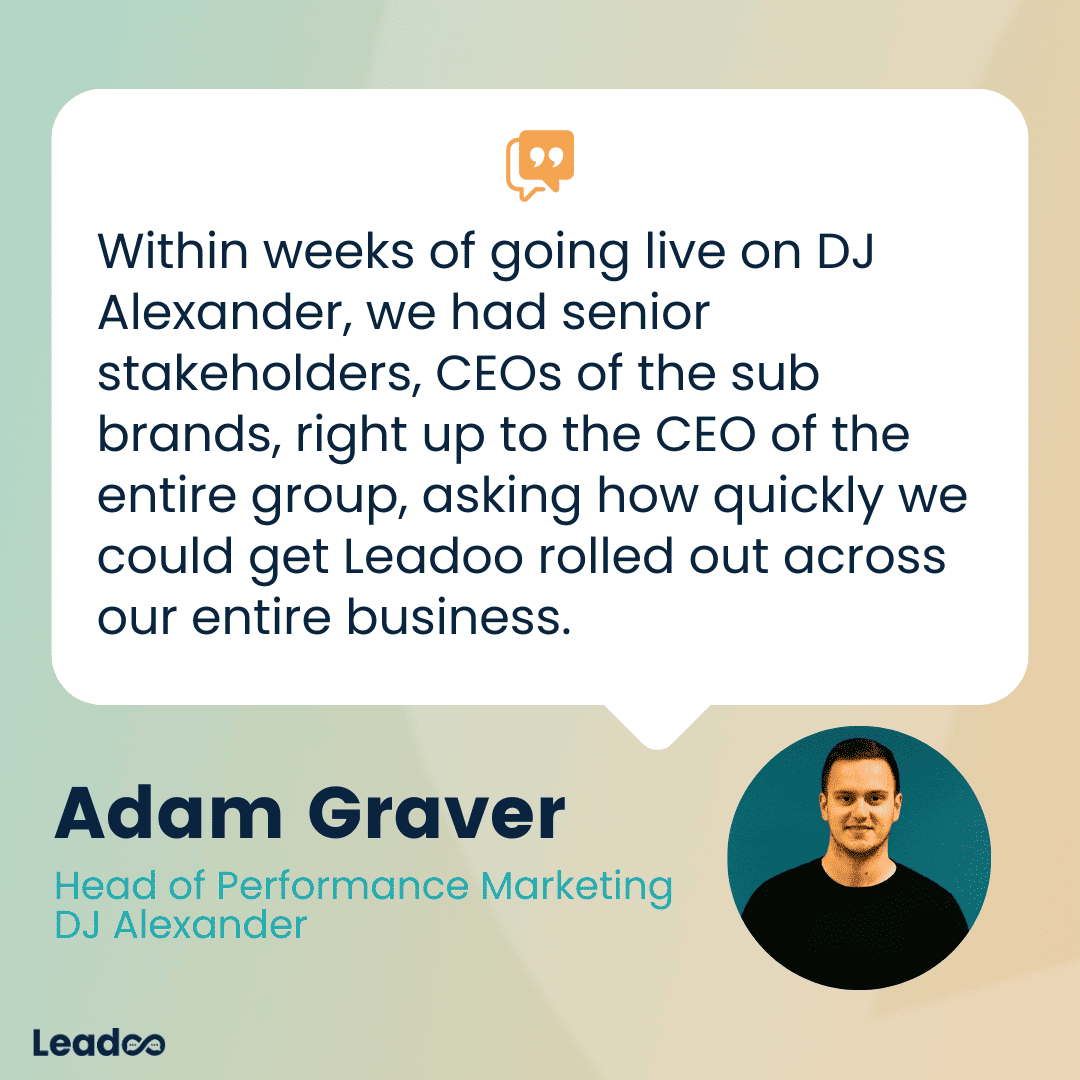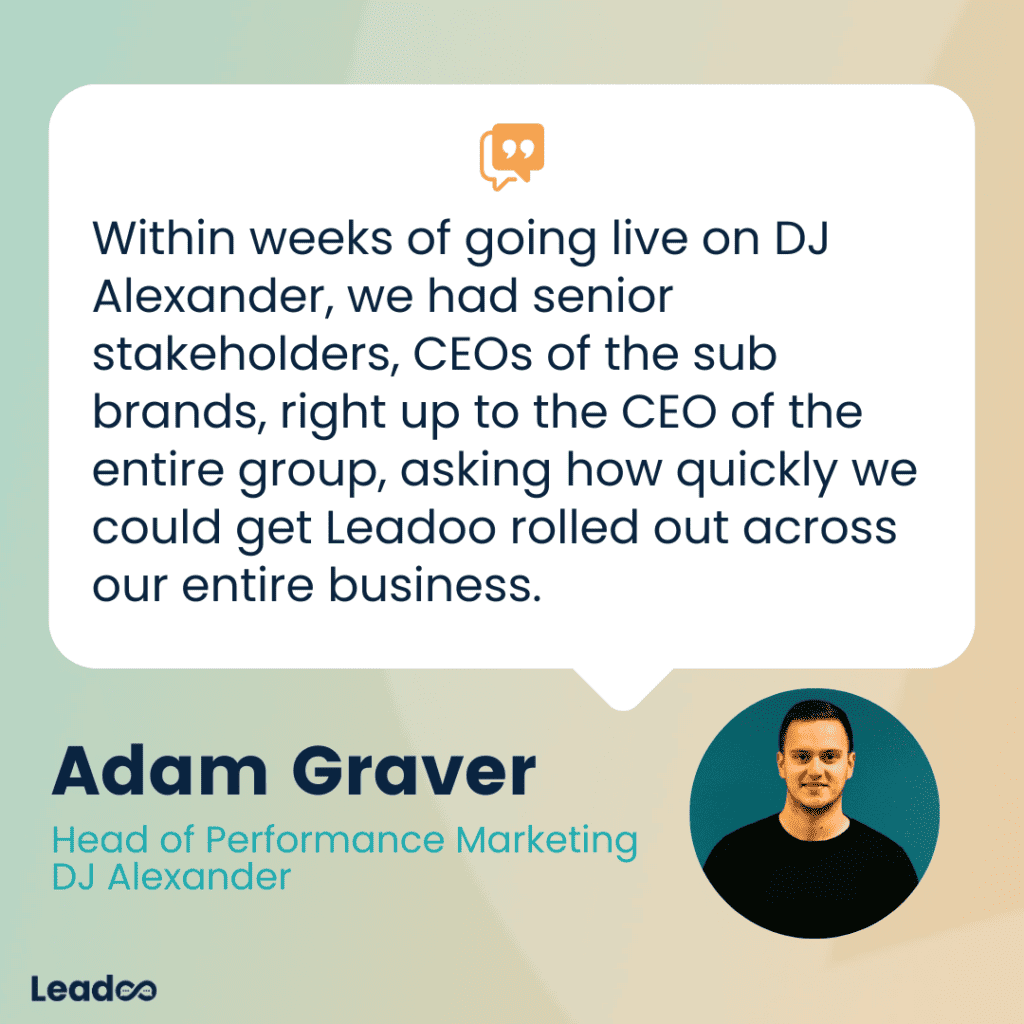 ---
Why DJ Alexander was Interested in Leadoo 🔍
DJ Alexander knew they needed conversational tech on their website, but for a newly appointed Adam in late 2022, he wanted to break away from the usual industry approaches:
"Across estate agency, live chat is a pretty core part of a MarTech stack nowadays. I've worked with different live chat & chatbot providers previously, but the reality is the more industry specific providers are quite inflexible from a performance perspective."
"They are also generally based on a cost per lead or cost per chat model, which given the amount of traffic and non-viable leads Lomond sites were receiving, was not going to work financially. So my thought when joining was "could we do this differently?"
DJ Alexander therefore needed to find a fixed cost solution that improved performance across two core areas:
1. Lead Generation & Quality: To help increase conversion rates and therefore quality leads onsite – especially from landlords.
2. Streamline Customer Service: While also significantly reducing the overall number of general phone and emails enquiries – especially FAQs from tenants or potential buyers.
That second point was particularly important from a business operations point of view. The month before DJ Alexander implemented Leadoo, they received 250,000 enquiries to their Edinburgh Office from Rightmove alone!
So the reduction of general phone calls and FAQs to the Edinburgh Office was important as generating more leads through the site. Also, as Adam explains, "we needed a platform that could make us more self-serve in terms of both generating & responding to enquiries".
With Leadoo in place, these goals started falling into place almost immediately thanks to general enquiry visual bots that help users answer their own questions; chatbots throughout property pages; and interactive valuation bots that replaced entire landing pages.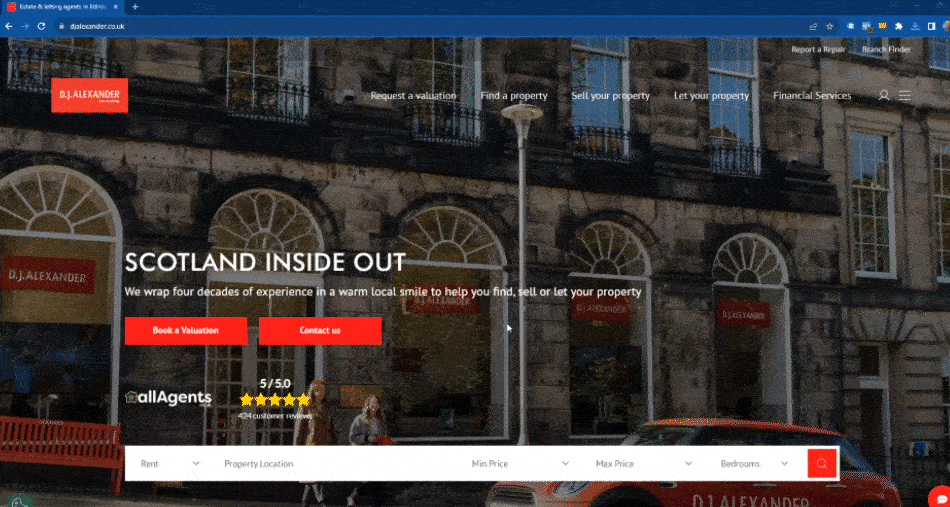 "Our customer teams in branches asked me what on earth we did. Because almost overnight it felt like we stopped receiving FAQ calls from tenants on things like how do I pay my rent or how do I report a repair (obviously we didn't but the huge influx certainly decreased within days rather than weeks or months).
We thought we'd covered off those FAQs well on our existing site, but turns out that burger menus and the like still aren't that usable for many people. We needed to put a helpful and interactive face in front of them asking 'are you a tenant' and 'how can we help'? If you do, turns out people actually want to engage with it onsite!"
---
Instant Success From Leadoo 🥳
So the streamlining of customer service was achieved almost immediately. But what about the wider goal of lead generation – especially qualified leads from landlords looking to rent their properties?
Well DJ Alexander launched a brand new website at the end of October 2022. In the 4 months after the site launched – prior to Leadoo being implemented – it generated a healthy number of landlord leads, in line with expectations. However, in the 4 months after Leadoo went live, the site saw a 159% jump in conversions. Which simply wasn't expected considering the site was already performing well.
These are all fully qualified leads, and buck usual seasonal trends. They also came despite a 21% decrease in traffic.
As Adam explains, "January & February are always the two highest traffic months in property. So the 4 months after Leadoo was fully implemented missed that New Year traffic surge, but still achieved 150% increase in qualified leads. Despite a sharp seasonal dip in traffic from April onwards.

"So we're comparing our busiest traffic period of the year, to one of our least busy. In a crazy and unpredictable wider UK property market. And we've still seen the lead increases we have. It is an almost unbelievable outcome."
When taking the drop in traffic into account, this means conversion rate through the website more than tripled during that 4 month comparison. Indeed, Leadoo has become such an effective form of lead generation for DJ Alexander, that it has fundamentally transformed where they look to get enquiries from.
In Q3 2023, Leadoo delivered almost than twice as many landlord leads into DJ Alexander as Right Move, On the Market and Zoopla combined. Those major property sites delivered 66% fewer leads than Leadoo via DJ Alexander's website, proving the power of the bots versus form fills on third party websites.
For Adam, this is a remarkable shift in approach, and it's leading to wider changes across the business: "I cannot believe I'm saying this, but for us right now, the 3 major property websites in the UK are not holding a candle to Leadoo when it comes to qualified leads."
"Our intention was actually never to use Leadoo across all 12 Lomond brands. We looked at some of our smaller traffic brands and thought it wouldn't be viable for all. But the instant impact was undeniable. Not just in marketing either."
"Within weeks of going live on DJ Alexander, we had senior stakeholders, CEOs of the sub brands, right up to the CEO of the entire group, asking how quickly we could get Leadoo rolled out across our entire business. It's generating better quality leads than anything we've ever had, and reducing the phone calls immensely."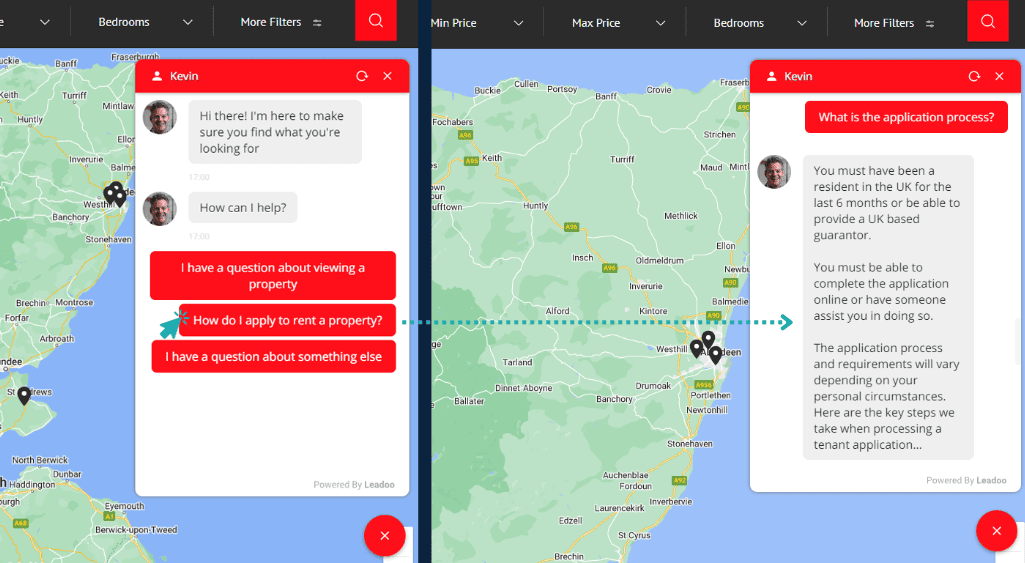 ---
What's Next for DJ Alexander and Lomond 🏘️
The replication of DJ's success with Leadoo across the other 11 Lomond brands will be paramount. However, there are still new and different ways of using the bots within DJ Alexander that are being trialed.
One unique but successful use case is dubbed 'Project Charm' – a way to survey landlords. Leadoo bot are mostly used for conversion and lead generation purposes – but Project Charm is an interactive in-page survey to collect landlord feedback.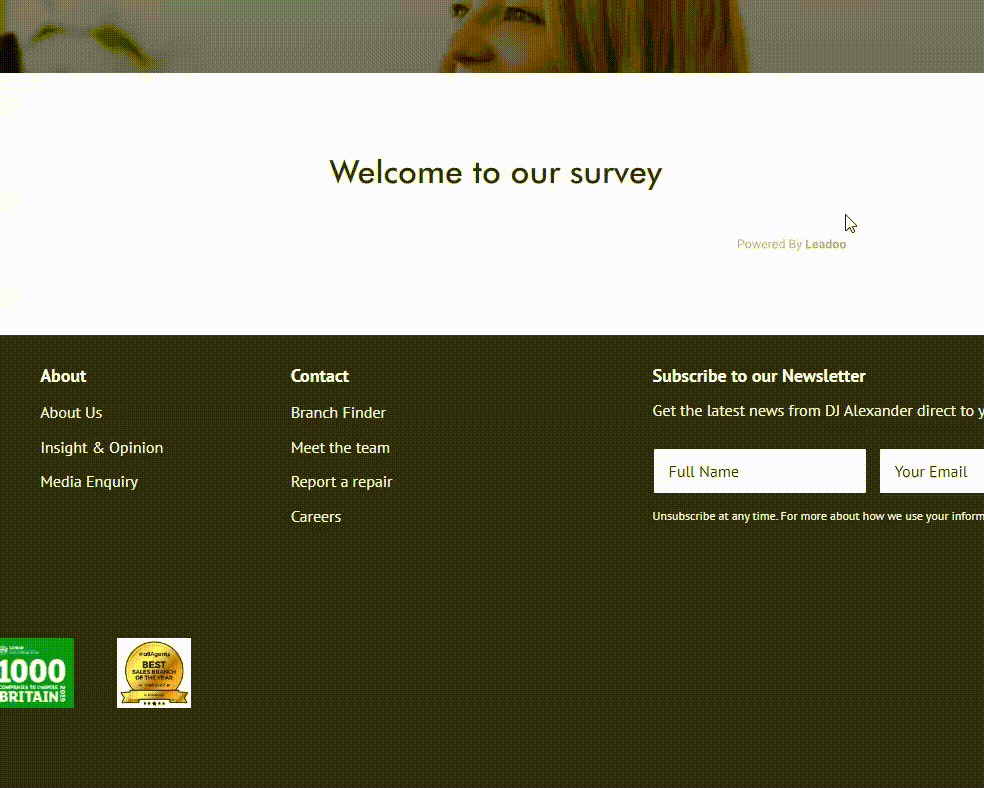 For Adam and the team, this has proved almost as important as the increased lead generation: "I've worked in property for 6 years, and I've never seen this. Normally, getting a landlord to fill in a form is incredibly difficult. But by creating bespoke and interactive responses, we're getting great engagement and feedback from our most important customers. These are true business insights from our conversational tech."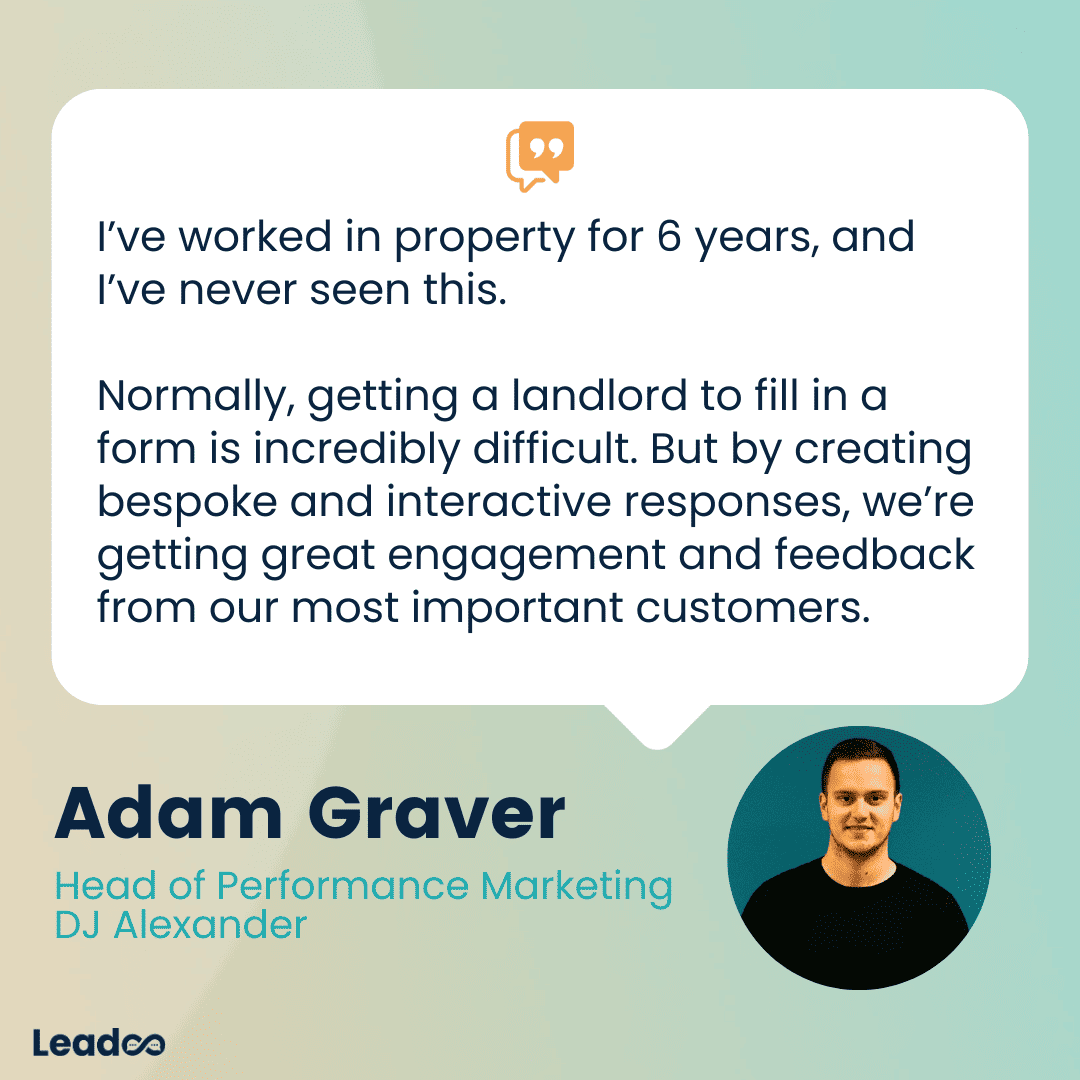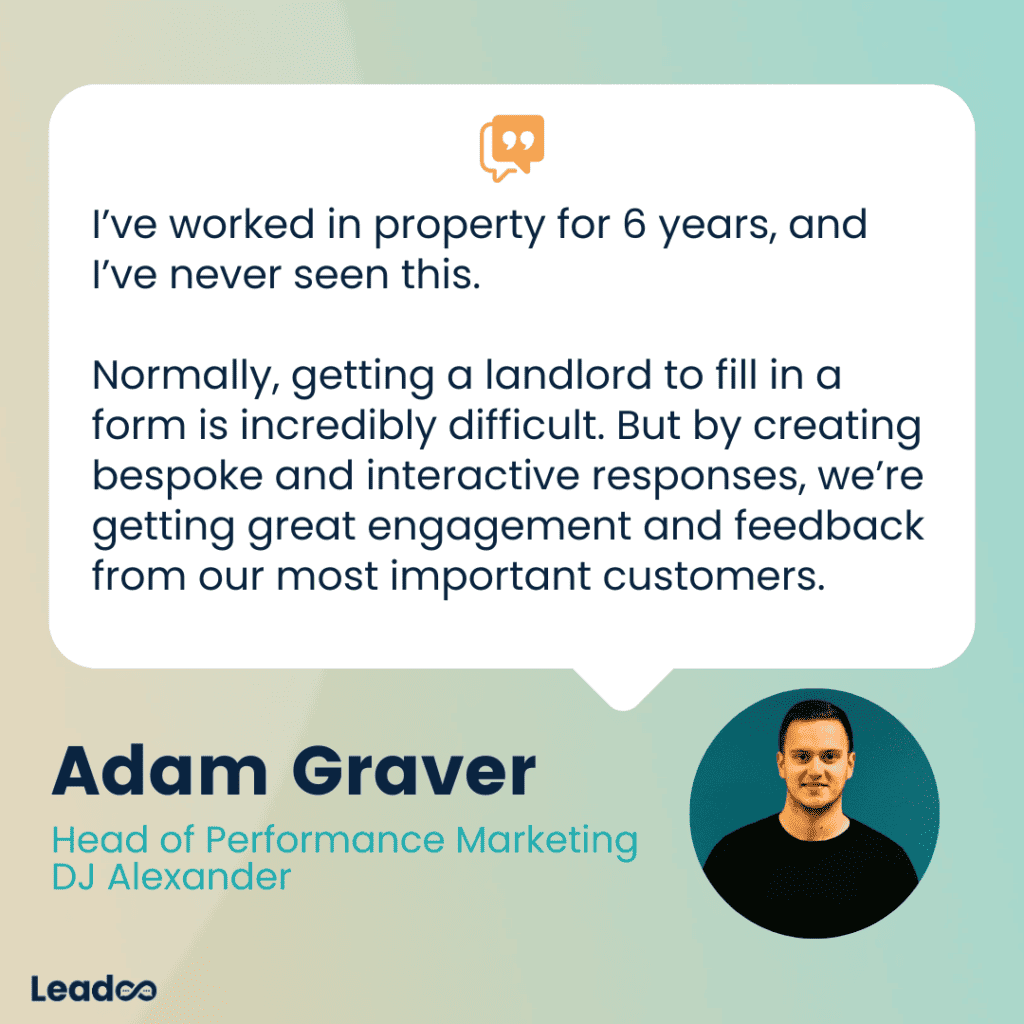 For Sofia, that Project Charm use case has been a truly unique and collaborative. She explains that "when the Lomond team came to us with the idea of using the bots for the Project Charm surveys, we worked very hard on making sure we made it as engaging for visitors as possible, but also to be able to quantify the feedback received and make it actionable for the Lomond team. It was a unique and exciting experience, and the engagement rate has gone above all expectations. Plus with the system set up to recognise the level of satisfaction based on a bespoke scoring system, it means that the team can be proactive when it comes to improving their levels of service and understanding any gaps they can fill."
More widely, Leadoo's versatility means that for future marketing activity within DJ Alexander, it will form an integral part of the planning phase. Adam goes as far as saying that for "whatever campaign, whatever marketing strategy, whatever content we're planning, we look to Leadoo first."
"We no longer start by thinking do we write a blog, or a social post, or an email about whatever. It's what can we do within Leadoo, then we do the rest after. It's the first thing all of us in marketing – and in many cases the wider business – think about before we do anything. And that is such a testament to the work and communication that Sofia, Helen and the whole Leadoo team do with our team on a daily basis. It has transformed everything from our business to our thought processes.
For Sofia, the feeling is completely mutual: "Sophie, Adam and the wider Lomond team have been wonderful to work with from the start. They've quickly become a model Leadoo client and together we've already come up with many different use cases and ways to make the bots even better. It is very exciting for me to be on this journey with them and I'm looking forward to seeing how we impact the rest of the brands moving forward!