Roofing & Renovation J.Koski specializes in roofing and other renovation projects for households and condominiums in Southern Finland. The company is known for making renovations easy for customers, while maintaining high quality standards for the end result.
Challenge
At the time of first contact with Leadoo, Niko and the J.Koski team had stumbled upon chatbots on a number of websites. The main principle was familiar, but only after talking with Leadoo's rep, Niko saw the full potential of using chatbots to accelerate sales. From that moment, the main goal was to simply generate more leads from their website.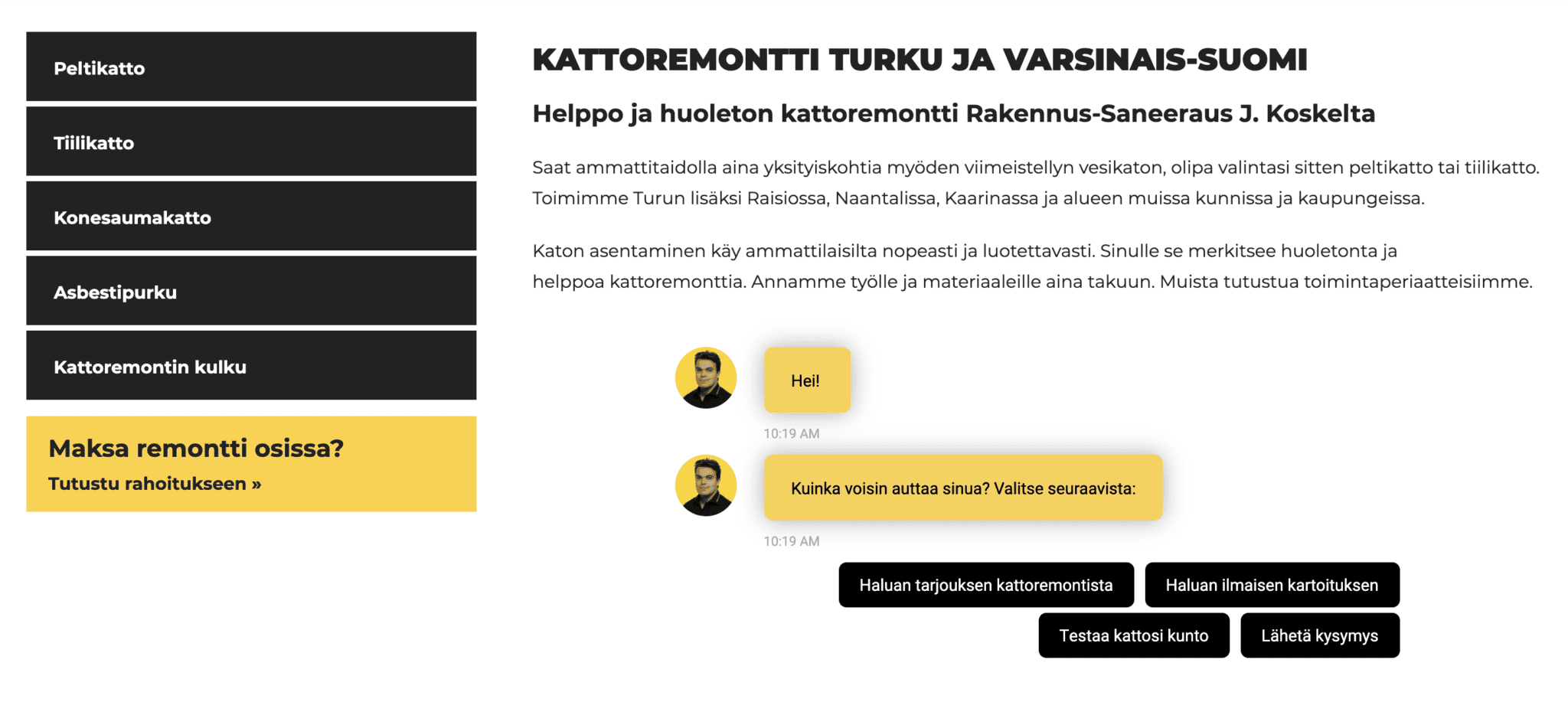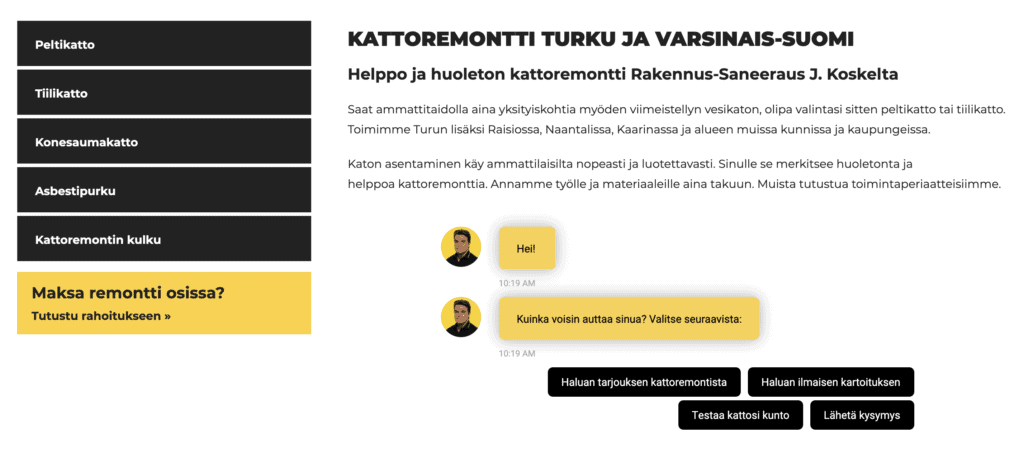 Solution
As the website has thousands of monthly visitors, traffic was not an issue. Leadoo Bots presented a way to increase the conversion rate from visitor to lead, instead of spending more budget on advertising and traffic acquisition.
Together with Niko and J.Koski's online partner Tagomo, we designed and implemented a comprehensive set of Leadoo Bots for the website. The solution centers on the InpageBot, which fits seamlessly within website content on any given page.
"The chatbots collect contact requests in a natural way. It's easier than leaving information through a traditional contact form. However, we've still kept our forms and seen that both techniques bring in their share of leads."
Results
J.Koski uses specifically thought out InpageBots on several pages. They qualify and convert a steady stream of high-quality sales leads around the clock, simplifying the buying process for customers.
15 leads per month since starting – all either requests for quotation or renovation assessment visit bookings
At best, 15% conversion rate from trigger to conversation
At best, 67% conversion rate from conversation to lead
"It's clear that the bots help us generate leads that we wouldn't otherwise get. I thought we might get poor leads from the bots, but lead quality is actually as high as from our contact form."
Experiences
"I have played around with the Leadoo backend myself and noticed that the tool is surprisingly easy to use. Anyhow, whenever I have a question, the folks at Leadoo are ready to help. They're quick to answer, and even bring up improvement ideas proactively."

 

"I'm very happy with the results so far and looking forward to developing our bots with the Leadoo team's expertise. The service is great, and even though Leadoo is not the cheapest option around, it is worth the investment."

– Niko Koski, Sales Manager
Start generating more leads