vCreate provides secure video technology for the healthcare sector. Their cloud-based platform connects patients and families with clinical teams, helping support remote diagnosis, care management and Family Integrated Care.
Their technology is a force for good, yet it's a highly considered purchase that operates across niche healthcare sectors. Despite its widespread adoption by over 200 health organisations, hospital sales cycles can often be very long. 
In their first year with Leadoo, vCreate have been able to increase conversion rates, free up sales teams' time, and make their marketing activity notably more targeted and efficient. We sat down with Laura Brockbank and Chloe Donohoe from vCreate's Marketing and Communications team to discuss how.
Why did vCreate need a platform like Leadoo? 📲
Prior to using Leadoo, vCreate had used Lead Forensics for company identification on their website. However, due to a lack of interactive content features, Lead Forensics could only identify companies without the ability to engage visitors.
Laura explains that "previously, the website functioned as an information source for visitors to navigate themselves. Without much signposting or active engagement, our conversion rates were lower, and people would resort to calling us with support queries because they couldn't find answers online."
"This is where Leadoo came in. We wanted to completely redesign our website with informative and interactive functions, making it easier for people to explore our products. By providing information beforehand, our introductory calls can be fast-tracked and better tailored to their needs."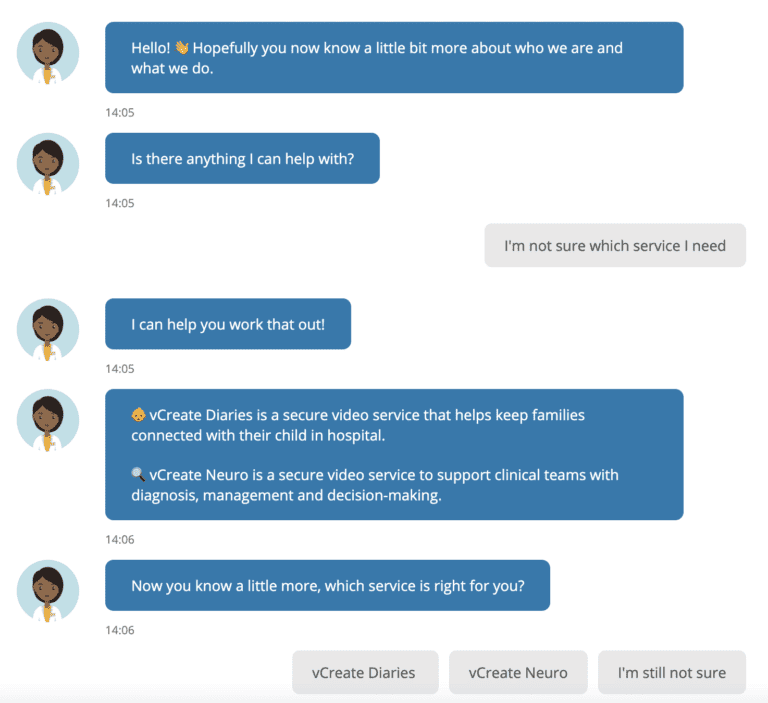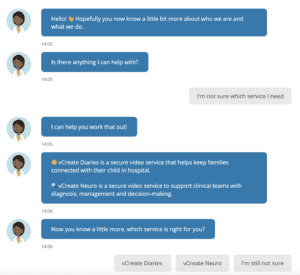 "Call support was a key area we wanted to tackle. Previously, we were receiving numerous general support calls a day. Since using FAQ and text features in the Leadoo bots, we have substantially decreased the volume of daily calls. All enquiries now seamlessly flow from the Leadoo bots to shared emails, allowing our team to respond efficiently and freeing up time internally."

Streamlining our customer support and general enquiries has been transformative for vCreate from a day-to-day operations point of view. Particularly in showcasing the value of Leadoo internally to the product and sales teams. The product team noted a reduction in qualifying questions now needing to be covered on calls, and decreasing drop-off rates from enquiries to demos. 
Has Leadoo helped increase leads through the website? 📈
As a considered purchase with a high AOV, vCreate prioritizes the quality over quantity of leads. Even so, Leadoo is helping to significantly increase total lead numbers.
Through a mix of Homepage chatbots to signpost visitors, and in-page bots on core pages, vCreate are using Leadoo's tools to answer common queries, nurture potential leads through their conversion journeys, and ultimately help interested prospects get in touch. 
As Laura explains, "this year, we've been averaging around 3-4 leads landing a month through the website, whereas pre-Leadoo, 2 a month would've been a good month."
"We've recently undertaken wider email and marketing campaigns in the USA & Canada. Leadoo's Company Identification feature has been great for tracking visitors from specific healthcare providers onto campaign landing pages for instance."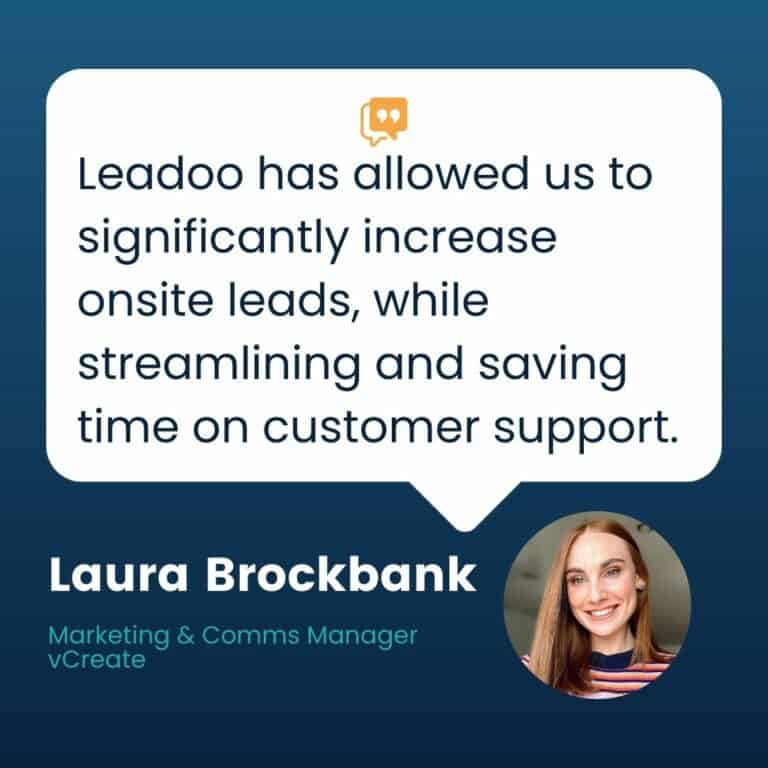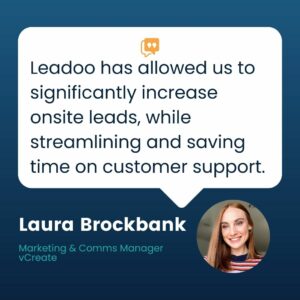 "We are able to see not just the total return on campaigns, but which individual healthcare providers have interacted with them, and what onsite intent they've shown. These insights then get fed back to the sales teams, which helps us with targeted sales follow-ups."
vCreate is currently identifying visits from around 2,000 verified companies a quarter through this Company ID feature.
Making full use of Leadoo to meet objectives 💯
In addition to Company ID, vCreate is making full use of Leadoo's new Website Analytics feature. For Chloe, it makes internal reporting far easier as she can now conveniently access both Company ID and Bot engagement data within the same platform:
"Every week, we rely on Leadoo Website Analytics for our internal reporting, especially when it comes to evaluating big marketing pushes like our USA & Canada campaigns. Being able to quickly pull the number of visits to certain campaign pages and identify individual company visits in one place significantly simplified the reporting process for our sales team."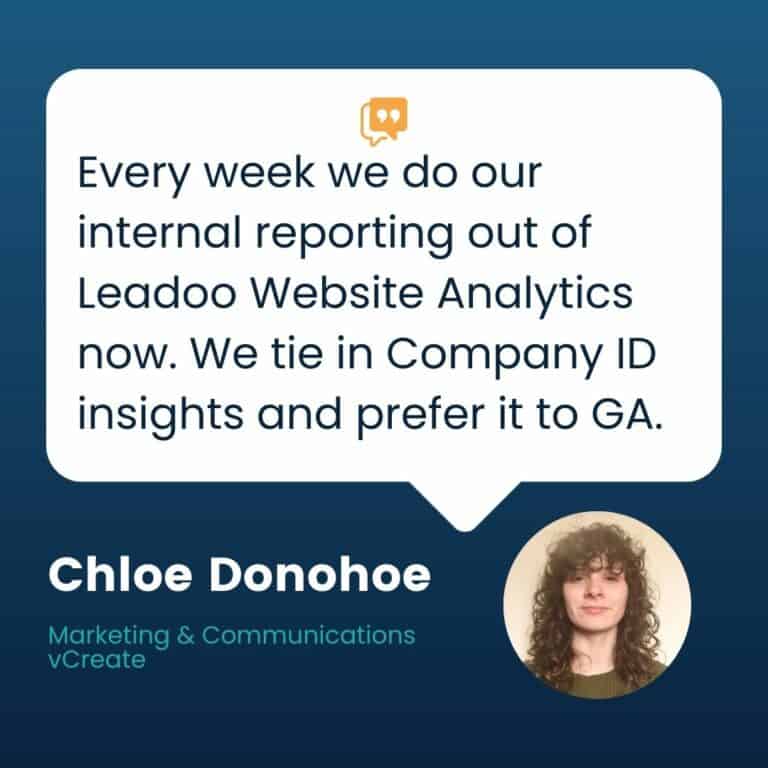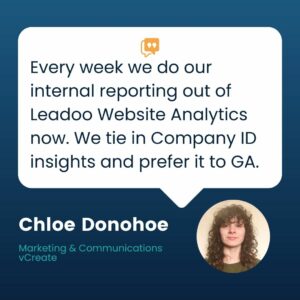 For Gavin Greer, vCreate's Customer Success Manager at Leadoo, collaboration has been a key to unlocking results for vCreate:
"It's an absolute pleasure working with Chloe and Laura. Our regular optimisation meetings are so collaborative and they've really embraced the platform to generate positive results."
"Especially being able to use Company ID to not only validate their marketing efforts, but feed that information back to their telemarketers so the campaigns become a cyclical loop. Their engagement and conversion rates have been high, with some bots converting as high as 30%, so it shows their visitors really respond well to the solution."
As a lead generation tool, Leadoo has proven a notable success for vCreate in a relatively short space of time. However, the commercial efficiencies resulting from improving customer support and helping users access essential information themselves, are just as important to the team. 
That marrying up of marketing and business objectives is a powerful combination indeed. Learn more about how Leadoo drives both Lead Generation and Customer Support improvements here. 
If you'd like to see how we can help you improve conversions and qualify visitors on your site, then get in touch using the bot below to get started 👇