Speed Screed delivers high-quality floor screeding and other construction services in commercial and domestic markets across the UK. The team takes first-class customer service seriously, and is known for their attention to detail as well as swift project completion. They implemented Leadoo to generate more construction leads.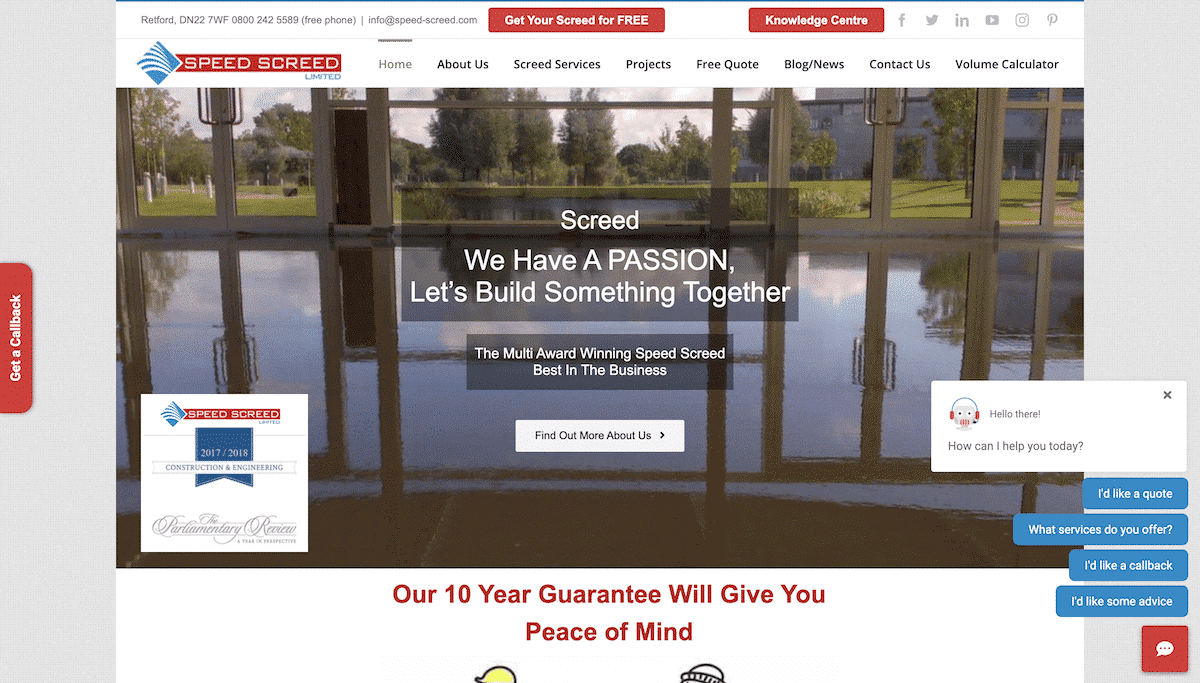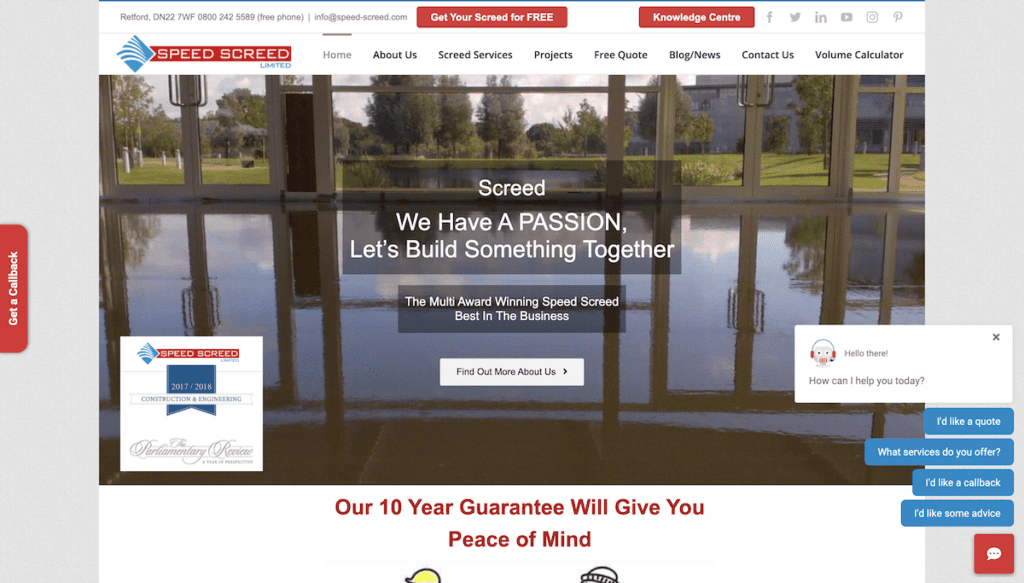 Starting point
Managing Director Andy Parkin is no stranger to results-focused digital marketing. Andy and his team have for example had great success with covering customers' keyword searches related to flooring needs and questions.
At the time of hearing about Leadoo, Speed Screed operated a live chat on the website, but wasn't fully satisfied with the number of contacts and leads coming through. On top of that, Andy had noticed a drop in the completion rate of their contact form.
Something needed to be done.
Solution
The contact from Leadoo came at the right time, and the message was easy to get excited about.
"The benefit of having automated chatbots and conversion points on multiple pages really resonated. My only reservation was whether we would lose the personal touch of live chat."
Andy quickly noticed that the concern was unnecessary. Leadoo turned out highly customizable, which meant that Speed Screed could tailor their conversations and conversion points to buyers with different needs.
Speed Screed now greets website visitors with Leadoo's InpageBot, ChatBot and Callback widget. Together we found several great use cases and placements for these new conversion points, including:
InpageBot for collecting quotation requests
Multi-purpose ChatBot to help and guide website visitors
Callback widget for quick contact requests anywhere on the website
FAQ helper bot in Speed Screed's knowledge center
Discover these and more at Speed-Screed.com.


Results
Speed Screed's results have been as solid as their floors. Before installing any bots on the website, they were getting no more than 10 inbound leads per week. Now, the number has increased to 35 on average, and still shows signs of growth.
35 qualified leads per week (vs. 10 before Leadoo)
250% more weekly construction leads without traffic increase
Also more soft leads and inquiries than before
Input to content & SEO efforts from customers' questions
"The astonishing thing is that we have achieved the increase in leads with a similar amount of traffic as before. This means that we're able to connect with more of our potential customers without increasing ad spend."
In short, Leadoo helps Speed Screed generate more new business by capturing qualified leads from the website. Besides this, the chatbots and conversion points bring multiple added benefits in terms of customer engagement and content marketing.
In the past, Speed Screed paid its chat provider by the lead. With Leadoo bots, they can generate as many leads as possible at a fixed monthly fee. This essentially de-restricts the ROI for Speed Screed.
Feedback
"The Leadoo MT team is very good at tweaking the solution to our specific needs. It really shows how much they care about our results."
"In my mind, there's an application in Leadoo for all businesses. Today, this type of fast and engaging interaction is increasingly expected by customers, and providing that can be a real competitive edge."
Andy Parkin, Managing Director