Are you one of those people still hesitant about implementing chatbots? Or perhaps a consultant trying to make sense of the tech and its potential?
Whatever the case, I don't blame you for having some doubts and questions on your mind. Whilst chatbots are vastly spread out all over the internet, it can be difficult to get a sense of how they work in a specific industry or business setting.
In this article, I'll list industry-specific chatbot stats that are based on data collected from 400 company websites over a one-year period. For more generic statistics about the chatbot market, check this list.
Don't feel like reading? Hop over the tables and get our full report on chatbot stats.
The presented data is based on our study of chatbot performance on 400 websites that use chatbots for lead generation and sales, customer service, and recruitment.
The data set was built around 3 key data points:
chatbot triggers (how many times the chatbot was loaded on the page)
discussions (how many conversations were initiated by website visitors)
leads (how many users converted into a qualified lead)
Our original study tracked chatbot performance in 25 industry categories, including:
Chatbot conversion rate: conversation to lead
The following chart and table summarize conversation-to-lead conversion rates in 25 industry verticals. In these figures, avg. conversion rate refers to the ratio: initiated discussions / qualified leads.
Industry / vertical
You will notice that there is overlap between verticals. Each of the 400 companies in the data set was appointed only 1 industry category, based on best fit analysis.
N (#companies)
This column tells how many companies were included in any given industry category.
Avg. conversion rate
What percentage of people who initiated a chatbot conversation ended up converting into a qualified lead. Keep in mind that the criteria for qualified lead vary by company and industry.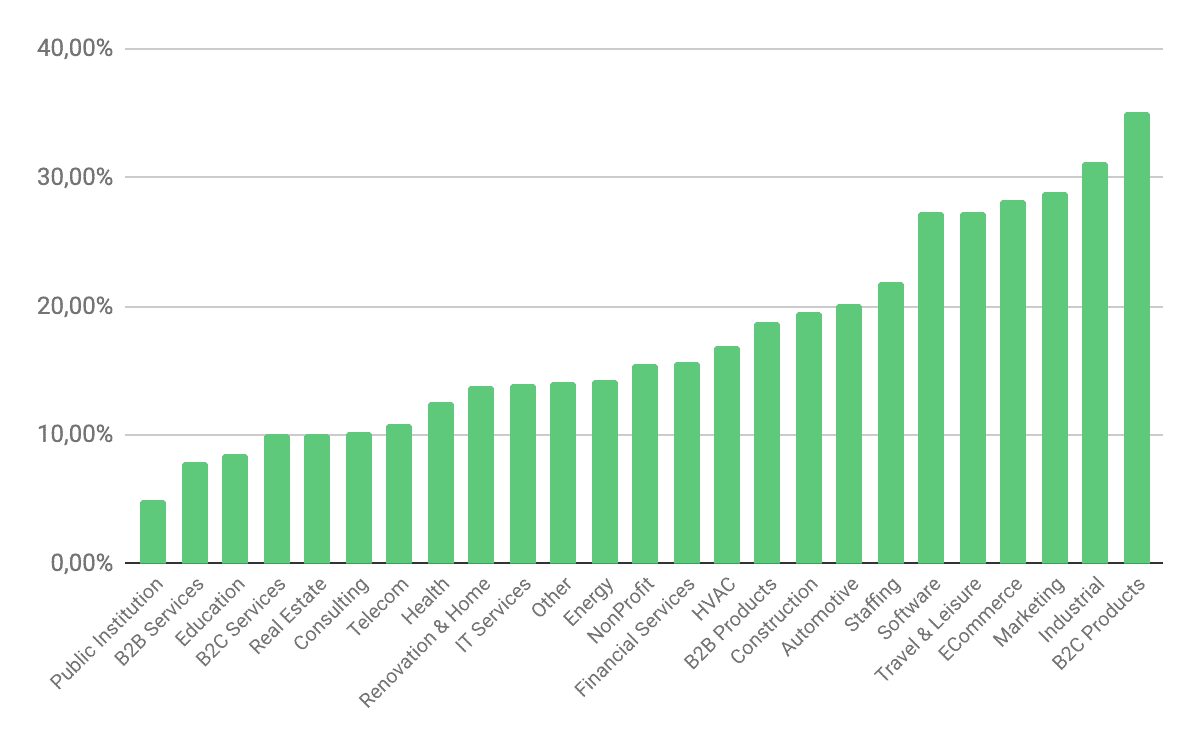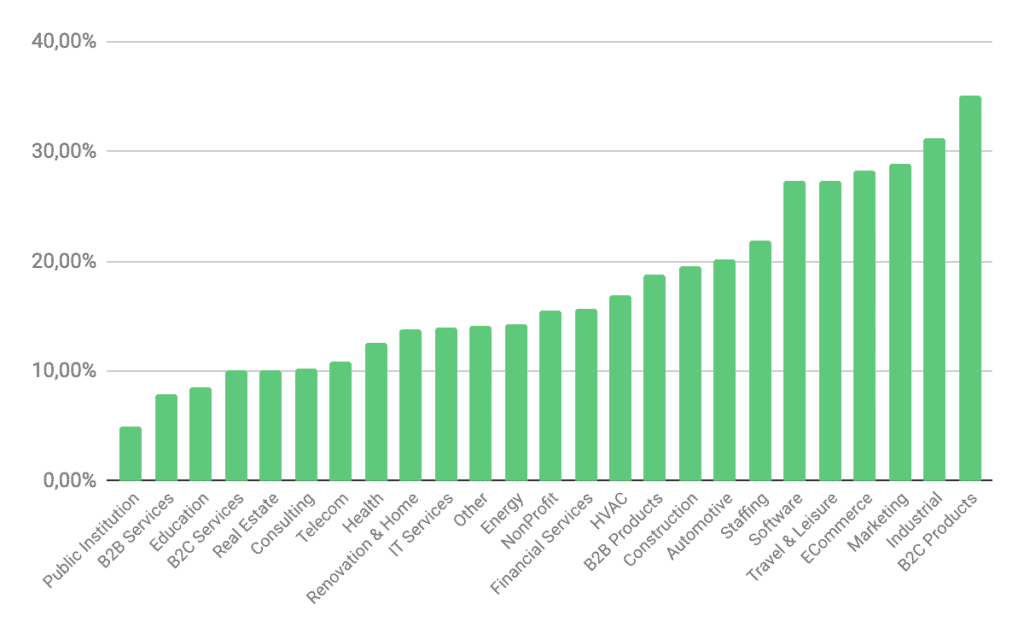 | Industry / vertical | N (#companies) | Avg. conversion rate |
| --- | --- | --- |
| | | |
| | | |
| | | |
| | | |
| | | |
| | | |
| | | |
| | | |
| | | |
| | | |
| | | |
| | | |
| | | |
| | | |
| | | |
| | | |
| | | |
| | | |
| | | |
| | | |
| | | |
| | | |
| | | |
| | | |
| | | |
| | | |
Conversation-to-lead conversion rate offers a concrete illustration of how chatbots can generate revenue and other benefits. The average of 14,8% means that from 100 people who start a chatbot conversation, 15 convert into a qualified lead or perform another defined action.
In several categories, the rate is 20% or more, meaning that one (or more) in 5 people convert. This chatbot statistic speaks highly of the value of helpful and natural chatbot conversations. The highest performing companies in our data set achieved up to 50% conversation-to-lead conversion rate!
How much chatbots increase website conversion rate
The following chart and table list how much the tracked chatbots increased websites' total conversion rate per industry / vertical.
Conversion rate increase is calculated on top of a 2% baseline conversion rate, which is a simplified generalization. In other words, the reported conversion rate increase may be higher or lower for your company, depending on your exact baseline conversion rate.
Example: A website converts at 2% with contact forms and other means (baseline). Chatbots added to the website convert at 1% (trigger-to-lead). Adding the 1% chatbot conversion rate on top of the baseline represents a 50% increase in total conversion rate.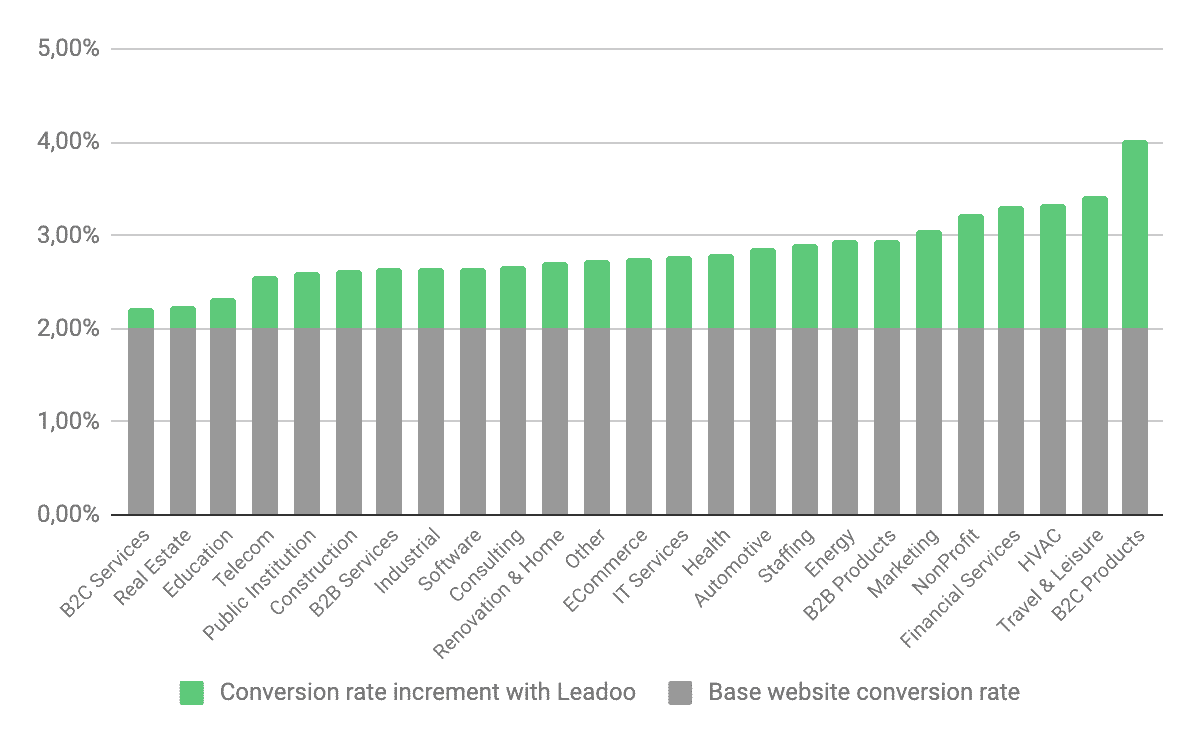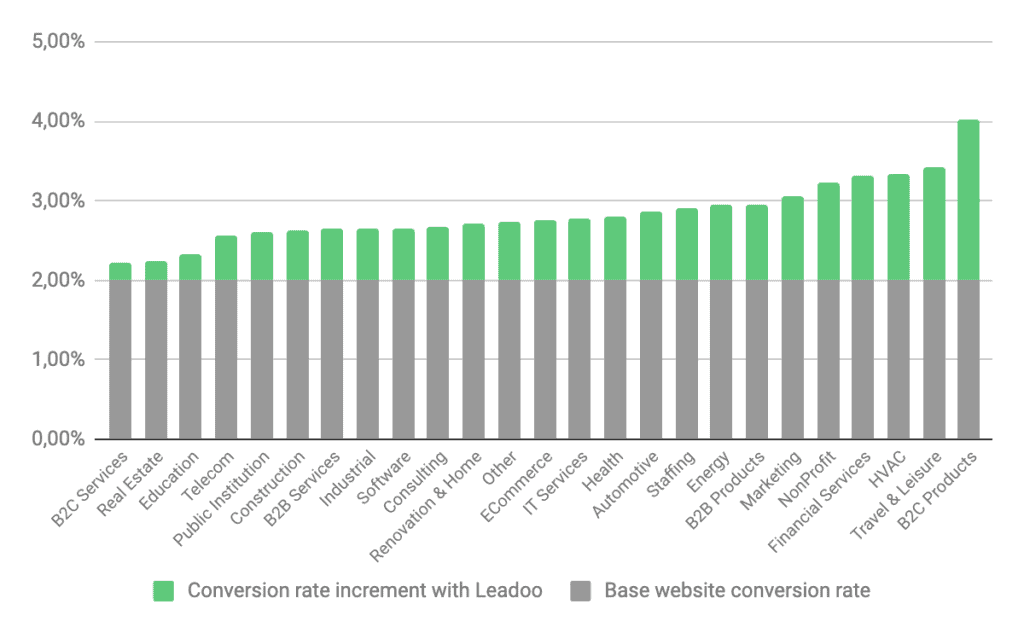 | Industry / vertical | Conversion rate increase |
| --- | --- |
| | |
| | |
| | |
| | |
| | |
| | |
| | |
| | |
| | |
| | |
| | |
| | |
| | |
| | |
| | |
| | |
| | |
| | |
| | |
| | |
| | |
| | |
| | |
| | |
| | |
| | |
Industry-specific chatbot conversion funnels
Next, let's take a look at chatbot statistics from the funnel conversions point of view. I've added a short comment related to each industry, describing what they normally use chatbots for and how they perform.
Chatbot stats for Automotive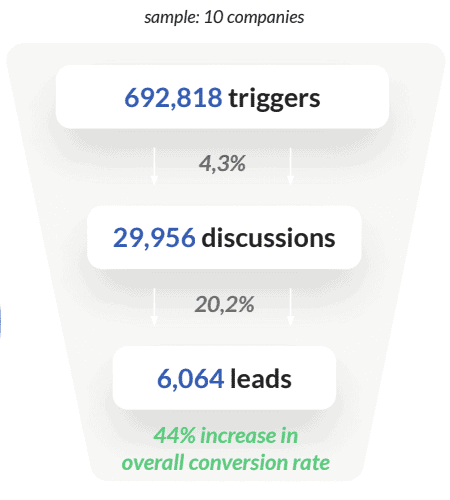 Automotive companies use chatbots for helping customers find the right model and for capturing sales inquiries. One Leadoo customer achieved up to 46% conversion rate from conversation to lead.
Chatbot stats for B2B Products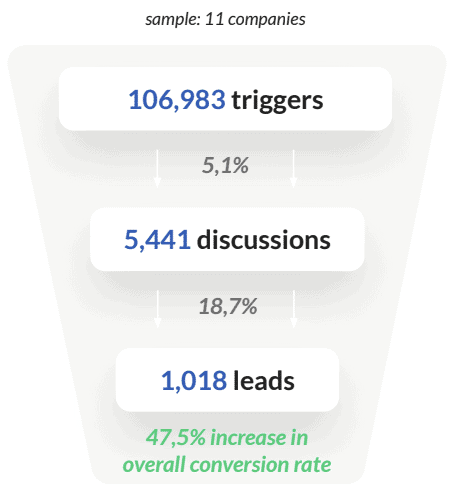 Chatbots perform well in providing
information about complex products and in simplifying the choice for customers. In
B2B products, trigger-to-lead conversion rate was up to 2,5%.
Chatbot stats for B2B Services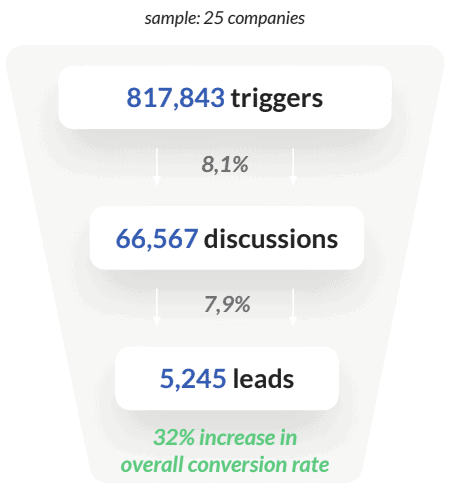 This sector contains a wide range of services with lead-centric sales. In our data set, B2B services rank 3rd in terms of trigger-to-discussion conversion rate, meaning that customers value chatbots for the support.
Chatbot stats for
B2C Products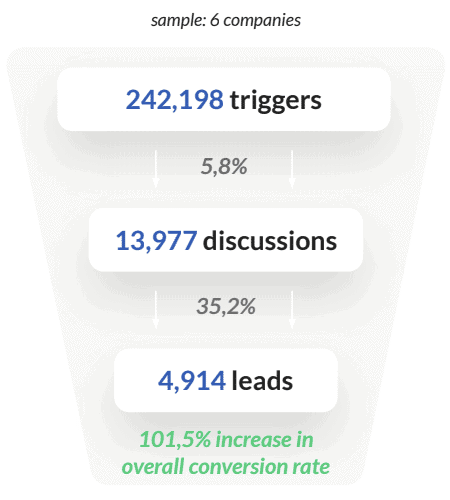 In our data set, B2C products rank 1st in terms of conversation-to-lead and trigger-to-lead conversion rates. This shows that chatbots are very effective in consumer businesses that include the lead stage.
Chatbot stats for
B2C Services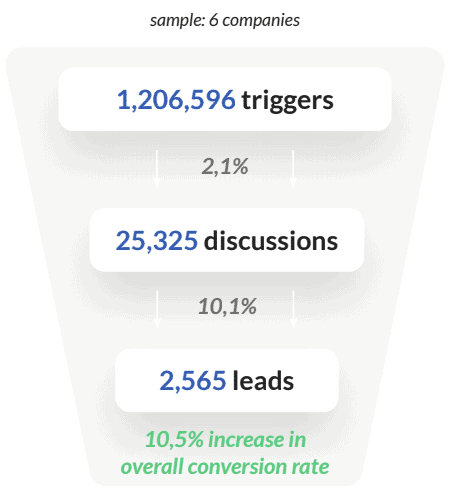 Including businesses from daycare to personal training, the B2C services sector benefits from chatbots in informing customers. The large number of triggers in our data set pulls conversion rates down.
Chatbot stats for
Construction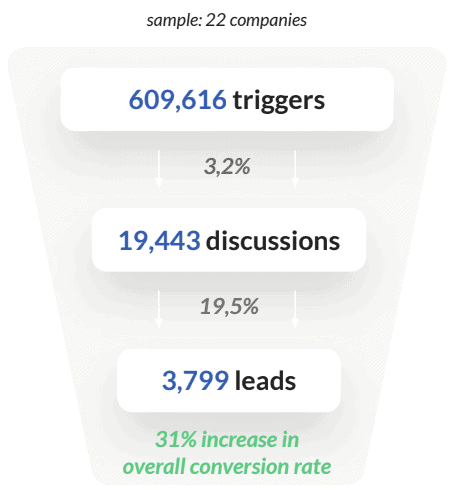 The construction industry is a solid performer and a good match with conversational chatbots. One in five people who started chatting converted into a qualified lead.
Chatbot stats for
Consulting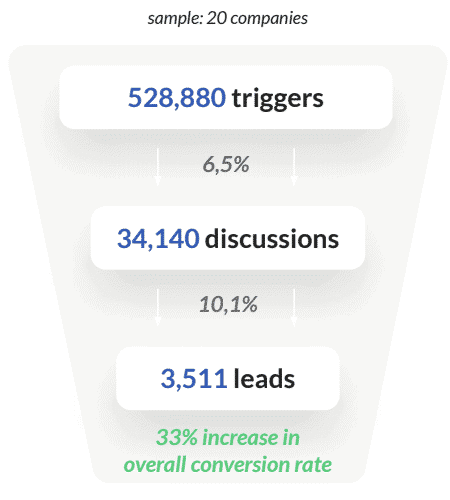 Consulting firms use chatbots to explain their services and to enrich contacts from potential customers. More than half of the companies achieved a conversation-to-lead conversion rate of 15-25%, the best performer reaching nearly 50%.
Chatbot stats for
ECommerce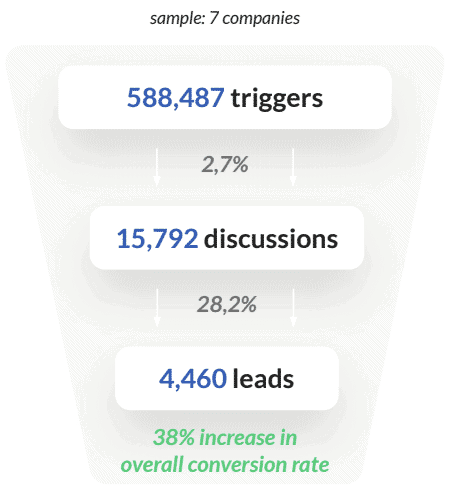 ECommerce players primarily use chatbots to deliver immediate support during the online shopping experience. Customers value this and often convert within a chatbot conversation. In this data set, leads include e.g. newsletter subscriptions and support tickets.
Chatbot stats for
Education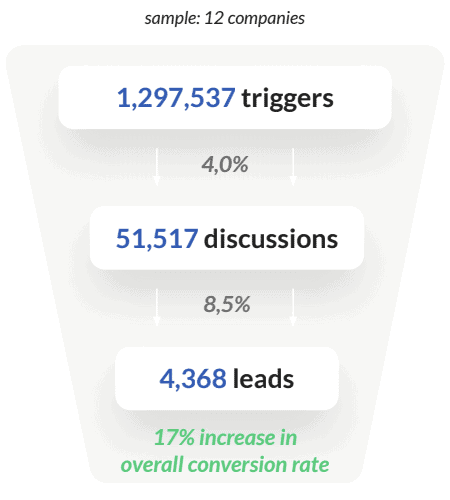 Chatbots in the education sector add vital support to websites with lots of information. Whilst inquiries often relate to questions about programs and courses, qualified leads also include registrations and enrolments.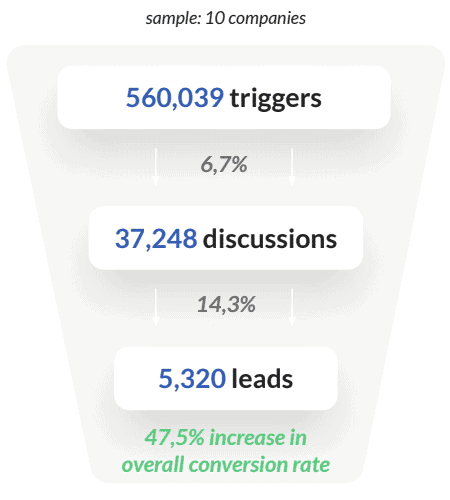 Energy companies' chatbots perform well throughout the funnel from trigger to lead. Customers get to ask questions and learn more about e.g. sustainability factors. Bots are also used as calculators and product recommendation engines.
Chatbot stats for
Financial Services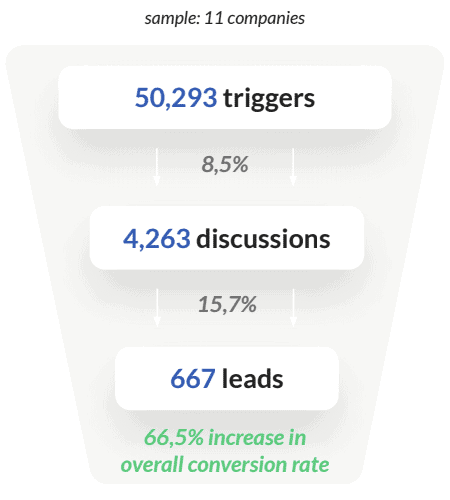 Financial companies utilize chabots within specific content, which shows in the relatively small number of triggers. This means, that when a customer encounters the chatbot, they are far in the buyer's journey and likely to convert.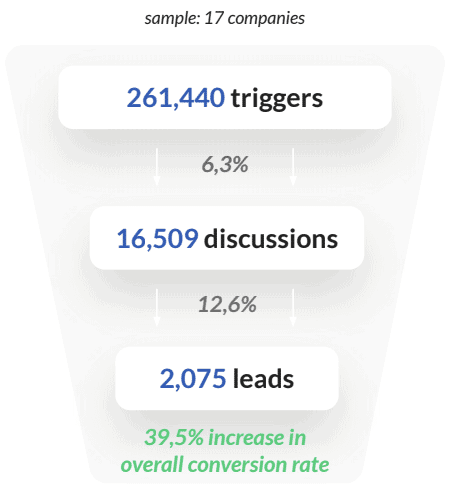 In our data set, the health sector performs close to average in terms of chatbot effectiveness. Regulations limit what information chatbots can collect, but they are a good for handling generic questions and guidance.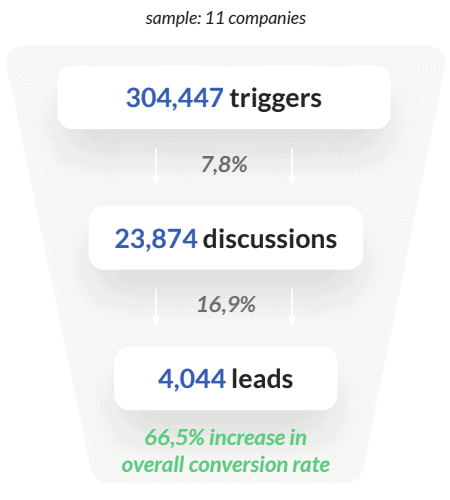 Across the board, 10-30% of chatbot conversations on HVAC websites result in a qualified lead. HVAC ranks 5th in trigger-to-discussion, and 3rd in trigger-to-lead conversion rate from the 25 industry categories in this report.
Chatbot stats for
Industrial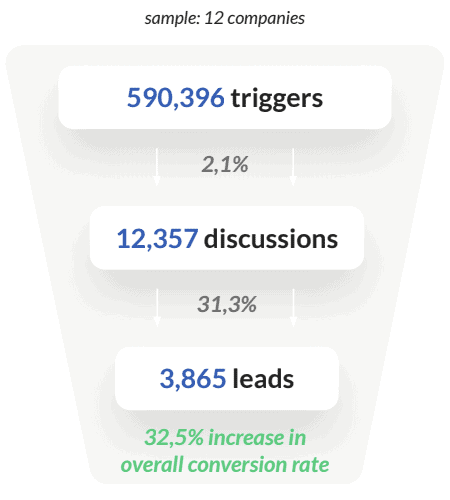 Big industrial companies mean a lot of triggers. Not everyone will want to interact with a chatbot, but the ones who do mean business. This shows in the average discussion-to-lead conversion rate of over 30%, and the top figure of nearly 57%.
Chatbot stats for
IT Services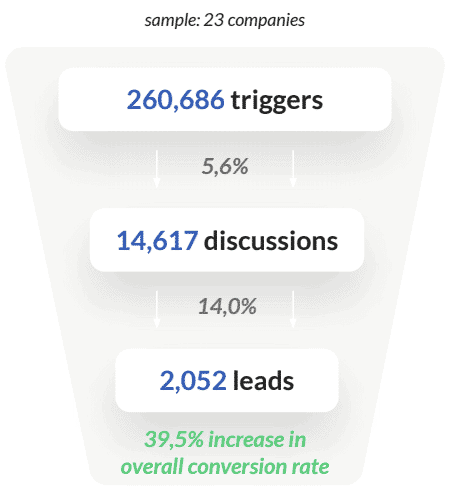 IT service providers find chatbots as a natural addition to the website. The sector performs at an average level compared to the other industries. As is the case for all B2B categories, even one lead in IT can turn out really valuable.
Chatbot stats for
Marketing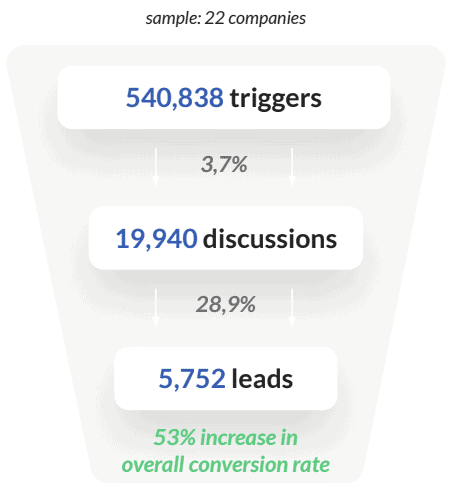 Marketing & media agencies are another eager group to implement chatbots. Creativity plays a big part, and the chatbots that hit the right spot can be hugely successful. Discussion-to-lead conversion rate ranks 3rd at nearly 30%.
Chatbot stats for
Non-Profit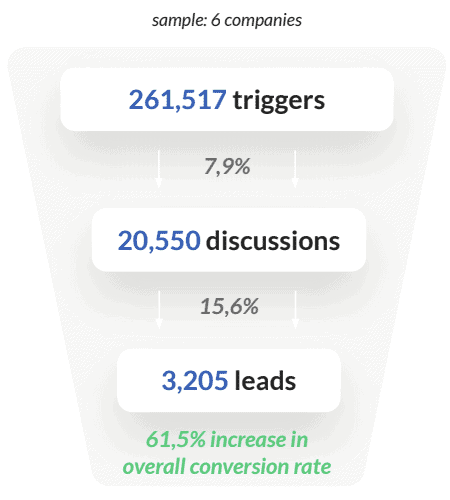 Chatbots present a user-friendly and automated way to collect donations and encourage participation. Nonprofit organizations rank in the top-5 for trigger-to-discussion and trigger-to-lead conversion rates.
Chatbot stats for
Public Institution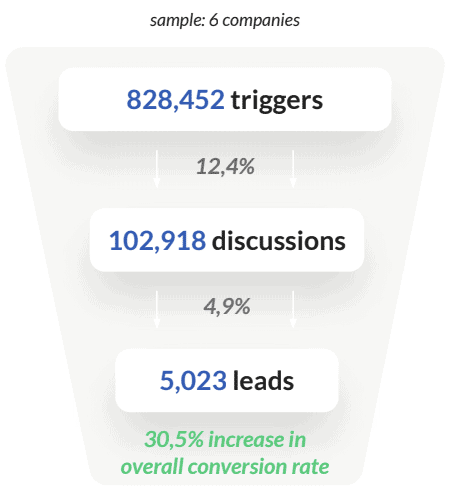 Public institutions and organizations at large are yet to discover the potential of chatbots. In our data set, the public sector ranked 1st for trigger-to-discussion conversion rate, showing that consumers are ready to seek answers from chatbots.
Chatbot stats for
Real Estate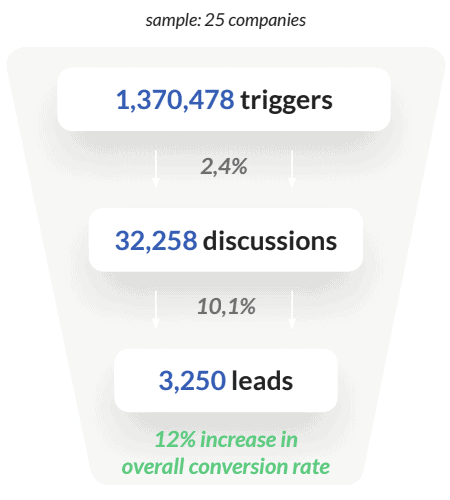 The high trigger count of real estate chatbots affects conversion rates, but when customers start a conversation, it often takes them forward on the customer journey. The category ranks low by numbers, but companies in this field still find chatbots valuable.
Chatbot stats for
Renovation & Home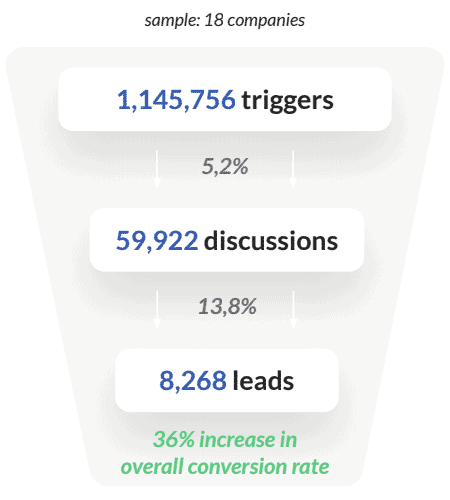 An excellent example of an industry where consumers need information before making purchase decisions. Chatbots are a natural way to help customers understand their need better. Renovation companies performed at an average level in our data set.
Chatbot stats for
Software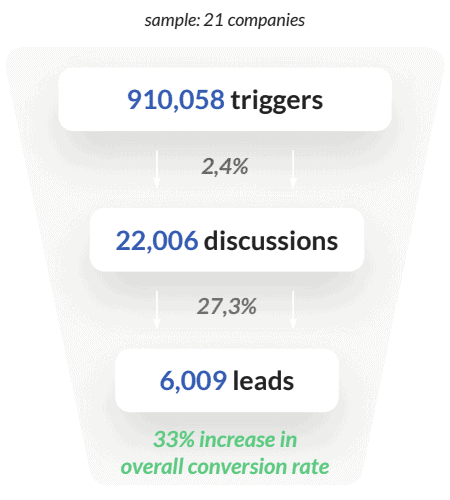 Much like IT, software companies aren't afraid to utilize new technologies. Most of the 21 companies in this category reached a discussion-to-lead conversion rate of 20% or more, peaking at 40%. Big revenue potential.
Chatbot stats for
Staffing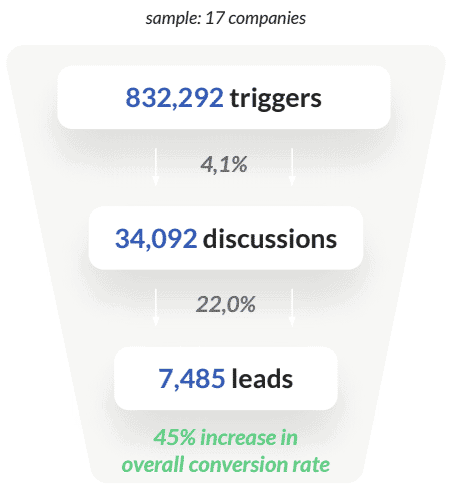 Staffing & recruiting companies use chatbots for capturing job candidates and sales leads. These benefits, and the valuable automation of bots, bring considerable savings in time and costs. Strong performer in terms of conversions.
Chatbot stats for
Telecom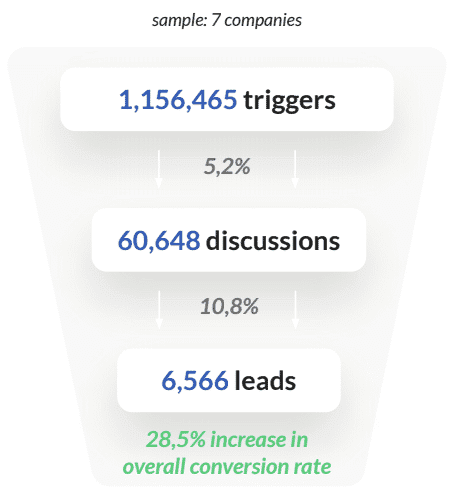 Telecom is characterized by large customer volume on the B2C side and information needs in B2B. The former finds value in speed and automation, the latter in the ability to tailor conversations and solutions.
Chatbot stats for
Travel & Leisure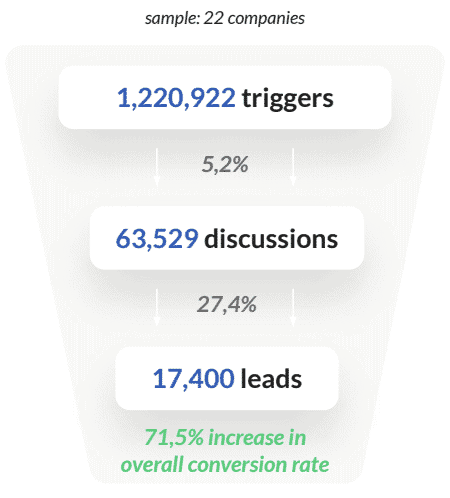 Chatbots have numerous use cases for travel, destination, and entertainment businesses. This category is one of the top performers in terms of conversions. Several companies reached a conversation-to-lead rate of over 40%.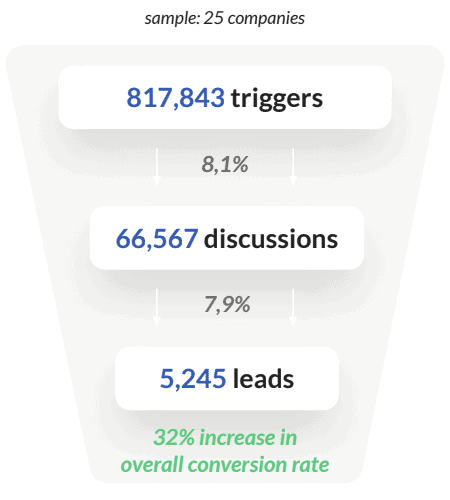 This category includes companies from a range of industries (5 or fewer firms in the data set, f.i. legal, events, insurance and so on). This diversity results in average performance, but also hints at how many different businesses can benefit from chatbots.
Chatbots are an extremely contextual piece of technology. Our study aimed to bring some clarity to what kind of results you can expect from chatbots in your industry. 
The chatbot stats presented in this article are averages, and heavily affected by multiple variables. Therefore, you should not take them as absolute truths. That being said, the numbers listed here show encouraging proof of the potential performance gains that can be achieved with chatbots. 
Chatbots create timely and meaningful engagement between buyers and sellers. They generate measurable business outcomes and more intangible benefits, that increase companies' resilience in competitive markets.
Learn more about chatbot conversions and how to succeed with the technology – get our full report on chatbot stats by filling in your email below.
Get the full report on chatbot conversion rates