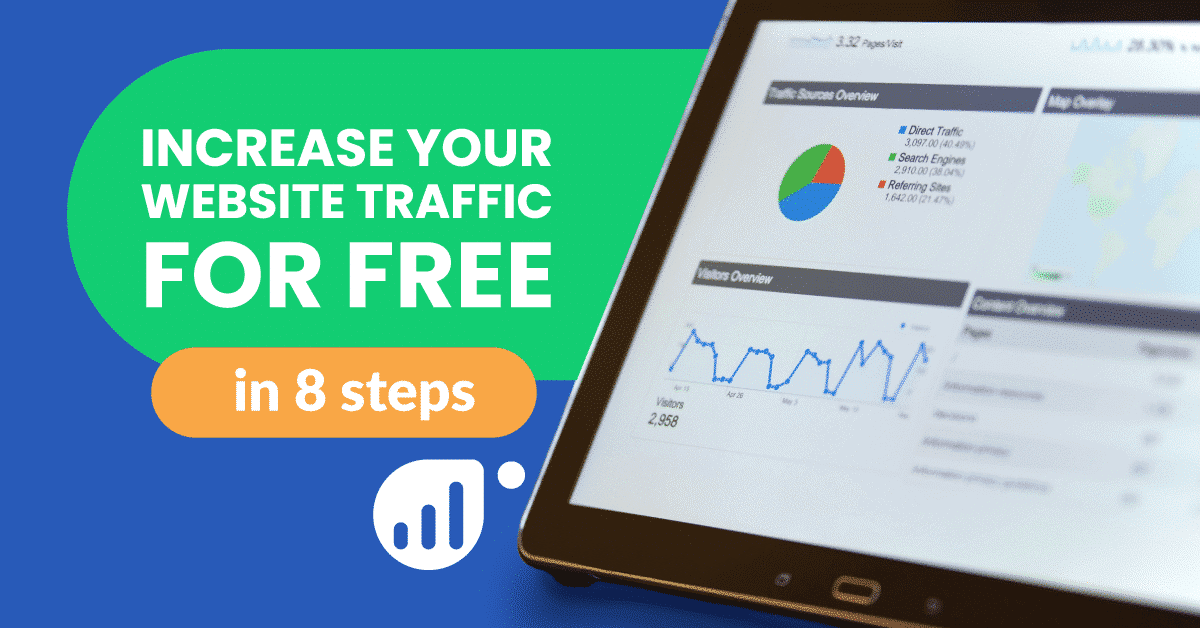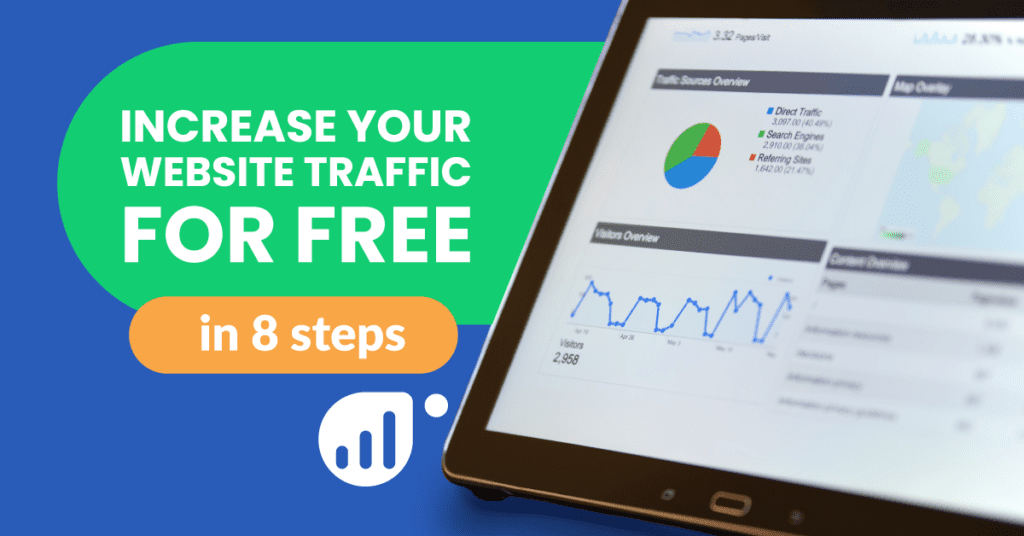 increase your website traffic for free
Before we get started, let me get something straight: increasing your website traffic is not synonymous with increasing your sales or conversion rate. (Check our other article Stop obsessing over website traffic and start converting leads) Though, without enough traffic even a well-designed website with the right conversion points, will not be able to create performing results. increase your website traffic for free
At Leadoo MT, we consider that on average a website should have at least 500 visitors per month before starting to work on conversion optimization. Otherwise you face the risk of not seeing a significant increase in conversion after optimizing your website with interactive content, for example.
With that in mind, help is at hand. Here are 8 tips everyone can do to increase your website traffic for free.  
#1 – List your website in relevant online directories
The first, and one of the easiest solutions to increase your website traffic for free is to get your website listed in all relevant online directories you can find.
For products, you would want to check directories such as:
For services, you need to find industry-specific directories, for example for digital agencies, Digital Agency Network. But I will let you google the right directory for your industry. This blog will be transformed into a giant list of hyperlinks, if I start listing here for every industry!😅
For everyone, take advantage of Google My Business, it is a free and easy-to-use tool for all businesses to manage their online presence across Google, including Search and Maps. Having your Google My Business profile will allow you to publish, post, advertise products and make all your contact infos up to data and visible straight in the search results page! You wouldn't want to miss that!
Bonus: if you are already a bit more advanced, look at some local business directories to boost your local SEO as well.incre
 #2 – Write interesting content:
We all know the saying "Content is King", which has been one of the most famous digital marketing statements for years. As we move into 2020, it continues to be true. But here, we really need to emphasize the "interesting" part. Write great content that will deliver added value to your audience and don't get stuck overthinking about SEO and keyword stuffing. If you follow this advice, you'll keep the visitors coming back for more and more. And the better your content is, the more engaged your visitors will be.
Examples of a few different types of content you can create include blogs, white papers, case studies, infographics, ebooks, checklists, how-to´s etc.
#3 – Offer gated content:
Linked to the previous method, you can share content pieces (presentations, e-books etc.) against your reader's personal information. Gated content is used to generate leads by providing your audience with valuable information in exchange for their contact details such as their name, email address, industry, title, etc. For instance, this is also something you can easily do through our InpageBot. Have a look at an example here. 
#4 – Find high-volume, low-competition keywords to target for your next content piece
Without any doubt, search engine optimization (SEO) is still one of the best ways to achieve consistent, long-term results when it comes to driving organic traffic.
To do this, you need to write about topics people are searching for. In other words: topics with search traffic potential. The easiest way to get started is to select a keyword research tool, such as Moz, UberSuggest, AhRefs, or Google AdWords Keyword Planner to cite a few. Most of those tools have a free trial, and Google Keyword Planner is entirely free if you already have or can create a Google Ad account.
Once you have chosen your tool, you need to enter a few relevant keywords to see a keyword report as well as all related search. Now what? You have a giant list of keywords, so you need to start filtering according to these two metrics:
Search volume—shows the overall search demand for this keyword, how many times this keyword is searched for in Google 
Keyword difficulty—ranks the difficulty of a keyword, using a numerical value between zero and a hundred 
By doing this, you should be able to obtain a non-extensive list of low-competition topics with decent search volumes.  Keep in mind, that the very best topics strike a balance between high traffic potential, low competition, and high business value. As said earlier, don't get stuck overthinking SEO and don't go the keywords stuffing route – always think about bringing added-value to your audience no matter what.
#5 – Build your backlinks with trusted websites:
This one is a longer topic but as it is an important one, I thought I would give you an introduction to backlinks building, as well as a link to a full guide from Moz if you are interested in digging deeper into this topic.
What's a backlink? A backlink is an external link created when one website links to another. Backlinks are also called "inbound links" or "incoming links" and they are really important to your SEO.
Why are they so important? Backlinks are especially valuable for SEO because they represent a "vote of confidence" from one site to another.
So how to get started? If you've just created your website, the chances of getting fast and natural links are almost zero. Building natural backlinks takes time and every marketer shares the same pain, so you are not alone in this (which is to your advantage, I'll come back a bit later to that point).
One of the most common methods is to write guest posts on reputable websites in your niche (check the next section "#6 – Write guest posts").
The second one, is to create shareable content, for example with infographics or really engaging landing pages.
And one more idea to get you started would be blog or forum commenting. Again, don't get me wrong here, the idea is not to go to the first forum you'll find on your way and copy/paste your website link. Instead try to create a relationship with the reader, attract their attention to yourself and to your website by being personal, commenting on something that is relevant and worthwhile to the original article or thread. 
In short: be conversational, and wait for the right moment to drop them your own links! 
#6 – Write guest posts:
First things first: let's define our terms. "Guest posting" means writing and publishing an article on someone else's website or blog.
Why would you do that? Guest posting builds relationships, is great for search engines, allows you to get introduced to a new audience, and the list goes on.
Why would someone let you do that then? What do they have to win? The first thing to remember here is that it is not about your business, your products, or your services. Guest posts should be valuable sources of information – not advertisements! Almost always, guest blogging is a two-way street. That means that you will also host a guest post on your website in exchange, that is why it is really important to select carefully your partners. You should always select partners that are relevant to your niche or industry. 
You are looking for blogs that fit the following criterias:
The content is focused on your niche/industry
The audience of the blog will be interested in your industry
The blog has engaged readership (posts have been shared socially and commented upon)
The blog owner is active on Social Media (so you know that they will be promoting your work on their site)
Once you identified who could be your relevant partners for your guest blog, it's all about contacting them with a clear plan in mind, and by doing a minimum of research about your partner business prior to contacting them.
Here are a few tips for your actual guest post:
Write a clear and concise author bio
Include at least one relevant internal link back to one of the company's previous posts if relevant and possible
Conclude all post with a call-to-action and asks for reader feedbacks/comments
Promote your guest blog on your own social media channels
Track your referral traffic in Google Analytics
For a more detailed guide on guest blogging, check Neil Patel Guide to guest blogging
#7 – Share added-value content in relevant online communities
There is an online community for virtually any topic or niche. It is important to network with your industry peers, in order to exchange best practices, learn new skills and tools but also to help each other out, and leverage relevant audiences for you and your business.
Online communities are a great place for you to promote your content if done right.
There are a few factors to consider when joining a community.  You want to join communities that are active with good numbers. The easiest way to find potential communities for you is to do a simple search on Google or a Social Media platform with keywords related to your niche. You'll be returned with a list of communities you can join.
Depending on the approval process, it may take anywhere from a few seconds to a few hours or days to get approved as a member of a community. Once in, it's all about getting familiar with the community, engaging and providing added value to the members and only then sharing your own content. (Remember the rule of forum and blog commenting in point #5)
#8 – Host free webinars
Webinars have become more popular than ever, especially since the beginning of social distancing, replacing traditional seminars and trade fairs. People love to learn, and webinars are an excellent way to share your wisdom with an eager audience. Combined with an effective social promotion campaign, webinars are a great way to increase traffic to your website. Send out an email a week or so before the webinar, as well as a "last chance to register" reminder the day before. 
Make sure to record your presentation so you can repurpose your webinar into an on-demand webinar and use your presentation as gated-content. Repurposing is the key in getting the content you already have in the hands of more people, it's all about saving your time and money while getting more out of it.
You can use Leadoo integration to create a webinar sign up page, here is an example. 
You can also host a free event to nurture your audience and create a community around your industry and your brand, here's another example. 
References:
https://www.omniconvert.com/what-is/organic-traffic/

https://www.forbes.com/sites/forbesagencycouncil/2019/10/03/top-marketing-trends-for-2020/#194f6cba13d5

https://techieride.com/5-fundamentals-for-securing-high-traffic-for-your-website/

https://www.blogarama.com/blogging-blogs/1301764-results-driven-marketing-digital-dynasty-blog/25547974-what-authoritative-backlink

https://goinswriter.com/guest-posting/

https://neilpatel.com/blog/guide-to-guest-blogging/

https://wikicat.net/everything-you-need-to-know-about-guest-blogging/

https://www.wordstream.com/blog/ws/2014/08/14/increase-traffic-to-my-website

https://www.forbes.com/sites/robertadams/2017/04/10/23-proven-ways-to-drive-traffic-to-your-website/#5b6ffbbe2654

https://www.bigcommerce.com/blog/how-to-use-social-media-advertising-to-increase-traffic/

https://www.facebook.com/business/help/465262276878947?id=401668390442328

https://influencermarketinghub.com/find-your-target-audience-social-media/