Leadoo's mission has, since its inception, been to boost website conversions and today we empower over 1000 websites all around the globe to do just that. We believe that companies are leaving money on the table by only focusing on driving traffic to their website, while 98% of the visitors they drive there don't actually convert to leads. What a waste.
But, no more; Leadoo's conversion platform helps companies increase their conversions by offering a superior website experience: one that's more personalised, more interactive and more conversational. For today's buyers, the experience they receive is crucial as they increasingly expect more immediacy and personalisation from the websites they visit. If you are not able to keep them engaged and address their needs quickly and effectively, they will simply move on.
"Brand campaigns don't make sense because they don't instantly contribute to revenue!" cries one (poorly informed) person. "Brand campaigns are totally impossible to measure effectively!" cries another.
As a marketer, you know that everyone has an opinion about your job, and how you should do it. This is why you also know that attributing the right results to the right actions is crucial, but often also very difficult.
Well, not any more. We've got you covered – we built Campaign Insights with you in mind!
Why use Campaign Insights?
We're here to ensure your website is the best-performing sales channel for your company. We're also here to ensure you'll be able to attribute the revenue your marketing campaigns are generating to the activities you've worked on!
As you know, buyer behavior has changed during the last few years. No buyer journey is linear, but now it seems to be near-impossible to make out the shape of the journey, much less create some attribution modeling to make sense of it all.
Since we work closely with marketers like yourself, we've heard this pain point over and over, and we wanted to bring forth a solution.
With Campaign Insights you'll be able to closely follow the buyer's journeys, regardless of how many touch points there have been. You'll be able to drill it down to a specific campaign level and see everything it has contributed in terms of further traffic and later conversions.
It will be the tool you need to reason your advertising spend and attribute the notorious brand campaigns.
How it works
It does sound nearly too good to be true, so of course we'll show you how it works in practice:
Within the Leadoo Platform you're able to track first and last touch UTMs to see the buyer journeys that came through them. You'll have a visual view on the full buyer journey, including all the different touchpoints your website visitors have had on your site after the first visit.
This is especially useful when checking the first touch UTM and looking into the campaign performance and how your potential customers interacted with you after they landed on your site through your campaign. You'll get a whole visual view of their buyer journeys, and you'll be able to review the individual journeys in great detail.

The same goes when considering traffic sources. You can easily see how people from different traffic sources interact with your website, what their buyer journeys look like, and at what point they convert.

All of this gives you an extremely detailed view of your campaign performance, and an unbeatable way to optimise your campaigns and future activities based on actual buyer journey data.
And of course, the individual buyer journey data might not always be what you're looking for. That's why you can also monitor these in groups, based on the UTM and source filters, for first and last touch points.
Let's look at an example:
You want to know how many people coming from Google convert, and what are the most common mid-journey touch points and traffic sources, as well as what actually gets them to convert. You're curious to see the last three months – a reasonable amount of time to look at.
You'll see this information presented like this: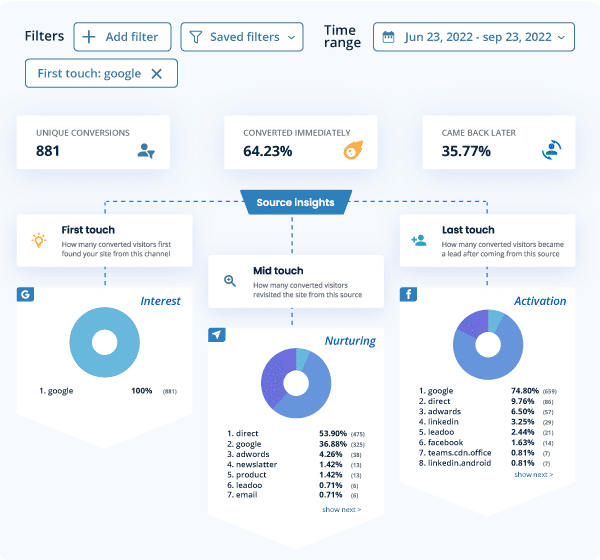 After that, you'll get more detailed information about the buyers' journeys and visitor behaviour. For example you'll see how many page visits it takes to convert them, how many sessions they've had on average, and what's the source they actually end up converting from when they do.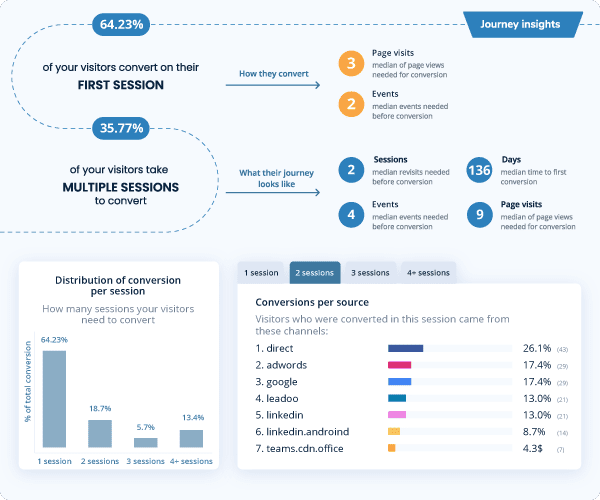 You can easily combine different filters, and you can save them also for your team to use, so different people and teams should be able to easily review the same insights.
Get your hands on Campaign Insights 🙌
We love to see you reaching your fullest potential and getting the praise you deserve from the revenue you generate. Let us help you to turn your campaigns into a raging revenue machine, and attribute the incoming revenue to your campaign efforts.
You can book a quick demo right here 👇