Our diverse and in-depth insights have had a makeover, and they're looking better than ever. So we thought now would be a good time to take a look at the insights you can gain about your customer journey, and why, and how our Conversion Platform can help you in your mission to measure the most 👉
We're firm believers that conversions are the pinnacle in terms of where your marketing strategy should focus – but in order to even begin thinking about optimising for conversion, you'll need the right tools, providing you the right information so you can make data-informed decisions based on the actual behaviour of your visitors on your site. One such tool that certainly stands up tall to this job is Leadoo's Conversion Platform, and more specifically Conversion Insights.
Conversion Insights
Conversion Insights is the analytics section of the Leadoo platform, which provides you with all the insights you need in order to take action to improve your conversion rate. Leadoo's whole conversion platform was created with customers in mind, and we continuously develop our tools to improve the oversight our clients have of their website visitors so you can take proactive steps to make the most of every visitor that arrives.
Top pick: Our 5 best features to help you understand your customer journey
1. Visitor & Company Identification (and Google Tag Manager)
Visitor Identification allows you to see who is visiting your site on an individual and company level, meaning you can see all the untapped market potential in one easy-to-use dashboard. If an individual visits, it will show you their name, email and location for that visitor under the Visitor Tracking section. However, if they visit from their company account, this can be seen under Company Identification – where you can see the name, size, revenue, headcount and more of the companies that are visiting your site. This is particularly useful in B2B sales, where you can monitor who visits, but also take proactive steps to nurture these customers down the funnel. Pair this with Google Tag Manager (GTM), and you can create incredibly specific micro target groups for retargeting campaigns, ensuring that you're always in the forefront of the (right) customers' minds when they are making their purchasing decisions.
2. Visitor Tracking
Not only can you see who is visiting your site, but you can also see what they're doing there. Visitor Tracking allows you to see each touchpoint the visitor has with your site in a simple timeline, showing dates, times and details of each interaction. 
When used alongside conversion tools, such as InpageBot, you can see any conversations the visitor has had with the bot, in chronological order, so you can see their journey and work out what it is that they're looking for. Our bots are designed to activate and qualify your visitors so that you know exactly what each visitor needs, allowing you to take a proactive approach with your sales team to turn them into a closed deal.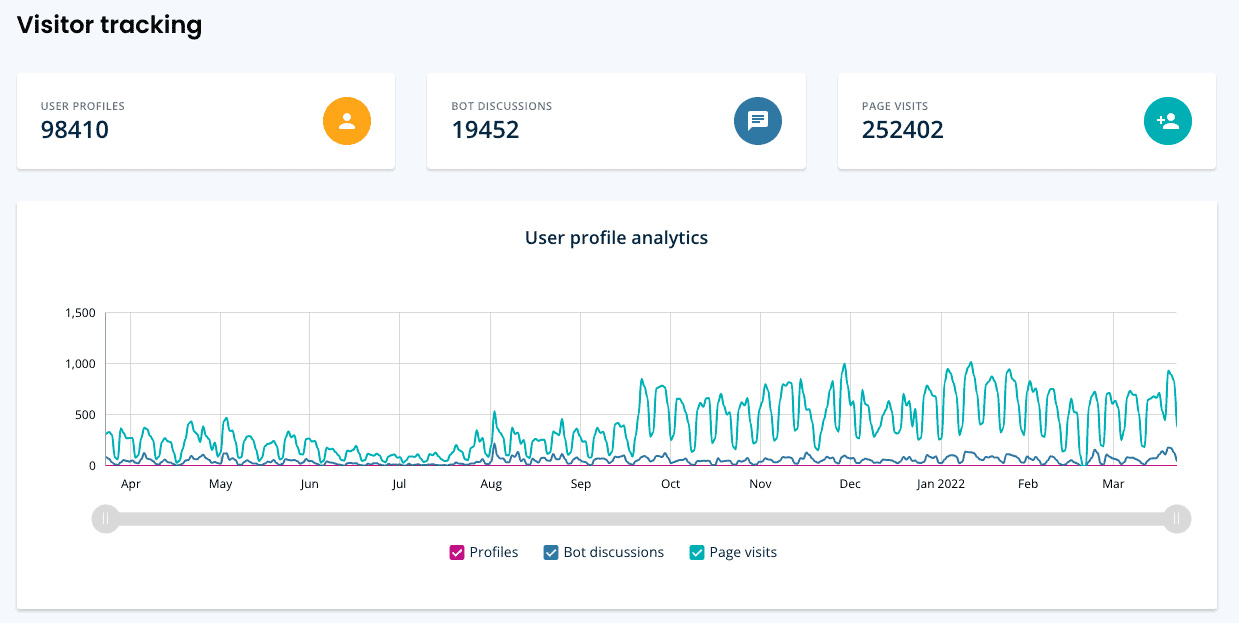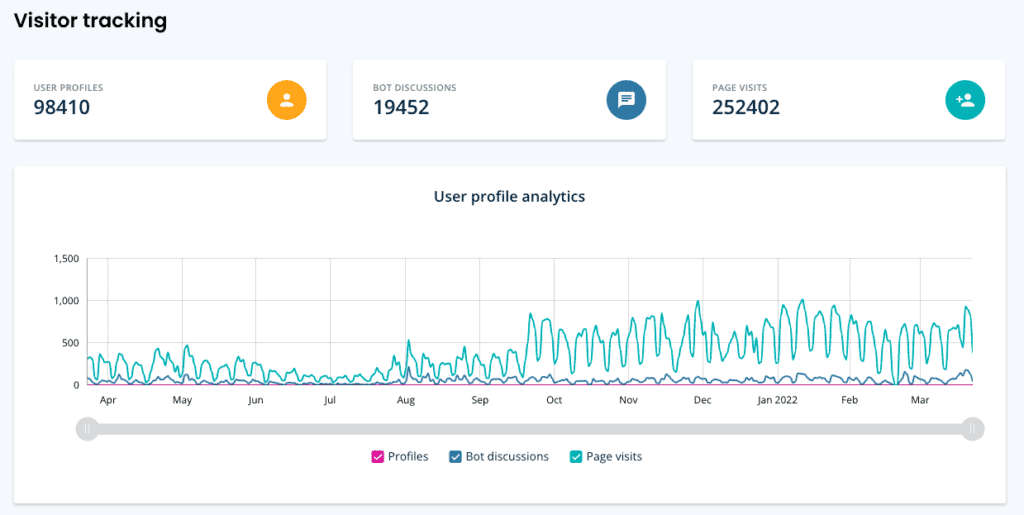 3. Conversion Dashboard
Your Conversion Dashboard is where everything is clearly laid out for you to see in one place. We have preset and fully customisable graphs and charts, displaying your data in a way that's easy to understand and interpret. Within Bot Analytics, you can see how each bot type is performing, see the most common reason for people to get in touch, and see which bots are your most successful in converting visitors, all in one view. Bot Analytics allows you to drill down into each bot's performance, so you can see what's working for your customers and what isn't.
Live Chat Analytics provides an overview of the conversations your site has dealt with via LiveChat. You can see the number of unique chats, number of messages sent and received in total, average response and average first response times, as well as which pre-set categories each customer fell within. Performance is displayed via graphs showing the number of chats over time and the number of responses provided. The date range is fully customisable, but pre-set options are also available to select.
Visitor Tracking, which we've already covered, shows you the number of unique user profiles which have visited, along with the number of bot discussions that have taken place, and the total number of page visits. You also have a list of profiles, along with a timeline of events taking place on the site, so you can see when, and how often, individuals are visiting your site. Company Identification works in a similar way, but this screen provides you with handy graphs showing your funnel and number of conversions, as well as your visitors split by industry and revenue, and the trend in visits by the tools they engaged with. All of this provides super helpful insights into the way customers behave on your site, and allow you to make changes where necessary to duplicate successful features whilst testing others.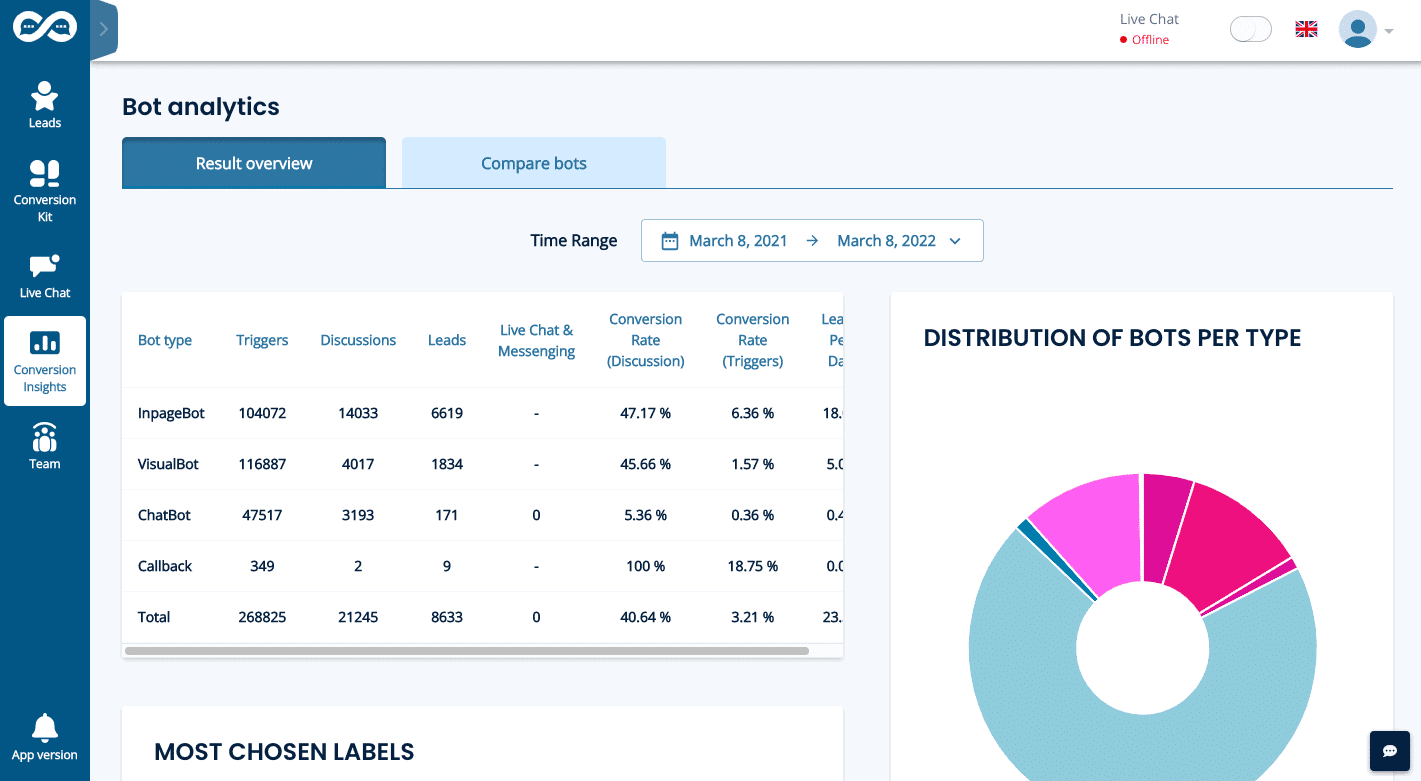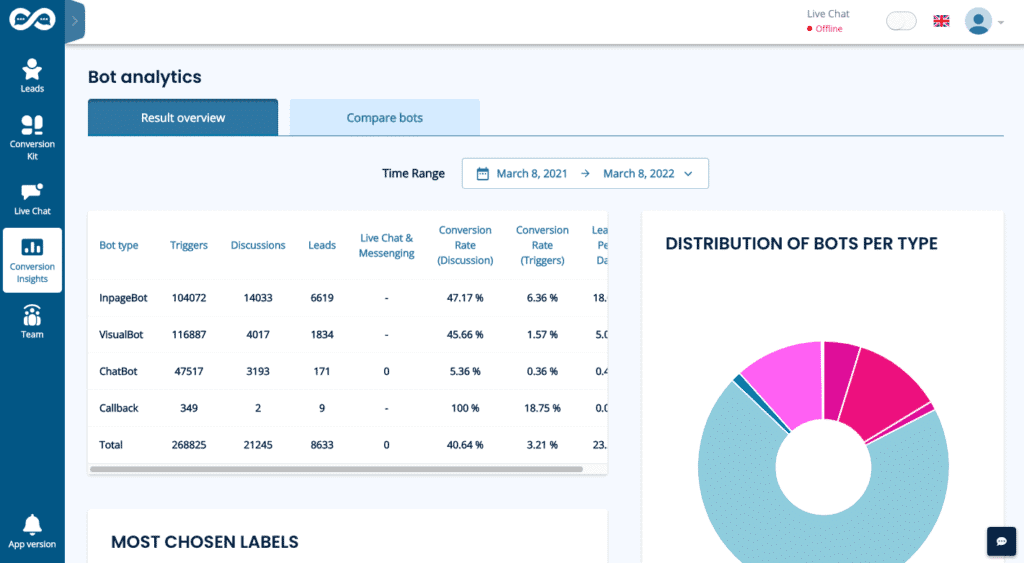 4. Conversation-level analytics
Within the bot builder, you can activate analytics mode which allows you to deep dive into the metrics for each node within a conversation, and see at a glance using the heat mapping feature which nodes convert, and which cause customers to bounce faster than Andy Murray's balls 🎾
Within each node, you can see the number of triggers (number of times this node has been opened or reached), drop off rate, and number of answers. When you provide options for response, you can see a breakdown in number and percentages of how many customers chose which response. This tells you what the customers are looking for when visiting your page – for example, if many customers are landing on one page but interacting with the bot about something else, it may be that the navigation to that page isn't very clear, and by improving this the number of conversions on the desired page will increase.
Similarly, if you receive lots of demo requests through a VisualBot, but not through a ChatBot, then it may be the case that your customers prefer a more visual interaction experience. Much can be learned about your customers and their intentions by analysing the information gained from the conversation analytics section of the platform.
5. Prospector
Not only do we know what your customers are up to, but we also know who they are. Leadoo Prospector provides the name and contact details for 20-30% of the key decision-makers within the identified companies, allowing your salespeople to bypass gatekeepers and speak directly to the people holding the purse-strings. By integrating the Leadoo platform with your CRM system, you can get the company identification information and the decision-maker data imported directly from Leadoo to your CRM.
If the recognised company hasn't already been created in your CRM system, the integration creates a new record of the company and decision-maker data automatically. If the recognised company already exists, the CRM record gets updated and enriched with the newest data available.
Key Takeaway – get measuring that customer journey!
Our Conversion Insights feature gives you a full 360° view of your customers' journey, paired with detailed company data and company-level buyer's journeys. You can easily integrate our Company Identification data with Google Tag Manager and create unbelievably precise retargeting audiences so you are always there when the customer needs you.
And while you're integrating the Company Identification to your Google Tag Manager, you could also integrate it also into your marketing automation and/or CRM system and make it trigger a specific action such as emailing details to your sales team. By pairing Company Identification with Prospector, you'll get access to a vast database of decision-maker data for your sales teams to leverage.
Using Source Insights, you'll be able to see what kind of conversion journeys the visitor companies have. Within Insights, see easily which channels are the best in attracting the companies in the first place, through which channels they return, and what eventually converts them.
Leadoo allows on-page conversions, not just via a static contact form, which in itself provides you with a huge amount of information. A large number of tools to choose from within the platform make it easy to select the best ones for your individual use case and customers, and our team are always on hand to help you choose.
If you want to know more about how we can help improve your conversions through providing actionable insights, get in touch or chat to the bot below 👇