If I asked every reader of this article to name some things I can find in a toolbox, it's likely that the answers you give will be invariably the same; hammer, screwdriver, drill and so on.
But what about a conversion toolkit? Could you name the handy tools that it contains? Probably not. Could you make use of every single one? Probably. In fact, we'd say almost certainly.
Conversion, conversion optimisation and conversion rates
Have you heard of these? If you have, you'll know how important they are, and if you don't – well, as usual, we've got you covered.
A conversion is simply a desirable action you would like your customer to take on your site. This can look different depending on the business, and whereabouts in the funnel the customer is (we can measure this through micro-conversions – smaller, but still significant conversions which give us an excellent indication as to what point the customer is at in their buyers' journey). We use these two terms interchangeably a lot of the time, and that's because we place value on every qualified conversion opportunity – not just the end result.
In practical terms, a conversion can be anything from a newsletter download, to a conversation with a chatbot, or a qualified prospect completing a demo request. Simplified, it's just any business-relevant activity which, at the end of the day, will affect a company's revenue and profit.
Conversion Optimisation is a key part of online marketing that seeks to develop websites and increase their user experience, to provide better information and opportunities for customers to become a conversion. This means making the most of the visitors you have coming onto your site, and ensuring as many of them as possible are qualified and turned into leads, ready for nurturing or contact from your sales team.
Optimising your conversion rate therefore is about constantly testing and improving your website's layout, design and functionality in order to make it easier for your visitors to convert. This process means you're able to much better understand what works (and doesn't) on your website, so you can continue to increase your conversion rate further.
The metric used is the Conversion Rate, and this can be calculated from the website, campaigns, or ads and emails.


Summary of Conversion Rate
In its simplest form, a website conversion rate tells you how much of a site's visitors convert – that is, what percentage of visitors take the desired action on your site and/or become a customer.
A campaign's conversion rate is the percentage of people who completed an action (such as a purchase) of those who could possibly have completed the action.
To look at the conversion rate for adverts and emails, divide the conversions by the number of clicks, and multiply by 100. This conversion rate is known as the click-to-conversion rate.
If maths isn't your bag, fear not – we have our handy Conversion Rate calculator here to help:
Conversion tools make marketing easier
In order to focus on conversions, it would probably be a good idea to take a look and see which tools are available to help you achieve your conversion goals. 
Conversion platforms, as the name suggests, are platforms which are fine-tuned for increasing conversions and collecting lead data to allow sales teams to be proactive in their approach and increase the number of deals they close.
They're designed to make sales and marketing professionals' lives easier by activating, capturing and nurturing web conversions. Activation is an incredibly important (and probably underestimated) part of conversion – only 2% of visitors on an average website convert. That means a whopping 98% of the people visiting your site don't convert. 
What a waste.
But this is where conversion platforms can step in to save the day – and there are usually things you can do immediately to improve conversion rates across your site. For example, are there enough available conversion points or at least visitor-activating elements which provide the opportunity for customers to move down the funnel? Possibly not.
Many companies are just actively seeking to collect leads, and this isn't always a bad thing – in fact, 91% of marketers say that generating leads is their number one goal. And that's fine, so long as the customer experience is as good as it could possibly be. Improving the customer experience is another relatively simple way to increase the likelihood of conversion.
And many marketers are focused on driving huge amounts of traffic to their site, which again in principle doesn't sound like a bad thing, but who are those visitors? Are they quality visitors who are likely to turn into sales? Or are they just brisk visitors who clicked on your advert by accident?
It's quite important for your sales teams that you know the answers to these questions. Traffic is, of course, important – but having visitor numbers of 20k a month and only gaining 10 quality leads from these efforts isn't exactly anything to write home about. The key here is to create meaningful, engaging, entertaining and educational experiences for the customer, build rapport, qualify their needs, and nurture them into a lead with exceptional precision every time.
The other thing we commonly see when working with clients to improve their conversions is poor navigation. It goes without saying that you need to make it as easy as possible for visitors to convert.
Activate, convert, understand
When converting web pages, it is essential to remember the rule of three points: activate, convert and analyse.
1. Activate your visitors
Understand the steps in every customer's journey, and take every opportunity to activate them using the solutions available in your conversion platform.
2. Convert visitors
Once your visitor has been activated, the next stage is ensuring the conversation or interaction the visitor has with your solutions is highly converting. This is where conversation-level analytics become really important as it allows you to optimise each conversation specifically to your customers' needs.
3. Understand your visitors
Any conversion platform worth its salt will provide analytics to show you how and why your conversions happened – it's super important to check these as they will give you excellent insights into what works well for your customers, and what doesn't, so you can replicate across your site and increase your conversions even more.
A decent conversion platform will help you activate, convert, and understand your visitors. They aim to help make your life easier by automating your sales and marketing processes and providing a variety of tools to help you gather valuable data on your prospects before and after the purchase happens. Above all, the conversion platform you choose should be able to bring in quality leads, not just deliver thousands of cold leads to your inbox.
Conversion tools
Let's take a closer look at what you can expect to find within a conversion platform – namely the tools available to you.
Conversion tools are any solution which helps you to improve your conversion rate. In general, they refer to marketing automation tools, analytics and visitor identification tools.
Marketing automation tools help you to automate your marketing processes, and streamline anything that may be repetitive. By making the processes much less labour intensive, it allows you to spend your time on more important tasks. For example, you might automate emails to go out to particular existing customers or to nurture prospects, and you can provide automated chat for your customers to self-serve or to qualify and direct them to the right team.
Analytics tools, on the other hand, collect that valuable data about your website visitors, and allow you to analyse what works for your customers, and what doesn't. You should be able to see what conversations you've had with each visitor via any bot solutions implemented and analyse those conversations. These tools tend to focus on a specific type of data, and alternatives to these systems include systems that;
Show website analytics and traffic data to get a better idea of ​​what drives visitors to your website, what works and what doesn't.
Emphasise marketing attribution data. Attribution helps to outline the customer's entire conversion path and shows you the touchpoints in their journey. There are often many touchpoints before the customer's purchasing decision, and the journey is rarely a straightforward one. Attribution modelling, as above, can be used to form a more comprehensive picture of the customer's conversion path.
Identify companies. There are various identification tools that accurately identify the companies that visit your website and can tell you, for example, which company and what size company the visitors are from.
Often, conversion tools also include Customer Relationship Management (CRM) integration. CRM is one of the most important competitive advantages in sales and marketing. In its simplest form, CRM integration means that all the valuable data you collect is automatically exported to your CRM system, where you can manage the information in the way your company works. If your CRM integration is automated, this saves lots of time and manual work in sending leads across to different team members.
As you can see, there's plenty of help available in terms of tools to improve your conversion rate.
If you're particularly interested in conversion platforms, we can tell you a bit more about us and the solutions we offer. At Leadoo Marketing Technologies, we invest in both marketing automation and comprehensive analytics tools. Our platform is made of three parts; Conversion Kit, Conversion Insights, and Conversion Experts, which all form part of our service offer.
Conversion Kit 🛠
Our state-of-the-art conversion tools include a variety of bot solutions to activate your web visitors and spark converting conversations in just the right place, at the right time.
Try InpageBot, or VisualBot, which both seamlessly blend into your website, allowing you to unleash your creativity and take advantage of tests, quizzes and questions to activate and qualify your visitors. ChatBot provides support and guidance on every page, for those customers who just can't find the page they're looking for. Or try our CallbackCTA, a lightning fast way for customers to submit contact requests through your site.
A good service provider understands that a bot is essentially an automated and hard working customer service representative working for you on your site. A high quality, engaging bot naturally activates the web visitor and provides real, contextual added value to the visitors experience by providing answers to FAQs or assisting in product selection, for example.
Conversion Insights 📊
We don't like guesswork – it's much better to base our Conversion Insights analysis on solid data so that it best serves your needs. Not only do we tell you who is visiting your site, and which parts they visited when, but it also tells you what works best on your page, and what doesn't, as well as what the visitors are actually doing when browsing your site.
Our company identification tool allows you to view important company data about your website visitors (e.g., industries, company revenue) and explore the decision-making processes and buyer journeys of these companies on your website.
With conversion analytics, you can see when your website visitors are most active, which of your conversion tools are getting the best results, and you can see what interests your website visitors the most.
Conversation-level analytics, in turn, allows you to easily and quickly analyse the performance and dropout rates of your conversion tools, understand in detail how your potential customers want to act, and take swift action based on the information provided.
All of this information is also automatically exported to your CRM system, of course – we're here to make your life easier 😉
Conversion Experts 🧑‍💻
You may look at the kit and insights sections and think hold on – how on earth am I going to single handedly monitor and implement all these solutions? As a sales or marketing professional, you're already extremely busy and so don't have the time to spend hours pouring over the analytics and insights. We get it.
So, that's why our Conversion Experts are a key part of our service offer. Our experts are on hand to help you make the most of your solutions. When you sign the contract with Leadoo, you're allocated an Onboarding Manager, whose job it is to understand and implement your initial solutions based on your brief. Then, once you're up and running, you'll be handed over to one of our Customer Success Managers, whose job it is to look after you as one of our customers, as well as optimising your solutions regularly and working with you to improve your site.
Leadoo's CSM team will review your site's and solutions' performance with you on a regular basis, so you can highlight anything you're particularly happy with (and so perhaps should be replicated elsewhere on the site), and anything you're not happy with (so our team can look at how to rectify). The bottom line is, our team is here to support you in your conversion rate improvement journey, and are here to answer any questions you have about your solutions or their implementation.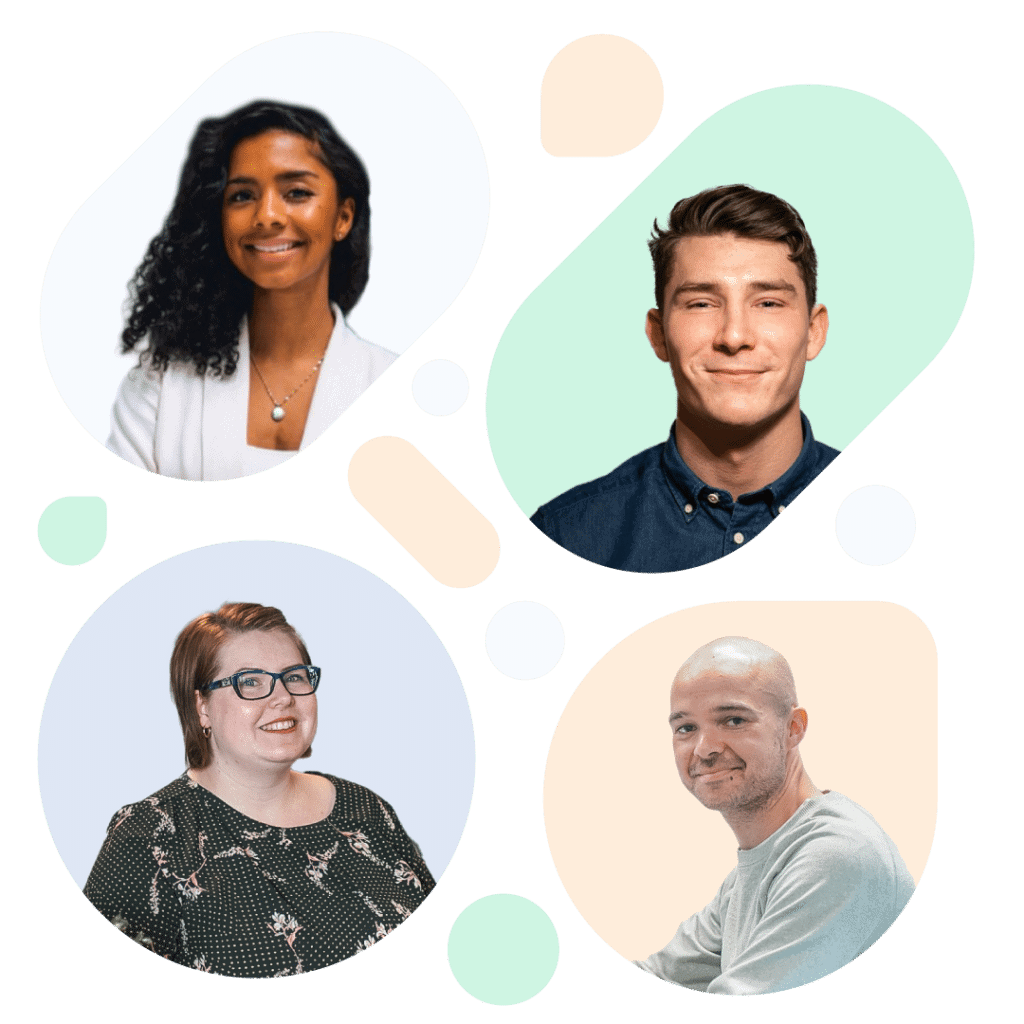 Are you interested in conversion tools?
Conversions matter. The first step is to start testing different solutions to find out what works on the website and what doesn't. Conversion tools aren't necessarily required, but they'll help you a great deal: take advantage of marketing automation tools, certain analytics tools, or all of them in one package in the form of a conversion platform.
Some consideration should be given to your business goals here – where do you need help, and what is the solution? Your alternative is to, for example, take advantage of a service provider that focuses its solutions on marketing automation or analytics specifically.
But, if you're someone short on time (aren't we all?) and you think you wouldn't have time to implement a conversion platform, think again. A conversion platform should provide you with the whole package needed to improve your conversion rate. Ours is the best (okay, maybe we're a bit biased…) because we provide you with industry experts who are on hand to help you whenever you need support, meaning you can hand the legwork over and our experts will do the rest. You just sit back and take credit for the results. Winning.
All in all, our conversion platform is comprehensive, our tools are high quality and our experts are literally THE experts when it comes to conversion – sounds pretty good, right?
If you'd like to know how we can help you increase your conversions, get in touch today or have a chat with the bot below 👇