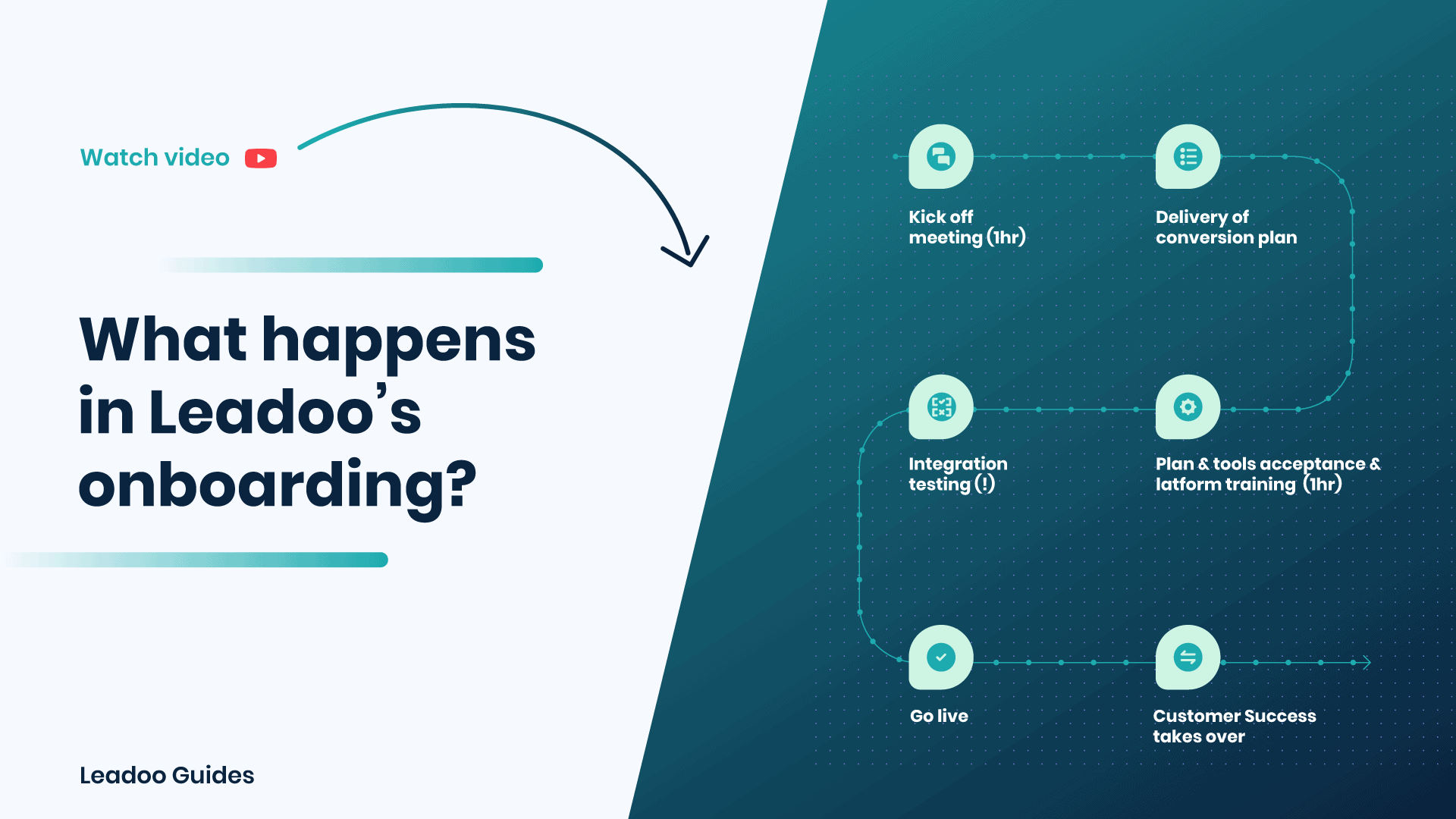 I bet you've some time in your life heard a less-than-awesome experience from someone who started using a SaaS-product? Perhaps you even had one yourself. And now you're wondering: How is Leadoo supposed to be better than other similar Martech tools in this regard? Time to find out!
What happens after I sign the contract
Our secret sauce in delivering a great experience from the get-go is that we will never just dump the tech on a customer and hope for the best. Instead, our Onboarding and Customer Success teams will do pretty much whatever it takes to help you achieve success with our product right from the start!
Leadoo's SaaS onboarding service is an integral part of our every contract. This means that our experts will assist you in setting up Leadoo from day one – all the way from overall definition of goals and sorting out technical details to creating the first set of bot designs with you. Our customers agree that it's really worth the fee. Some even claim that it's one of the best parts of choosing Leadoo!
The outline of our onboarding process
Here's what you can expect to happen when you sign a contract with us.
Save time for a kickoff call
Within 1-2 days from signing the contract, you'll be contacted by the Leadoo team to schedule a time for an approximately 30-60min kickoff call. In this call, we introduce you to your personal Conversion Designer who will soon be your favourite sidekick. Why? Together you'll be putting together the ultimate plan for maximising your lead generation.
Get ready to talk about your business
The kickoff call will cover subjects such as
1️⃣  your primary goals for having bots on the website, and
2️⃣  your desired tone of voice in the bot conversations.Your Onboarding Manager will provide you with a full list of subjects to be covered in the first point-of-contct contact, so you'll have time to prepare for the call beforehand. In this call, we'll also schedule a new time for an onboarding training, if needed (see end of this article for more info).
Take a break, relax and wait while we build the bot solution for you
After the kickoff call, we'll roll up our sleeves and start implementing the planned bot solution (incl. 5-10 fully customized bots) from idea to practice!
That's right, our conversational marketing specialists will build your first bots for you. This is good news for you, since each member in our talented bot expert team has built hundreds (in some cases, thousands) of bots for a large set of companies in different industries, with great results. In most cases this production phase takes max. 1-2 weeks from us, depending on the extent of the solution.
Review and approve the bots and get ready to go live
Once your holistic bot solution is done, we'll send our work your way for review and feedback. If needed, we'll make all necessary adjustments based on your comments. When you're happy with the outcome, we'll help you put the bots on the website.
Go live!
The final step of the onboarding process is to publish the bots on your website. Adding Leadoo to your website is included in our service – and you'll get it done faster if you do it through us instead of a third party. If you opt for us doing this for you, be prepared that we will need admin-level access to your content management system or Google Tag Manager for doing this.
Next up: Measure & optimize your success with Leadoo CS team
Once Leadoo is up and running on your website, we'll book you a situation check-up to be held 4-6 weeks after published bots with one of our Customer Success Managers. Starting from that, our Customer Success team will take over to make sure you are happy with our service and that Leadoo keeps generating results now and in the future. With the lead of your assigned Customer Success Manager, you can be assured that your bots will be analyzed and optimized for maximal success in every quarter, at a minimum.
(Optional step: Get personal training to our platform and become a master bot whisperer)
We don't limit the number of bots that you can have on your website, so it may be a good idea to learn to build more of these lovely lead generation machines by yourself. 
If you show interest in our onboarding training, we'll prepare a personal guidance session for you into using the platform, where we'll share our technical and content-related tips on how to create effective conversations yourself.
Depending on your needs, we can also only focus on the basics, like where to view your leads and how to change the lead notification settings of your bots. There are no dumb questions at this point, so just fire away – we've got you covered!
Not a Leadoo customer yet?