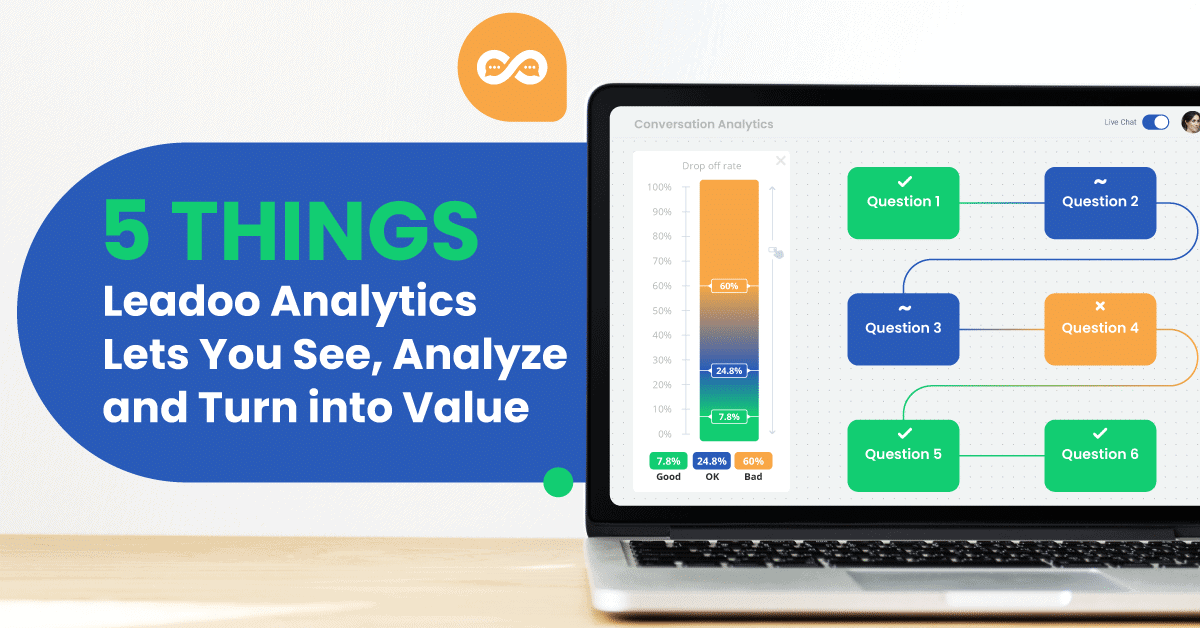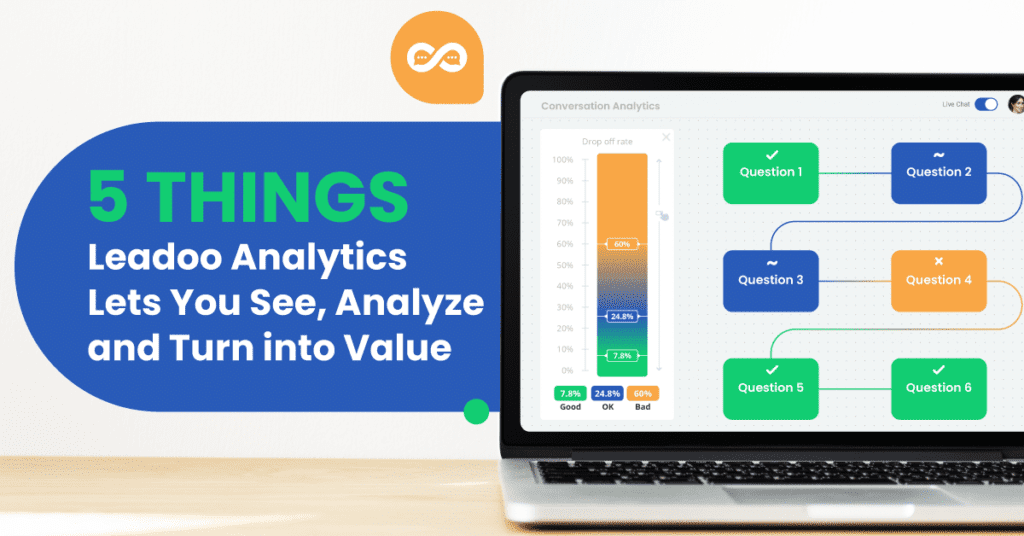 For all of us working in the digital world, data is the new oil! It's being harnessed to power success by every expert in the field of sales and marketing. However, data is essentially useless without ways to analyze and then convert those evaluations into actions. Companies have various ways to gather data, and from different sources. Most of the time the critical juncture is how to best analyze that data and what critical insights to look for to impact and improve decision-making.
Incorporating analytics into the business decision process is a crucial advantage for any company, yet getting your hands on it conveniently is challenging. In many cases, companies have to employ data analysts or invest in complex database management systems (DBMS). This is far from ideal and nor is it a quick and agile way to access data for making decisions. Speed of access is also a critical value of data. With quick and reliable data & analytics capabilities, companies can really leverage the time-sensitivity of well-informed decisions. 
The pillars of Leadoo Analytics
Companies need analytics for a variety of business decisions, whether those be website optimization, online marketing activities, the distribution of advertising spend  or decisions related to product development and positioning. One way in which high-performing companies separate themselves from others is through their ability to gather all relevant analytics in one place and then make those analytics easily accessible for their personnel. 
And here lies the pillars of Leadoo Analytics: results-focused, easy to access, highly visual and all in one place.
Leadoo Analytics is the place to go when optimizing your website, increasing online sales, or carrying out marketing activities. It also helps reveal business insights related to topics such as productization and positioning, for example. Leadoo Analytics are highly visual and easy to use. They make drawing conclusions quick and straightforward.
Our product is built for driving results, most often used to increase conversions from existing website traffic. That is present also in Leadoo Analytics: we gather data and make it easily accessible so it is convenient for you to drive better business results.
Google Analytics on steroids! 
You're no doubt familiar with Google Analytics and might wonder how Leadoo Analytics differs? Well, we'd like to quote one of our agency partners who put it like this: "This is freaking awesome! It's like Google Analytics on steroids!" We found it amusing (not the steroids part though, we are strictly against doping) and have used it ever since. 
To shine a bit more light on what we can offer, here are 5 things Leadoo Analytics enables you to do:
Draw patterns of what makes visitors convert
Wouldn't it be great to be able to see the buyers' journey paths that lead them to convert? Well, that's exactly what you can do with Leadoo's Visitor Analytics. We've even made it possible to drill down to an individual visitor view as well as on a timeline, letting you see what happened in which part of the journey. Dig deep to see what makes your visitors convert and draw valuable patterns to optimize your online sales and marketing efforts. 
Figure out what are the things your prospects are actually interested in (and what turns them away…)
Visitors scrolling through your site and having conversations with chatbots reveal a lot about your visitors but also a lot about your offering. With Leadoo Analytics you can see which parts of your offering truly interest your target audience and which make them drop off. The data is instantly turned to insight and just requires you to put it into action. Use the knowledge to put more emphasis on things that really interest users and drop or remove focus from the parts that turn them away.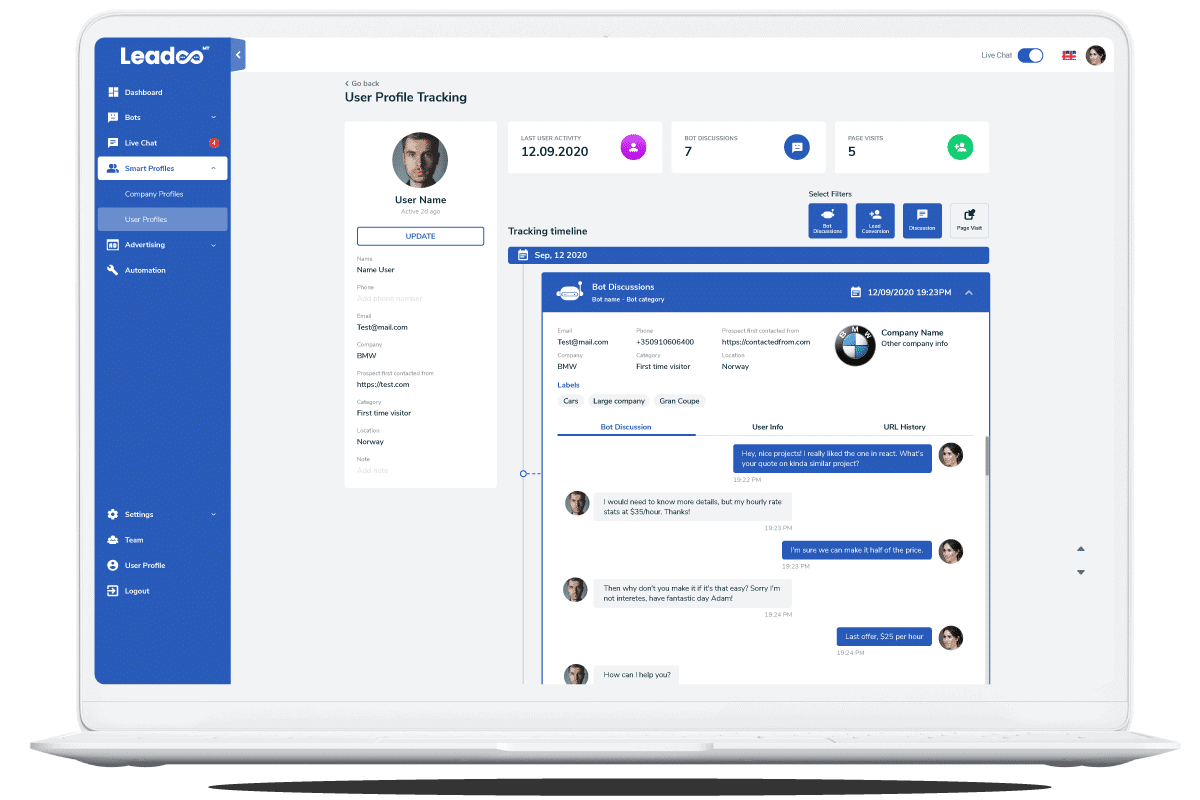 A view of the Visitor Analytics dashboard where you can see what certain visitors have done on your website and what kind of conversations they've had.
Don't guess at why users don't buy – explore their journey for yourself 
Sorry to be blunt, but when it comes to converting visitors into sales, most of your website is redundant. It's a hard truth but I'm sure you're not really that surprised. The great thing is, that leaves plenty of room for improvement. With Leadoo Visitor Analytics you can see where on your website some people quit their buyer's journey. It will likely lead to definable patterns that reveal why this happens. When you know why they drop, you can once again up your conversion game.
Create and optimize conversations that convert, by seeing what does and doesn't work
Creating excellent conversations isn't easy and that's why we provide the best possible tools for analyzing and improving your conversations. But as we mentioned several times before, this need not be a separate part of the admin panel. Instead, it should be nicely tied in with the editing and optimization of the discussions.
That's why this part of the analytics toolkit is built to closely align with the bot optimization view (see picture below). Turn the analytics on or off when you optimize the dialogs to see which parts of the conversation needs optimizing. Everything is easy, visually intuitive, and nicely integrated with the optimization process.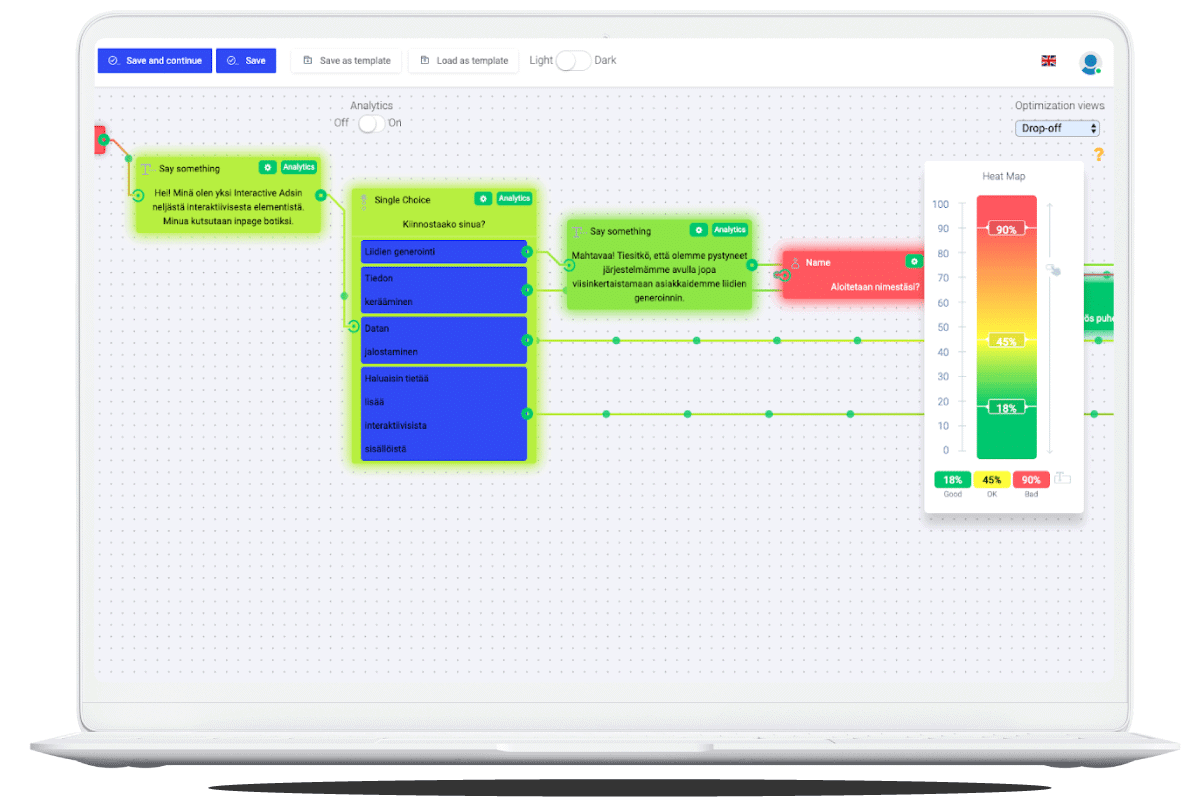 A screenshot of the conversation optimization view. Questions performing well are marked with green and the ones performing poorly are red.
Collect user behavior data from your website in one place
The problem with data is that it's often scattered between different platforms and hard to find all in one place. With Leadoo you can connect and collate all relevant website data into the platform, whether that's data sourced through conversational bots or general visitor behavior from users of your website. And everything is presented in a highly visual and easy to interpret way.