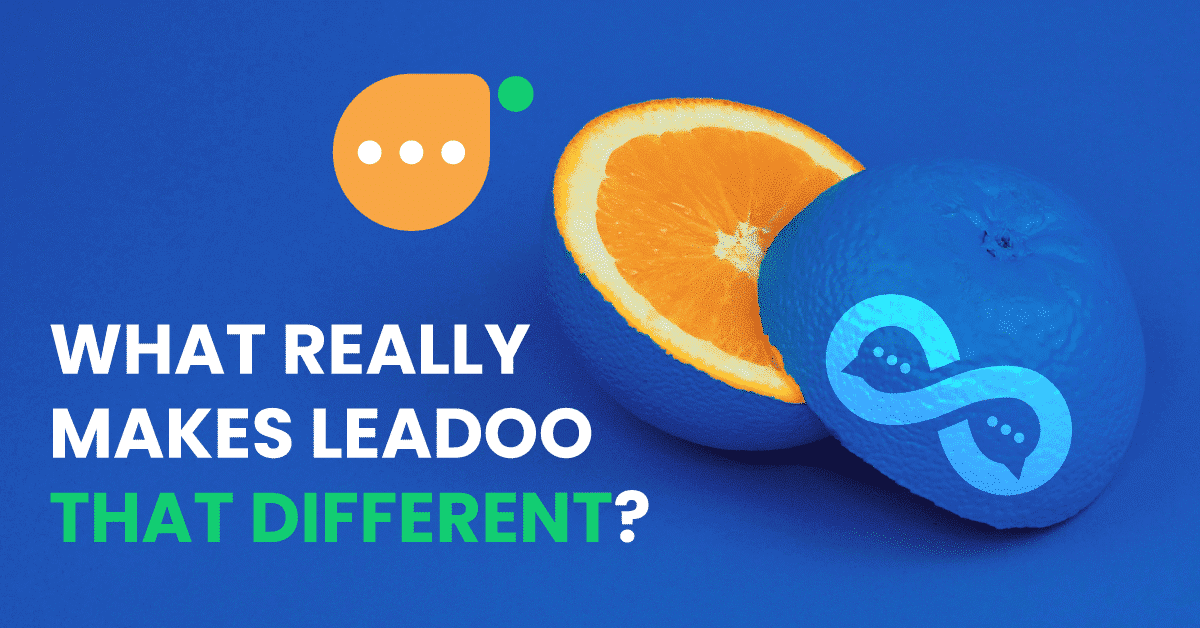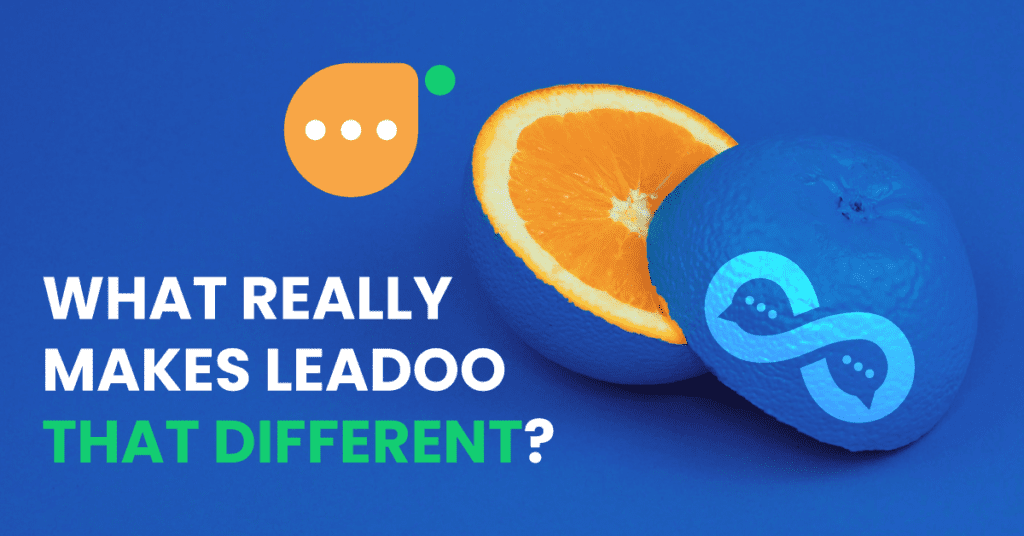 As you've found your way here, it probably means you know a little something about Leadoo already. Maybe it's because our people are popping up on your feeds, or you've come across some of our marketing efforts. Perhaps you know someone who works for us or you've had a chat with our technology somewhere online. Whatever the case, a quick recap on what we're about won't do any harm (and if you're in a hurry, I'm sure you can locate the scroll button).
Leadoo in a nutshell
You'd be forgiven for knowing us as "just a chatbot company", and four months ago that certainly would've been the case. Don't get me wrong, chatbots are still at the heart of all we do at Leadoo. However, our new platform is a whole lot more diverse. We've rebranded ourselves the lead-driven marketing platform, and really, this underlines what we do best: we convert your visitors into leads and your leads into sales. 
A strong statement. So how do we do it? 
First, we see ourselves as a reliable sidekick for our clients. We build trust by making them better at converting more leads and achieving more online sales. These kinds of results are what makes us so enthusiastic about what we do. If you'll forgive this official approach, I'll break down the process. As you probably know, all buyers start their journey online, which is why your sales and marketing efforts drive traffic to your website. And there's where the hardest hurdle lays: on average companies only convert 2.35% of their traffic, with as much as 25% of them converting less than 1% (WordStream research). So, to carry on the sidekick analogy: Leadoo builds your digital superpowers to help convert more leads online.
A team who knows how hard it can be 
Maybe you've heard a tale like ours before. Perhaps a talented analyst building an analytics tool better than any other in the world, or a barista creating his own perfect coffee whilst searching for the best blend.
Ours is a similar story but with a twist. We have not created a marketing platform just for marketers. Our background is in both marketing and sales, meaning our technology is focused on the sharp end of business. The marketing platform we've created targets sales and results, not just visualizing funnels.
So what do we do differently…?
That's a good question. I would say our magic formula is how effectively we combine the following five things: Lead-driven, Customer Service, Conversational Tech, Actionable Insights, Integrated Solutions. Now, none of these are unique but the key is in the combination. Anyone who has ever worked in sales or marketing knows how hard it is to get these things to work together. Here is where we have done an excellent job (maybe I'm biased but I believe it to be true). Let's have a look at each one.
Lead-driven
There's one thing that bridges the gap between marketing and sales – and that's leads! As the lead-driven marketing platform, we're obsessed with overcoming this critical hurdle. Results are achieved and companies grow when sales and marketing work in harmony. We want companies to have the right know-how and tools so they never miss a lead again. Our sole purpose is to drive results. That's it! Period.
Customer Service
A lot of Martech companies focus on scalable products, leaving you as a client totally on your own after purchase. We think differently. We have a model where we help our clients get started, ensuring that they 1) get their first bots up and running in a week, and 2) their first bots bring results. In our early days, we saw how long clients took to onboard themselves, 30-40 days in some cases! Not only is it a pain in the ass to start with something new, we saw how mediocre were the bots they created. We know how great our tech can be, so we want every customer to succeed to prove us right. That's why we don't fight to be the most used marketing platform in the world – we fight to be the most valued. 
Conversational Tech
Several of our clients saw their sales people start noticing a rapid increase in inbound leads. Only then did they realize our tech was on their site. Implementing Leadoo isn't a process that takes the attention of your whole organization, but the quality of the conversational technology will quickly deliver results. Because we offer a variety of different bot options and provide such a carefully customized service, we can really supercharge your inbound leads. And what's more, all of those interactions are available to see, right there in our Smart Profiles, letting you pick up a lead when they're ripe and ready. 
Actionable Insights
A large part of the upgrade for Leadoo 2.0 is the Smart Profiles and Analytics solutions. Without going into too much detail, the objective behind both is to focus on all the data that can deliver a lead. That means detailed, specific and attributable. What's the point in tracking user behavior if you can't identify the user. And what's the point in collating drop-off data if you have to guess the real reason. And this is where the Leadoo combination kicks in. It's the conversational threads that remove the ambiguity. Want to know why? Just ask the user! 
Integrated solutions
A client of ours, and a good friend of mine, glumly talked about how their various martech tools have swollen from only three a few years ago, to TWENTY three today! And the situation is only getting worse. Almost none of them talk with each other nor are they easily aligned with the existing processes. It's a dilemma I'm sure you're familiar with. 
Leadoo is built to integrate with basically everything there is. So no more problems with loose ends or manual work, we've got you covered. We even help you create the integrations needed as a part of our service. Leadoo is also super easy to add to your current processes. After a few optimization rounds, you're all set up with little need to even visit Leadoo's admin side as all the leads flow in the right direction.
Effective features, perfectly combined 
We are proud at Leadoo to say that the value we've built speaks for itself. All the features within the platform are a great combination that tie nicely together. For us, their effectiveness and harmony are far more important than dozens of cool features that don't serve the common goal.