Most of us are using Marketing Automation Platforms (MAPs) of some kind. They do all kinds of handy jobs for us that save loads of time; sending emails, posting social content, booking demos and even give us templates for our emails and content. But is this enough?
Those things definitely help us to get things done, but they alone won't increase sales, boost revenue or improve the number or quality of the inbound leads you have. For that, you're going to need a conversion platform and an understanding of what conversions are.
So… what does conversion mean?
Conversion is simply any desired action a potential customer takes on your site. What this looks like is determined by you and your business aims/needs – it could be to download an ebook, interact with a bot or to book a demo, for example. The aim of the game here is to achieve information about your visitors; who they are, which company they are from, and what their buying intentions are. This can be inferred based on what they interact with – someone who books a demo is much closer to purchasing than someone who downloads a whitepaper. There's levels to this, yanno?
When you spend time tweaking your site to ensure that you can obtain this information, this is known as Conversion Rate Optimisation, or CRO. Conversion rate optimisation therefore aims to get as many conversions as possible out of the people who visit your site – for example, by encouraging them to subscribe to a newsletter or download resources.
We'll come back to conversion optimisation later, but if you want to know more, you can read our handy guide on the basics of Conversions and CRO for Marketers. We've also written lots of blog posts about conversion and conversion rate optimisation, so we've helpfully linked them here if you want our top tips for upping your conversion game, or advice on how to avoid some easy to avoid pitfalls.
Another term you'll need to know is nurturing. Nurturing refers to the process of looking after your new found potential customer. The way you can do this, for example, would be by providing information or suggestions or offers on solutions when he or she is just considering his or her options. Effectively, you're being proactive in order to warm up the potential customer towards making a purchase. You can see examples of this in lots of familiar B2C companies – loyalty cards like the Tesco ClubCard and the Nando's Card (no, we haven't managed to get our black card either 😒) are great examples of providing tailored offers to encourage purchase. You didn't need the extra loaf of Hovis, but it was only 40p at clubcard price, so you couldn't resist.
And now you get how nurturing works, my little bread lover.
So, your aim is to convert high-quality leads, and there are three important stages to this process: lead generation, nurturing and conversion. Those three things work together – if you don't nurture your leads, they're unlikely to convert, but nurturing alone won't give you a return on investment. And if you generate leads but don't do anything with them, then, well… maybe the sales world is not for you.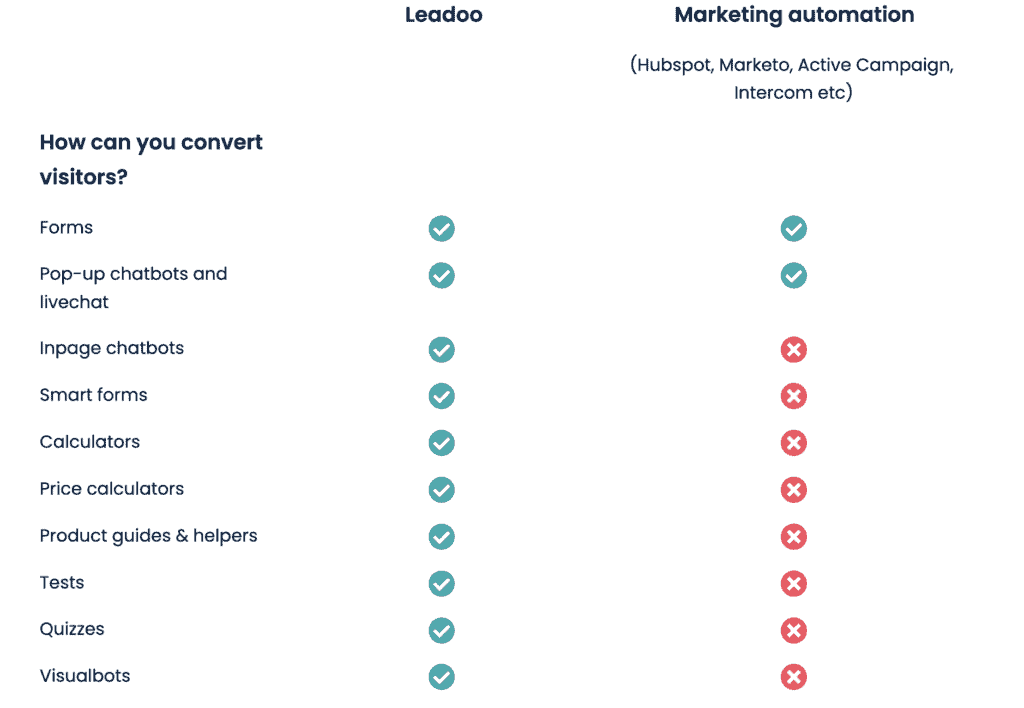 Right, so which one is better?
Well, we've already covered the importance of conversions and the need to focus on them. More conversions = more sales = more revenue = more holidays in Barbados. Happy days. But it's also important to remember that conversion isn't just about wanting something more – it's about getting more, but for less money and effort. A higher conversion rate means you achieve a better return on advertising spend (ROAS) and that means your customer acquisition cost (CAC) will drop. Even better.
So, to summarise the difference; marketing automation tools automate marketing, and conversion platforms are platforms for collecting conversions.
We already know that MAPs are there to help with those tasks that, if done manually, would take a really long time (think: sending personalised emails or scheduling social media posts). And they can be a great choice, for example, when a company's marketing team wants to improve a few smaller parts of their marketing strategy.
However, they might not be the best solution for growing companies. This focus on one or two things can become a challenge in B2B sales and product development, where you may need to wear many hats at once, and at lightning speed to keep up with the company growth. Another problem marketers often face with automation tools is that they're not compatible with each other, so you have to buy several tools for different purposes (for example, separate solutions for email automation and measuring website activity). Obviously this pushes your costs up. Nobody wants that.
For a business that needs to focus on streamlining your marketing processes and achieving maximum ROI, you'd be better off with a conversion platform that allows you to leverage your conversion potential. The advantage of a conversion platform is that it provides you with a methodology for developing your marketing strategies around the aforementioned holy grail: lead generation, nurturing, and conversion. This can be complex when approached individually, but a conversion platform simplifies the whole process for you in one neat little package.
In addition, conversion platforms also often have in-depth analytics and built-in analytics capabilities: platforms can work on multiple tasks simultaneously, such as collecting customer data or proposing appropriate content and insights from a specific industry.
The Leadoo platform is a platform focused on just that: lead conversions. It turns passive website visitors into quality leads that sales teams can really use. We take advantage of a variety of carefully designed and customised as well as interactive bot solutions, easy-to-use analytics, features that make it easier to track visitors, and more. These naturally guide the customer towards conversion and help this so you don't have to be online 24 hours a day. We know, awesome, right?
Key takeaway
There is no one-size-fits-all answer to which is better, but you need to look at it from the perspective of your business:
🚀 Marketing automation tools can be useful for start-ups that don't yet have the actual gaming tactics in mind.
🚀 Conversion platforms, on the other hand, offer a broader perspective to companies whose strategy is already clear.
🚀 Option C: Choose a shorter route i.e. let someone else do all the work and just track your success. Your pals at Leadoo have a wealth of success stories about how we've helped numerous companies up their conversion game. If it's possible to improve your website's conversion rate, then what do you have to lose by doing so? We'll tell you the answer – nothing.
Hopefully now you understand why conversions are so important (maybe more important than marketing automation) and how you could use them within your business to help you get more leads.
So, in the words of Abba – thank you for conversions. Or something like that.