Wouldn't it be nice if someone answered your frequently asked questions, booked meetings, accepted job applications, and told potential customers about the benefits of your product or service? And did so in your stead, even using your face and name? 
Well, now that someone has been found…
What even is that, we hear you ask. Well, in practice, it's your very own virtual assistant that you can harness for the purposes you need. No more sending dozens of emails answering the same questions over and over, forgotten calendar appointments or missed calls. And the best bit? It's totally free.
Let's get right to the meat of it and delve into the uses, editing and implementation of Leadoo Sales Assistant 👉
Purpose 1: Book meetings seamlessly
With Leadoo Sales Assistant, you avoid unnecessary emailing back and forth when trying to find a convenient time. When the other party has a link to your LSA, they can book an appointment that suits them – and you – from there. You can do it by integrating your calendar with your Leadoo Sales Assistant, which takes about a minute. This way, you no longer have to deal with dozens of emails to see if that 30-minute slot can be arranged there in two weeks. Easy peasy.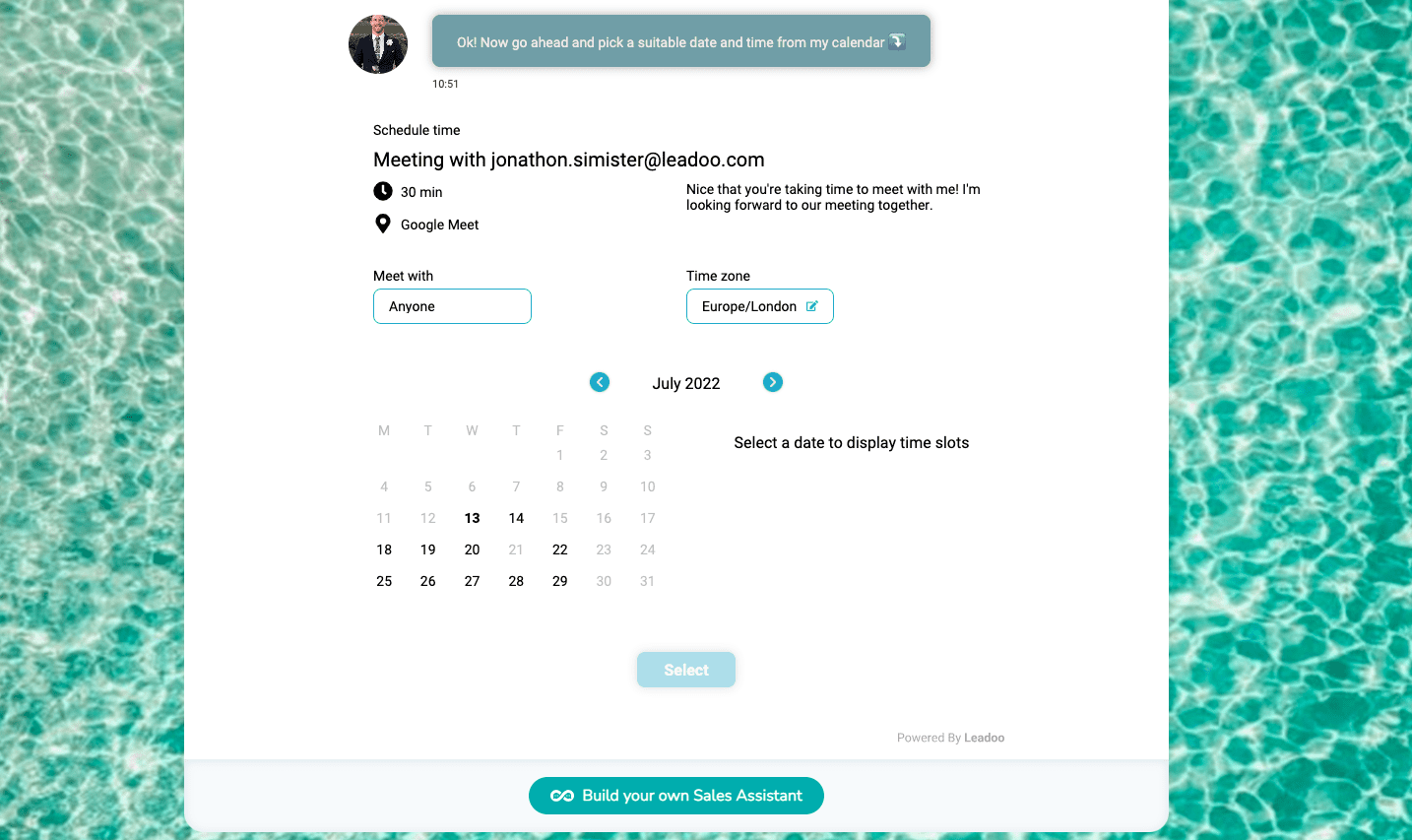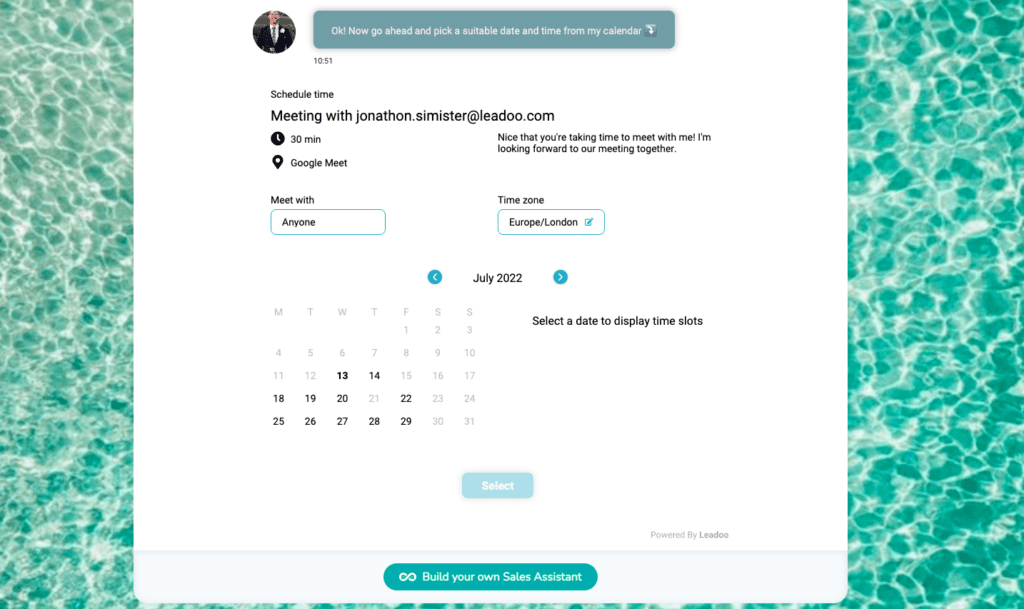 Purpose 2: Answering questions
For all of us (depending on the field, of course), the same questions often come up over and over. What kind of services do you offer, what does product or service x cost, how long does this take to implement – and so on. If the answers to the questions are usually the same, you can send them to the Leadoo Sales Assistant to automate these responses and save you time. Less time spent answering the same questions, more time for really meaningful interaction!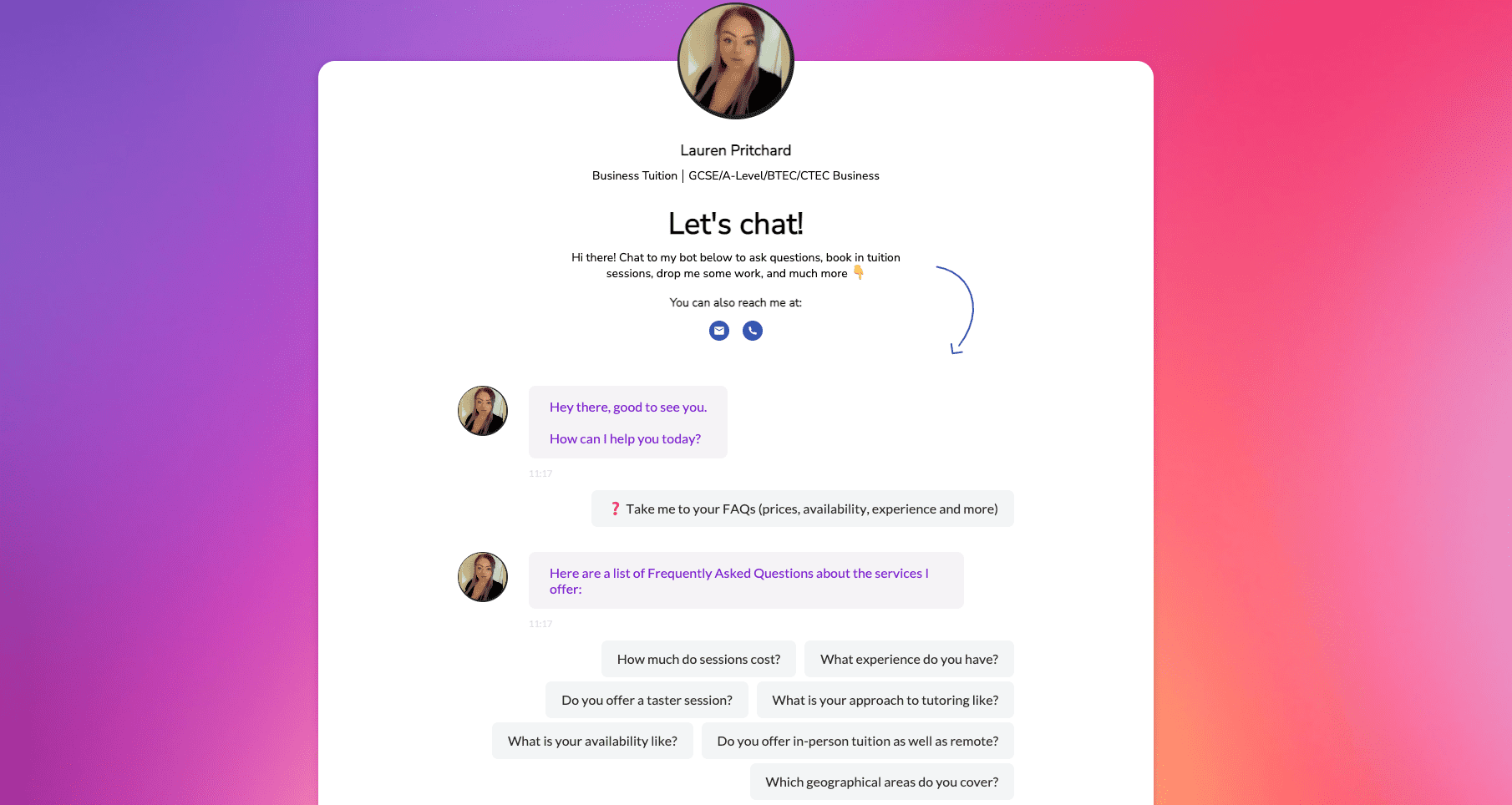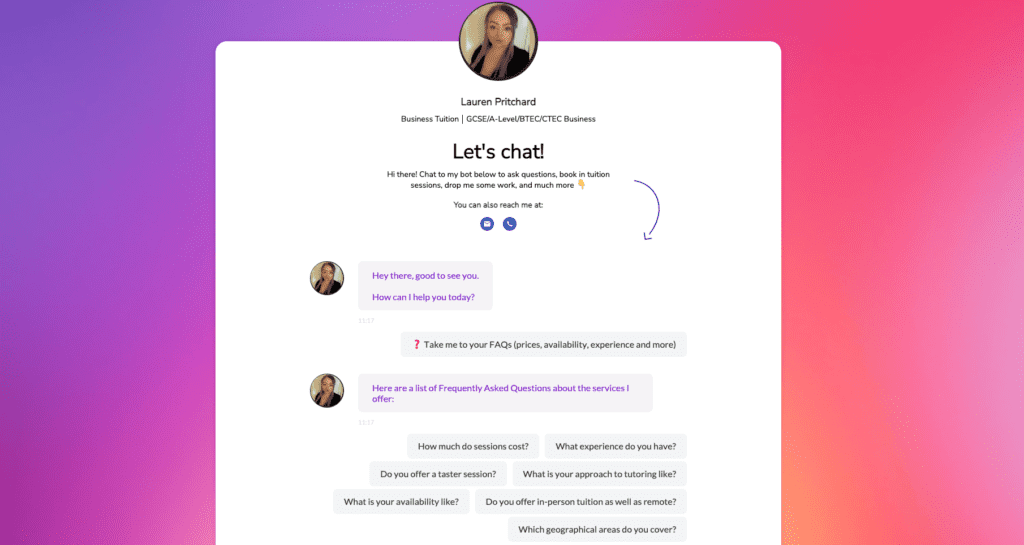 Purpose 3: Anything!
Seeing as you're completely free to decide the content of your own Sales Assistant, you can use it for just about anything – we love seeing the creative ways people have used the tool so far, (so get in touch if you've got a particularly cool use case that you think would be worth sharing, we would love to hear all about it!). Through the LSA, potential customers can ask for offers, for example, or learn more about your products or services. On the other hand, if recruitment is of particular interest for you, you can use Sales Assistant like a job application by asking the necessary questions to qualify and filter candidates, as well as providing information on the next steps of the recruitment process. Similarly, a salesperson or Account Executive can utilise it to answer FAQs, book meetings automatically, and even direct you to other pages.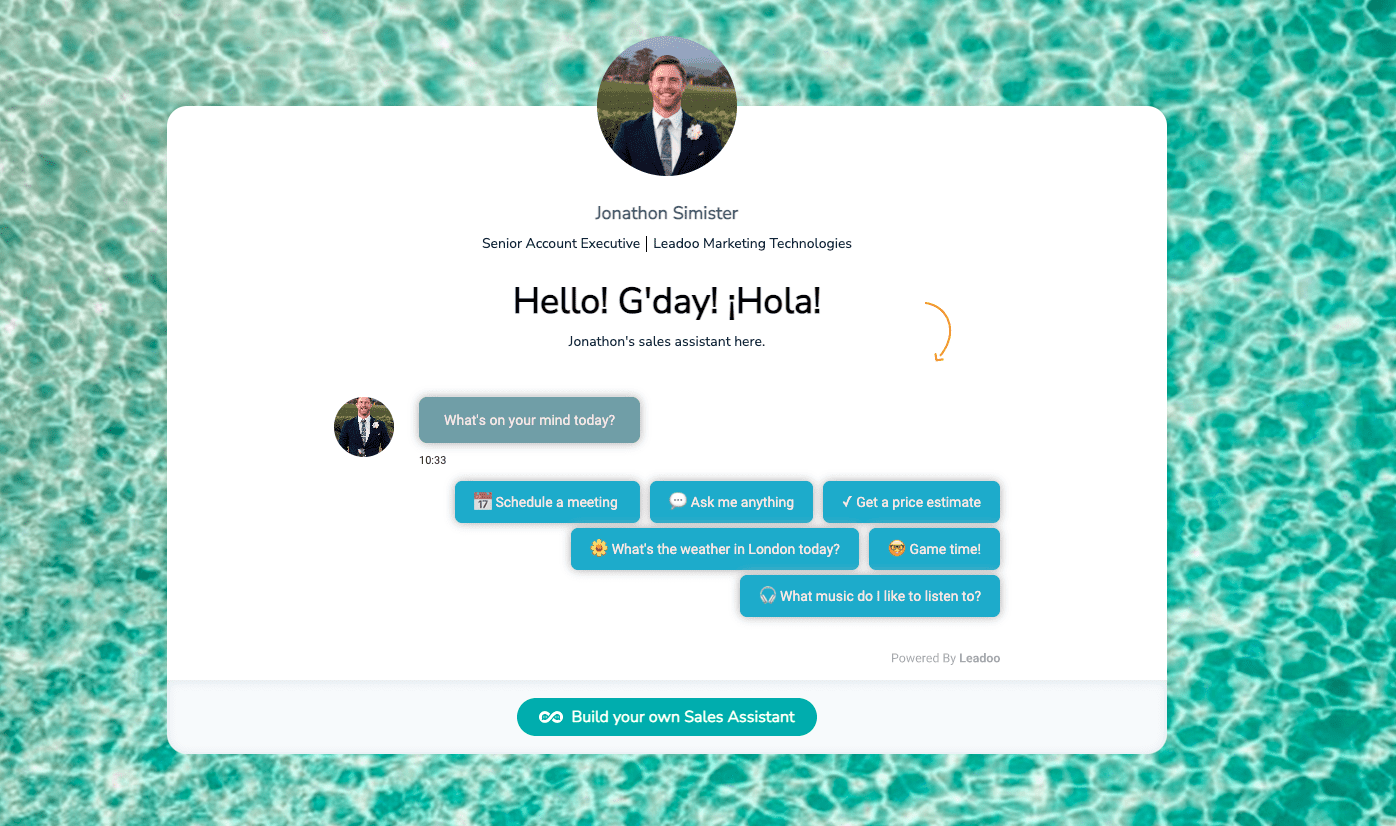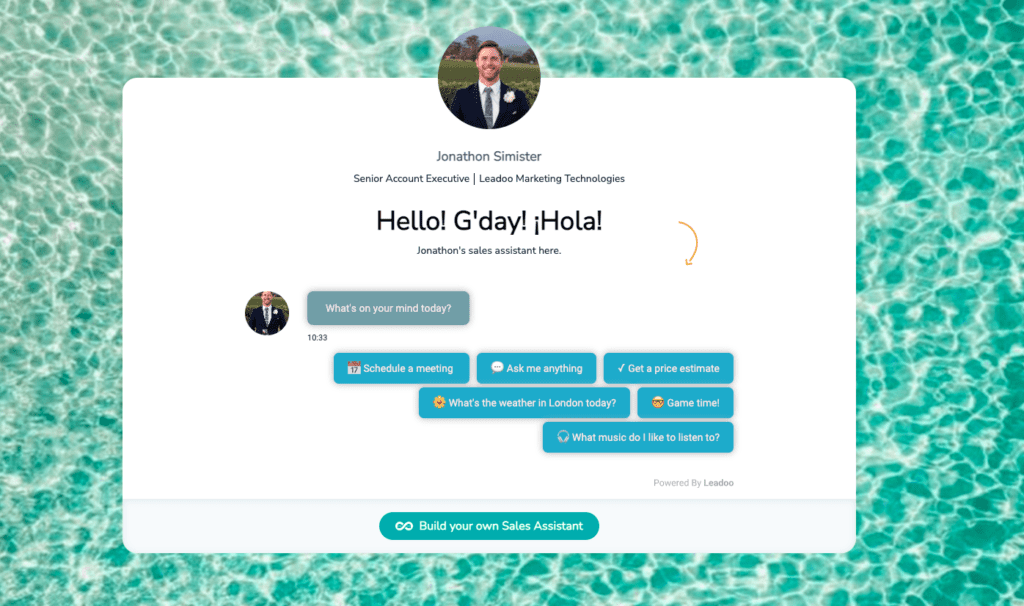 Leadoo Sales Assistant serves every person, from salesperson to real estate agent to recruiter, and beyond!
How about creation and implementation?
It can take a couple of months to onboard a human personal assistant, but you can have your Leadoo Sales Assistant set up and ready to roll in just a few minutes. With templated conversation pathways to get you started, you can put these in place to get your LSA up and running straight away, and then tailor the conversation to your needs at a later date. You'll also have access to the lead handling back-end of your bot, allowing you to manage leads and bookings with ease.
First impressions: profile information
Personalisation is the key in creating a really effective Sales Assistant (and also any other bot solution). LSA allows you to fully personalise your bot with a profile picture, basic information about you, and a short blurb to invite your readers to interact. You can even link to your social media profiles, website and phone, to provide your visitors with the ability to contact you in the way that suits them.
Here's a look at what adding basic information looks like.👇🏻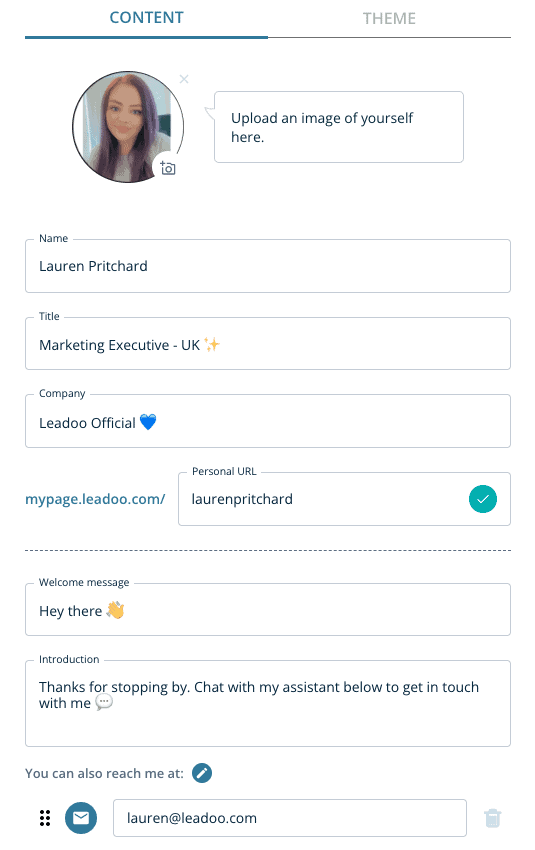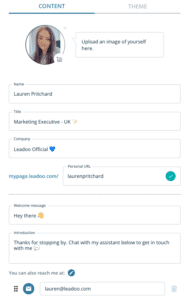 Then we move onto the greeting and introduction text – and this is your chance to shine. The greeting message displays in a large font, and it is usually the first thing that catches the eye, so make sure it's a bit of you.
That first impression is important, because it sets the mood for the whole conversation. In the introductory text, you can tell them a little more about yourself, or encourage the visitor to start a conversation, making it easy for you to use a tone appropriate for your personal or business brand. 
Content of the conversation 💬
Next, let's start thinking about content and the goal of each conversation. Do you want to build a sales pitch into the conversation, or just answer questions and offer a time to meet? Maybe you want to provide information or video content to allow your visitor to make a decision. All of these can be incredibly effective when starting to build a dialogue with your visitors. 
You should also bear in mind that, depending again on the tone of voice and personal branding, that the dialogue within the conversation itself should be conversational. Nobody wants to read something that's as dry as yesterday's lunch, so make it interesting. If the answers are rambling and robotic, the potential customer may lose interest quickly and decide against booking a meeting or finding out more. 
As mentioned, we have already created a few different dialogue templates that you can modify to suit your needs. Alternatively, if you're feeling extra spicy, you can create a completely new dialogue specifically for your needs. The templates on offer are: the Full Sales Assistant with everything included, an FAQ bot that provides an excellent framework for answering questions, or a Booking bot that can allow visitors to automatically book meetings to your calendar when you have synchronised your calendar with the Sales Assistant.
Once you have selected the template you want, you can press the "Edit bot" or "Change bot colours" button. This will take you to the bot builder, where you can edit the conversation further. The video below gives a brief on how to use the bot builder:
Please note that the bot builder is the same for all types of bot.
Edit the appearance
Once you're happy with the dialogue, the only thing left to do is modify the appearance. Nobody is expecting a Picasso masterpiece, but by tweaking the appearance you can give your Sales Assistant a little splash of personality. And best of all, it's super easy to do – just choose the wallpaper you want, edit the colour of the texts and the general colour scheme. How bold will you go?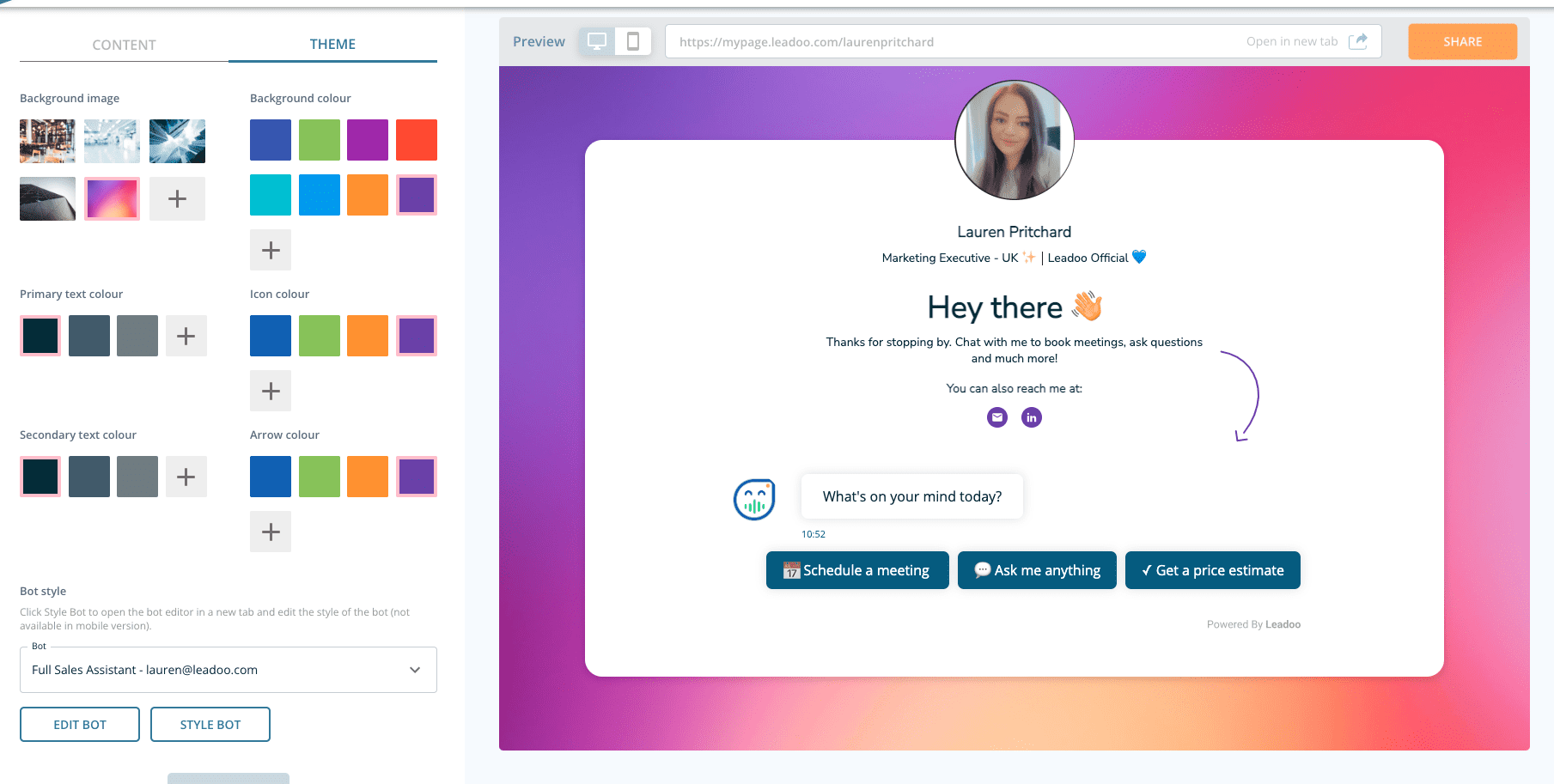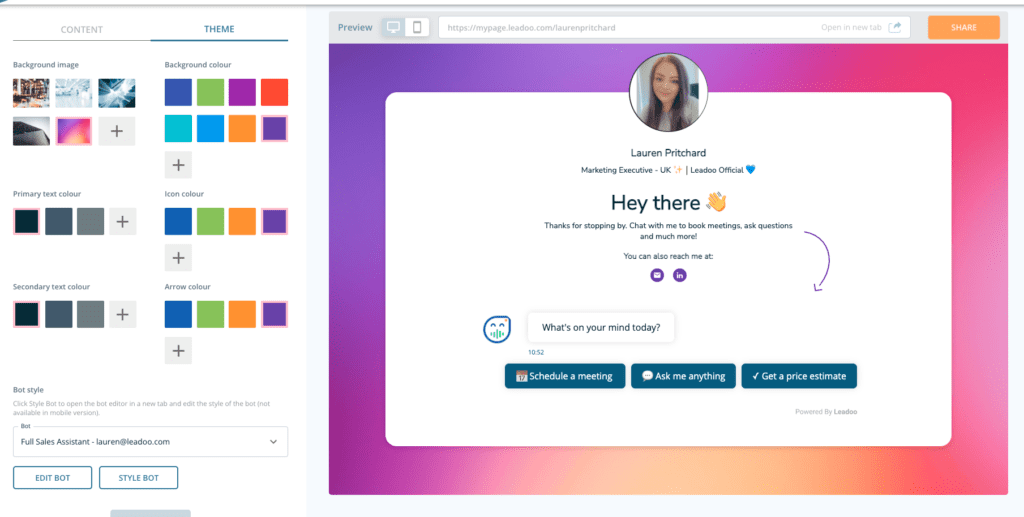 And that's not all! You can also modify the style via the bot builder (as shown above), where you can, for example, edit the font and change the colour of the speech bubbles.
Easy peasy, lemon squeezy 🍋
Easy does it – we've made it super simple for you to get your own Sales Assistant up and running so you can improve the experience for those you interact with, and can save yourself time in emailing Ten Email Tracy in Accounts about finding time for that finance meeting. Now, she can book herself straight onto your calendar, no questions asked. (Sorry about that.)
Possibly the best thing is that this is all free of charge. So why not create your own Sales Assistant today – the first step is to create a user account here 👇
Psst If you have any questions along the way, we're here to help – get in touch or chat to the bot below 😊