Conversion is the hottest topic on the lips of marketers at the moment – and for good reason. Understanding your customers, their behaviour, their needs and wants, and providing opportunities for them to engage with your site all increases the chances that they will convert. Marketers now can often be found carefully monitoring the hard conversion rate on their site, eager to feed their sales teams with the best quality leads.
Conversion Jargon 101
Before we start looking at the tools you can use to measure and increase conversions, we should probably cover some of the conversion basics. Nothing like everyone being on the same page before something is explained!
Conversion
A conversion is any desired action a visitor takes on your website. What this looks like is largely dependent on your business and its objectives, but typically this can be split into hard and soft conversions.
Hard conversions are the final click of the button when a customer requests a demo, or checks out their basket in a B2C situation. These are super important to businesses as these are the actions that directly contribute to the bottom line via revenue.
But soft conversions can be just as important – these are smaller actions customers take on your site, such as downloading content or subscribing to a newsletter. Whilst these actions don't link immediately to revenue, they do give us an excellent idea on customer intent (and therefore potential revenue in the future). Soft conversions provide us with the opportunity to understand, and be able to nurture, our prospects and encourage them towards making that final purchasing decision.
Conversion Rate
All the above can be measured using a simple calculation known as your conversion rate. Your conversion rate tells you what percentage of visitors are converting into leads on your website. It's calculated using the following formula:


If maths and percentages aren't your strong point, you can use our free Conversion Rate Calculator to work your conversion rate out. 
Conversion Rate Optimisation
Conversion rate optimisation means taking action to improve your conversion rate on your site.
There are many things you can do to optimise for conversion – adding engaging conversational elements (such as bots) instead of contact forms is a simple one that provides quick results and one which our teams will often look at as a first port of call when working with a new client.
Leadoo's Conversion Experts have the knowledge and experience of working with over 900 clients to achieve their conversion goals, and as part of all our packages we offer bespoke conversion optimisation sessions to our clients to ensure your solutions are always performing the best they can.
What tools are there available to measure conversions?
For us to even have some level of awareness of what conversions are, we must have got that metric from somewhere to begin with. To actually obtain the number, you can either calculate it yourself using the above calculation, plug it into our calculator above, or check your Google Analytics – Analytics provides you with the overall conversion rate of your website based on the information it has.
Of course, there are a host of competitor platforms that you can have a look at when thinking about conversions and optimising your site. We're not the only conversion platform available, and it's only fair to give an honourable mention to those we share the space with. So we created some handy downloadable guides to help you choose. Check out our Conversion Tools comparison (where we compare Leadoo against Outgrow and ConvertFlow), or our Leadoo v Hubspot comparison for an overview of how these platforms hold up against one another.
A caveat, or perhaps a TL;DR, the other conversion platforms have limited analytics capabilities and don't provide the depth of analytics that Leadoo does. We'll go right ahead and explain what we mean by that…
The Gold Standard: Leadoo's Conversion Insights
Identify – Activate – Convert – Understand
Leadoo Conversion Insights provides an in-depth dashboard with different sections to allow you to understand how visitors behave on your site, to identify who they are, and to see how your current conversion solutions are performing so that you can continuously optimise.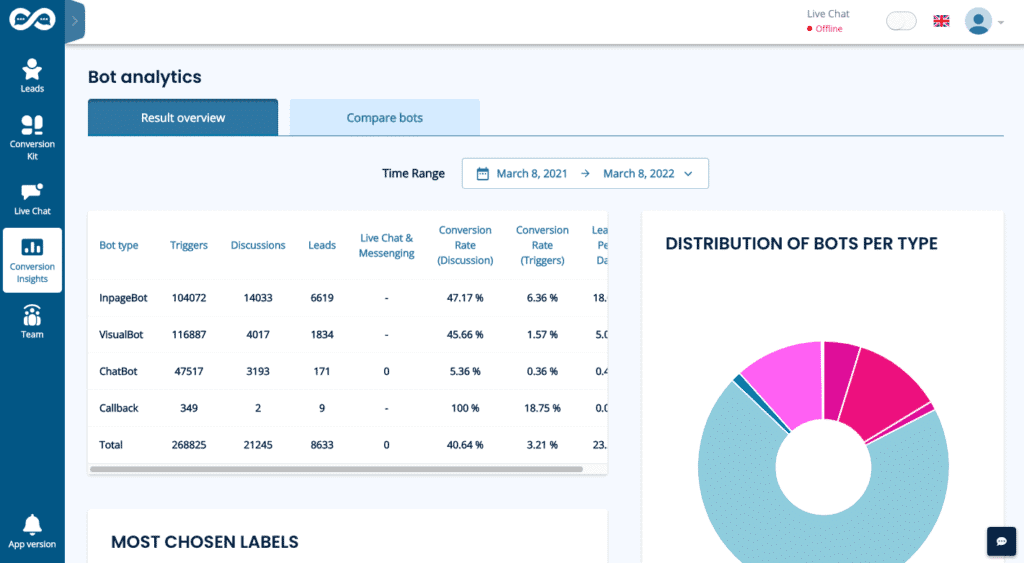 Main Features
Visitor Identification
Only 2% of your visitors convert, on average. That's taking into account only hard conversions. There are plenty of prospects who visit your site who aren't necessarily ready to purchase – but it's likely they will be at some point in the near future. Armed with the right information, you can nurture them along the path to hard conversion, and it's helpful to start with knowing who each visitor is so you can see their individual behaviour when they're on your site. Leadoo identifies both companies and individuals, and provides information such as company headcount, revenue, industry, and more.
It's also handy to be able to see when competitors are on your site – what they're looking at and how often they check.
Visitor Tracking
Not only does the Leadoo platform show you exactly who is visiting, but it shows you what they're doing whilst they're on your site. You can see which pages they visit, for how long, and which elements of your site they interacted with. If they interact with Leadoo's bot solutions, this conversation is also available in each visitor's profile, so you can get a comprehensive overview of their needs and see how they have qualified so far. Your sales team can then be proactive in approaching prospects based on the information gained about their behaviour, along with any interactions with bots on the site.
Conversion Dashboard
All the most important metrics related to conversions on your website in one handy, user-friendly dashboard. You can see your bot headline statistics, including the number of triggers, discussions and conversions, and Live Chat statistics, along with your visitor identification and tracking dashboards.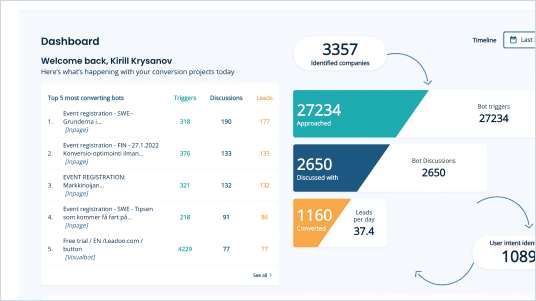 Conversation-level analytics
A stand-out feature within the conversion space, conversation-level analytics allow you to analyse the performance of each bot and its discussion pathways down to each response. Use our heat-mapping tool to see, at a glance, where prospects drop off or exit each conversation, and see which responses gather the most clicks, so you can make changes to the whole pathway to suit the needs of your customers. Of course, our Conversion Experts are always on hand to advise and help out, and within your optimisation sessions they will advise on the things you (and they) can do to improve your results going forward.
Key Takeaway
You can make do with monitoring conversions from already-available sources such as Google Analytics, but these only give you the metric and no further insight. You don't get related metrics either, nor the ability to see conversation-level analytics on the buyer's journey. Without these things, it's really difficult to optimise a site for conversion.
There are also other platforms available that provide some of the ability to measure and impact conversions, but again, without the full spectrum of tools at your disposal, your ability to focus on increasing conversions is limited.
If you're serious about focusing on conversions as a part of your marketing and sales strategies, get in touch with us today, or chat to the bot below, to see how we can help you gain deep insights into your customers and their behaviour.