ICE InsureTech, part of the Acturis Group, provides cloud-native Policy Administration and Claims Management software to the insurance market. 
So it operates in a niche market where sales cycles can take over a year. Yet that hasn't stopped Leadoo tripling quarterly trackable leads through the website within the first year of working with ICE. 
We sat down with Lydia Balment, Digital Marketer at ICE InsureTech, and Gavin Greer, Customer Success Manager at Leadoo to unpack how they've gotten to this point, and how Leadoo has changed their approach to lead generation. 
What was ICE InsureTech using for onsite lead generation before Leadoo? 🔍
Historically, ICE had used Lead Forensics as a company identification tool, but as Lydia explains: "we were struggling to gain insights into the type of people coming onto the site and their activity".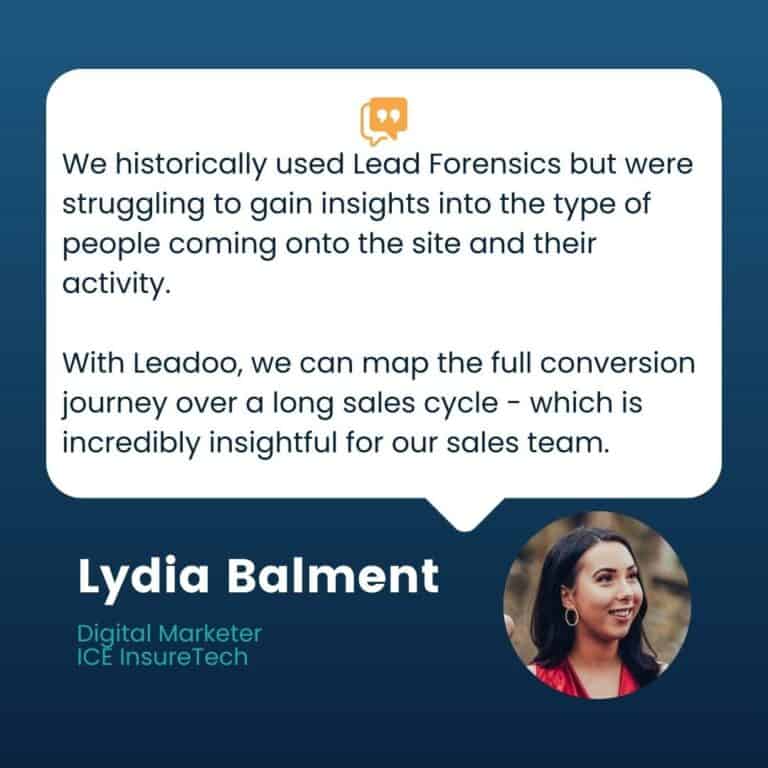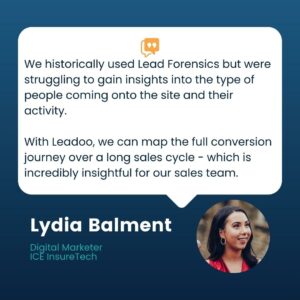 "When we accelerated our marketing strategy in October 2022, our priority was increasing leads through the website, but also to increase understanding of our users' buying journey. Especially when we maintain contact within the sales journey for sometimes up to 2 years depending on the initiative."
"That's where Leadoo comes in. It's incredibly insightful for our sales team to be able to map the full user journey over that timeframe. If people from a specific company have looked at different press releases, case studies or solutions pages for example. We really struggled with this before, but now we can, especially with Leadoo's new Website Analytics".
How does Leadoo Website Analytics benefit ICE InsureTech? 📊
Leadoo and ICE InsureTech began working together in December 2022, but just two full quarters later, Leadoo Website Analytics is already their go-to reporting system. As Lydia explains:
"I definitely find the analytics is giving us more reliable and interesting metrics now. Every quarter now we report on source insights and topline traffic metrics from Leadoo, rather than GA4".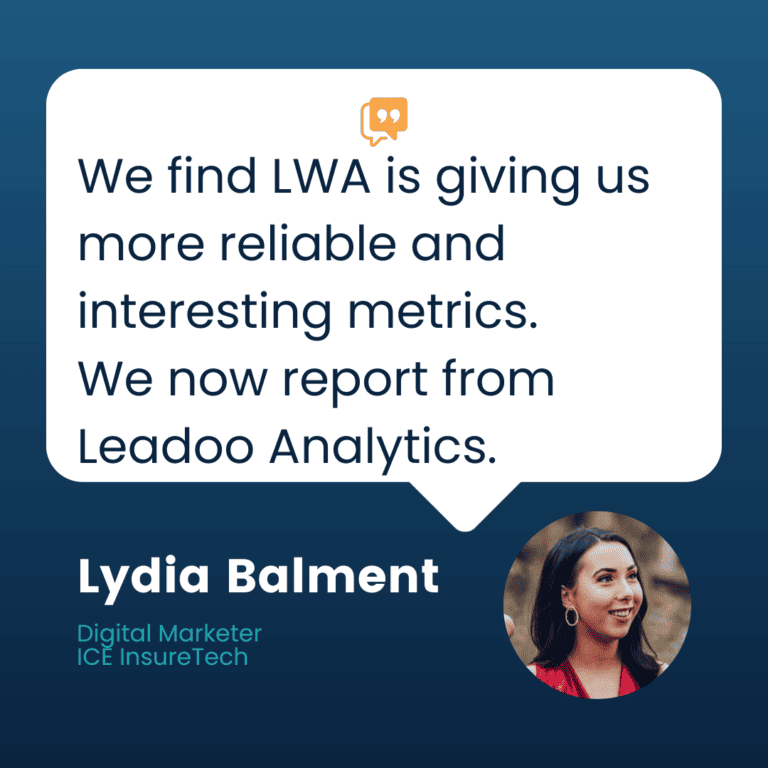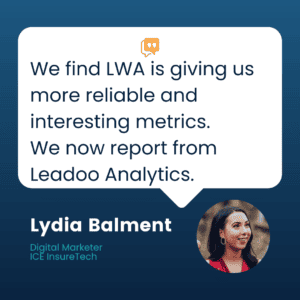 How is Leadoo helping to increase ICE's Conversion Rates? 📈
Previously, ICE relied on standard Contact Us forms and buttons to accumulate website leads. With Leadoo they now have striking In-Page tools that integrate seamlessly with existing content, while providing lead capture opportunities.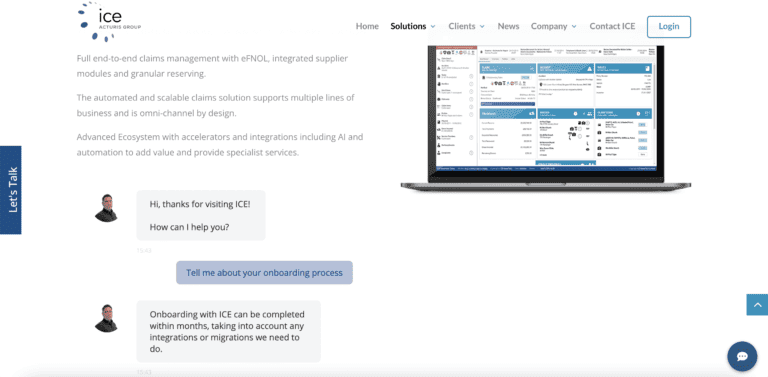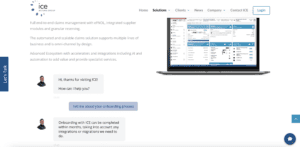 Whether it's the qualifying visual bot halfway down their Homepage, the visual or separate chatbots on Contact Us, or the dynamic in-page tools as you scroll down Solution pages, these bots on core pages direct users to conversion points far more quickly than before.
This is most notably shown through visual bot performance. Even though they are on high-traffic pages like the Homepage, ICE's visual bots have a Discussion-to-Lead rate of 18%. This is higher than average for Software and Professional Services companies (see our Conversion Crunch 800 report).
For Gavin it shows that "visitors are clearly responding to this type of content, with nearly 1 in 5 engagements resulting in a viable lead. Being able to tie Website Analytics data here is particularly valuable for showing potential future bot placements that can continue to increase conversions."
All this explains why in the first half of 2023 – the first 6 months of working with Leadoo – ICE's quarterly leads through the website were 3 times higher than the 2022 average. 
This is entirely attributable to conversion rate increases. As traffic levels have stayed fairly stable in this time. Comparing Q1 to Q2 in 2023, homepage visits on ICE were actually down 16% due to a variety of seasonal factors. Yet overall leads through the sites doubled, thanks to noticeably more leads from the homepage bots. Quarter-on-quarter, the site's overall conversion rate rose by 135%.
About this significant rise, Lydia says: "The noticeable increase in leads and conversion rates is excellent, but specific insights are also really valuable to us. Recently I saw through bot insights that staff from a very large multinational consulting firm had interacted with them. This kind of targeted information is huge for our sales team and something we wouldn't have known before".
In just over half a year of working together, ICE have successfully identified around 1,500 companies visiting their website through Leadoo's Company Identification tool.
For Gavin, "what's been great to see is the immediate impact of having multiple conversion points on the site that are content specific. While ICE's traffic levels have stayed fairly stable, we've seen this significant uplift in leads from what they were previously getting."
Working Together to Meet Objectives 🤝
Lydia and ICE's marketing strategy had a clear goal of increasing leads through the website, while better mapping out individual behavioral and buying journeys.
Leadoo is perfect-fit for these kind of objectives, but as Gavin explains, it does require ongoing optimisation and partnership to achieve these kind of results:

"It's been a real pleasure working with Lydia and ICE. Our regular review calls have been a great chance to look back on what's been working and how we can improve, as well as showing her all the features in the platform, which she's been keen to learn! She's embraced any optimisation suggestions and we've seen results quickly from relatively small tweaks and testing."
For Lydia, the nature of the product and on-site tools is also a huge positive in addition to the performance increases. She explains:

"For me what's great is that even though they drive more conversions, the visual and in-page bots aren't actually bots. They are immersive tools that sit within our existing pages. So we find users interact with them really easily, but then you layer on the insights we get from Analytics and Company ID."

"Seeing that someone from a major insurer has come onto our site, and that we can immediately engage them to ask what they're looking for solutions in, is inherently interesting and valuable. This layering of insights is how Leadoo has helped fundamentally change lead generation through our website."
If you'd like to see how we can help you improve conversions and qualify visitors on your site, then get in touch using the bot below to get started 👇