Universal Robots (UR) are a global manufacturer of collaborative robots (or cobots), which enable companies of all sizes to take advantage of robotic automation. So high-tech, high-value, and highly effective products. But as you can imagine, they are a very considered purchase for many businesses.
We sat down with Sabine Vidrike, Global Lead Management Strategist at UR, to discuss how Leadoo has helped drive more of those considered purchases. And how within a year, it has become a global tool in Sabine's Lead Acquisition strategy.
Why did Universal Robots need a Conversational Marketing platform? 💬

With a purchase as considered and potentially complex as a robot, Sabine realised that conversational chatbots – particularly on key URLs like product pages – could achieve two core benefits:
Give a helping hand to

potential customers to find information for themselves, and help them through their buying journeys
Qualify potential customers and pass key info

about them to UR's sales & support teams, ensuring leads through the site are legitimate MQLs
Sabine explains that "I looked at many different chatbot and conversational marketing options. Established providers like Drift or Intercom were more impersonal, and I knew I would struggle to get the onboarding support I needed. What drew me to Leadoo was the clear customer support and success plans laid out within the sales process."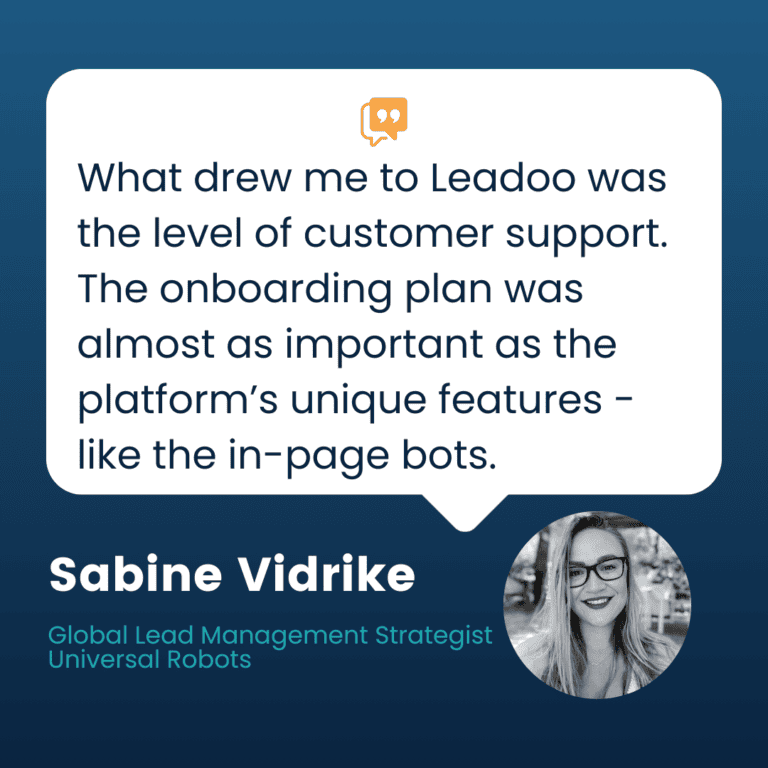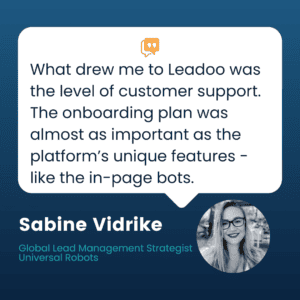 "As someone who was going to be responsible for creating new bots and dynamic content internally, that level of guaranteed onboarding was almost as important as the platform's unique features that we've made such wide use of – like the in-page bots".
How are UR using Leadoo bots one year later? 🤖

All that early onboarding and support clearly paid off, because Sabine became a Leadoo power-user within Universal Robots extremely quickly.

With Leadoo's help, she developed interactive chatbots on high-traffic top-nav pages like the Home or About pages, with the goal of immediately sign-posting as many users as possible. But the real stroke of genius was in the chatbot branding. The wonderfully named 'ArthUR' now assists you with any question you have! Whether it's technical support, talking to a salesperson, or even applying for a job at UR!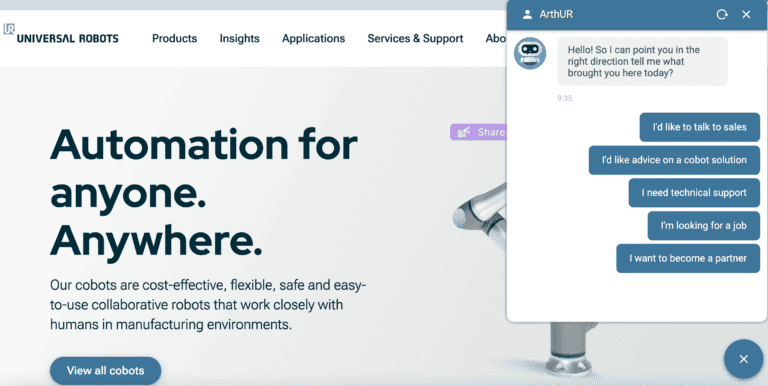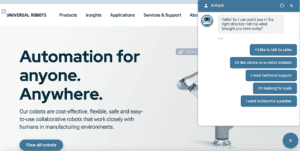 With ArthUR on all high-traffic pages, Sabine and UR were aiming for a discussion-to-lead rate of 10% from all Leadoo bots. But in 2023, they have averaged close to double this. A discussion-to-lead conversion rate of 17% across all bots.
This has been aided by very good use of in-page bots on product pages. As you scroll through any UR product page, underneath the technical specs and immediate CTAs, you'll be greeted organically by an in-page version of ArthUR. This instantly allows you to see the product in action, check if it's the right product for you, or ask technical questions that support & sales teams will proactively know is specifically about that product.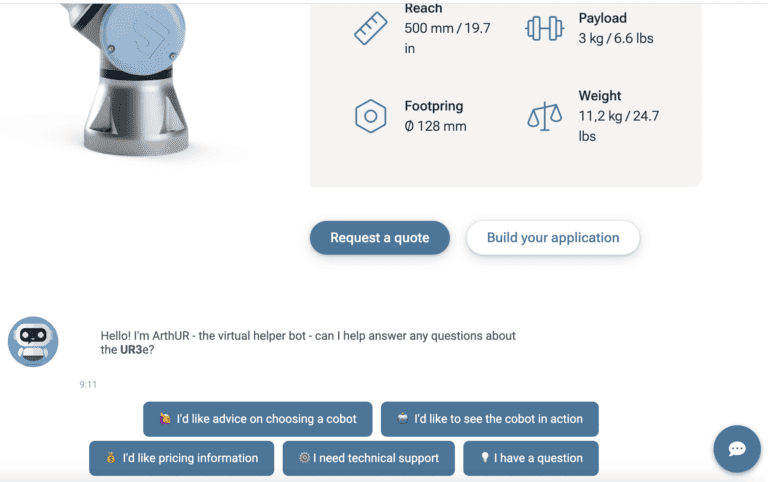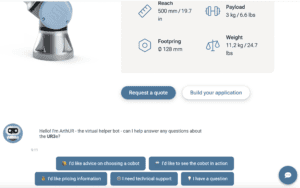 As Sabine explains: "the in-page bots have been a major factor in lead generation. From Leadoo's Analytics and Attribution models, we know that 84 cobots have been sold to date – where the bots were the last pre-sale touchpoint."
"For such high-value items, the bots have become an important sales tool in and of themselves. And they have the added benefit of providing our sales team with key information about customers. We pass info such as user name, company, country, contact details and bot responses directly into our CRM from Leadoo via integration."
Over time, the bots have also become an integral part of UX on the site. In 2023 to date, the bots have received 69% more discussions than the corresponding period in 2022. That came despite an 11% decrease in overall site users.
Meaning the rate at which users engage with the bots is up 92% year-on-year. And overall conversion rate through the bots has increased 21% year-on-year.
This widespread adoption of the bots by users shows that while they are helping drive sales and efficiencies, they are also a key factor in Sabine's goal of delivering enhanced customer experience onsite.

Going Universal 🌍

All these bot success stories have meant that Leadoo is now going global within Universal Robots. Having initially started on UR's English language websites, Sabine has recently finished rolling localised and translated versions of the bots across 11 different languages!
As Gavin Greer, UR's Customer Success Manager explains: "we pride ourselves on making our bots and insights as easy to use as possible. But even so, Sabine and Universal Robots have really run with the platform to an impressive level."
"ArthUR is just ingenious. Both in its branding and in how UR have used it onsite. It shows not just how effective signposting tools like this can be on conversion rate. But also how creative and effective implementation is key to maximising conversion rates – even with conversion tools in play."
"Sabine has been an absolute pleasure to work with, and her roll-out of the bot across 11 other languages is a testament to how determined she is to continuous improvement. And how quickly she has become a Leadoo power-user. We can't wait to help get the most of 12 ArthURs all around the world!"