The word 'chatbot' has a way of raising feelings and questions, even hair. Having a conversational element on the company website is nice and all. But especially for the results-oriented marketer or salesperson, one question rises above all: Are chatbots any good at increasing website conversions? And – if yes – what kind of results can you get?
TL;DR
Yes. Data from 400 companies indicates that chatbots are an effective way to increase website conversion rates. Our research shows that chatbots can increase website conversion rate on average by 10-100%, depending on the company's industry. Keep reading for a more complete answer, or skip the text and download our full report with all the answers.
Chatbot conversion data from 400 companies in 25 industries says it all
The concern about the results potential of chatbots is valid. We get asked about this all the time, so the natural thing to do was go and find some hard evidence of the effects of chatbots on website conversion rates.
The foundation of our mini research is a data set with chatbot conversion data from 400 companies (Leadoo users) over a one year period. These companies represent a range of 25 broadly defined industry categories. They use chatbots for converting sales and marketing leads, handling online customer service, attracting job candidates, and more.
Get the report
Discover chatbot conversion rates for your industry.
Download

How to track and measure chatbot performance in the first place?
Three key data points should be tracked when considering the conversion effectiveness of chatbots. These data points are:
• Chatbot triggers:How many times website visitors encountered the chatbot. You can think of this just about the same way as impressions for ads. All impressions are not actual views, and the same goes for triggers.
• Bot conversations: How many times website visitors initiated a discussion with the chatbot. There's no fluff here – a conversation is recorded after the user's first interaction with the bot.
• Converted leads: How many people converted into a lead from the discussion. That is, people who submitted their information or completed another defined action. The criteria for a lead vary by chatbot use case. In many cases, a conversion is recorded when a user gives their name, phone number and/or email address, and company name.
By tracking these three metrics, you can get a good understanding of a chatbot's performance. It's a mini funnel, where triggers should lead to conversations and further on into conversions. Looking at chatbots this way makes it easy to analyze the performance and pinpoint any issues.
For example, a chatbot could have thousands of triggers every week, but only few conversations. This clearly indicates that the bot is not well-placed on the website, or that the opening line is not relevant to the users. Or both.
In another case, people may start chatting with a bot at a high rate, but they just don't convert. This points to problems in conversation design and flow. The bot could be asking for conversion too bluntly, the conversation could be too long, or questions could be presented in the wrong order for users to stay motivated.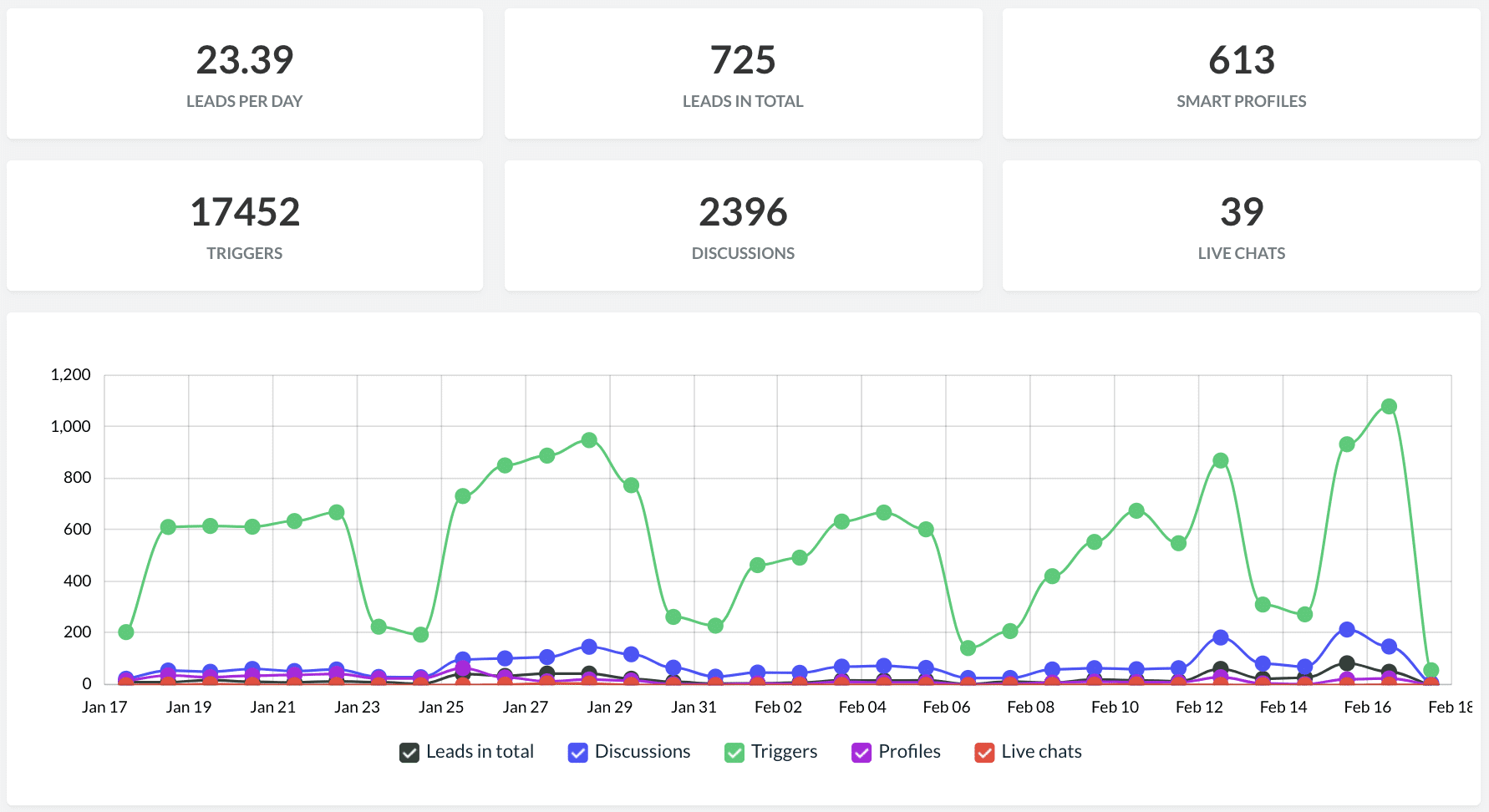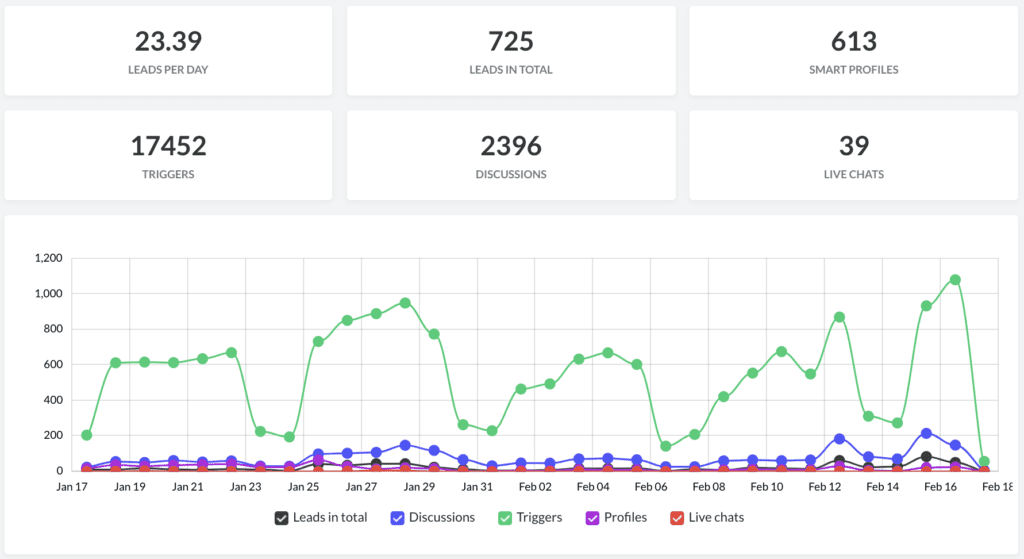 How much do chatbots increase website conversion rates
This will always be a tricky question, and the easy way out would be to say it depends. As mentioned above, chatbots are used for a whole range of purposes. On top of that, chatbot type, placement, conversation quality and website content all affect the results. And that's just to name a few variables.
However, our study of 400 companies provides encouraging (and a lot more concrete) answers. The average conversion rate increment achieved with chatbots lands between 10-100% depending on industry. This increase in overall website conversion rate is calculated on top of a 2% base conversion rate, which includes f.i. conversions from traditional forms.
So, you may be able to as much as double the conversion rate of your website with chatbots! At the other end of the spectrum, you could be looking at a more modest 10% increase.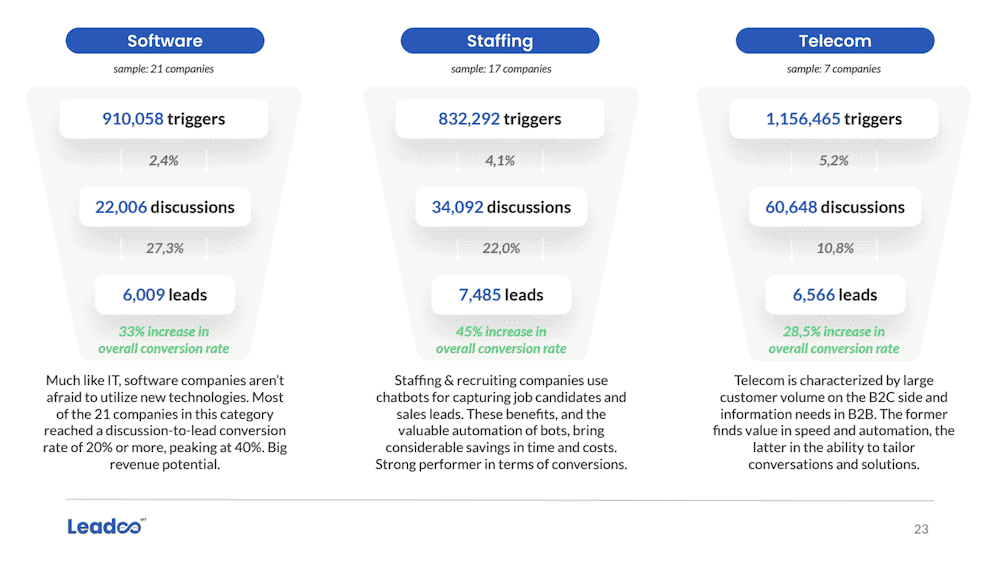 The key observation is that chatbots increase website conversion across industries. It's clear that many customers find the conversational elements engaging. At the same time,  buyers value the ease at which chatbots help them move forward on the buyer's journey. 
Whilst our report didn't track the value of conversions, it's safe to say that each chatbot conversion could mean considerable revenue, especially in B2B. Also, chatbot benefits aren't limited to full-on conversions. Every bot discussion had on a website strengthens the bond between customer and firm, and improves the overall customer experience.
Which industries benefit from chatbots?
Our report lists industry specific chatbot conversion rates for 25 categories. These include Construction, Energy, Consulting, Marketing, Software, Staffing, Travel, IT-Services and more. Results vary by industry and company, and it is difficult to predict when chatbots will perform best. 
According to the data, some of the high-performing industries are found in consumer products and solutions (non-FMCG), others in different B2B-services. Key to solid chatbot performance is that the buying (or sales, depending on your perspective) process includes a natural lead or inquiry stage. This is the case in many sectors where customers and the vendor need to exchange detailed information before a purchase is made.
It is impossible to provide an absolute truth about what industry will achieve the biggest results with chatbots. You can get a good idea of your expected results by downloading our free report. It includes chatbot conversion rates for each of the 25 industries in the data set.
Get the report
Discover chatbot conversion rates for your industry.
Download

Getting started: How to implement chatbots and improve conversion rates
Ok. Maybe all this data talk got you a teeny bit interested in getting some bots chatting on your website. So, how to get started with chatbots and how to set yourself up for success?
First, you'll want to be clear about the purpose of chatbots on your site, as well as define the targets and target customers you're aiming for. Perhaps you're looking for sales leads and contact requests, or maybe your focus is on customer service or recruitment. Chatbots are extremely versatile – you can find inspiration for lead gen with chatbots in this article.
After deciding on your business case and targets, it's all about building kick-ass chatbot conversations that provide value to site visitors and nudge them towards conversion. For this, you'll need to know what your customers value and find interesting. You want to match the look & feel of chatbots with expectations towards your brand. And finally, you have to consider your own needs in terms of what information you require from leads, and so on.
Getting the bots on your website quickly is a good idea, because then you will be collecting data about what works and what doesn't. When your bots are on the site, you'll want to align your teams around the lead process, so no incoming lead or contact request slips by. Also, by integrating bots with your marketing, sales and service stacks, you can benefit even more from the automation of chatbots.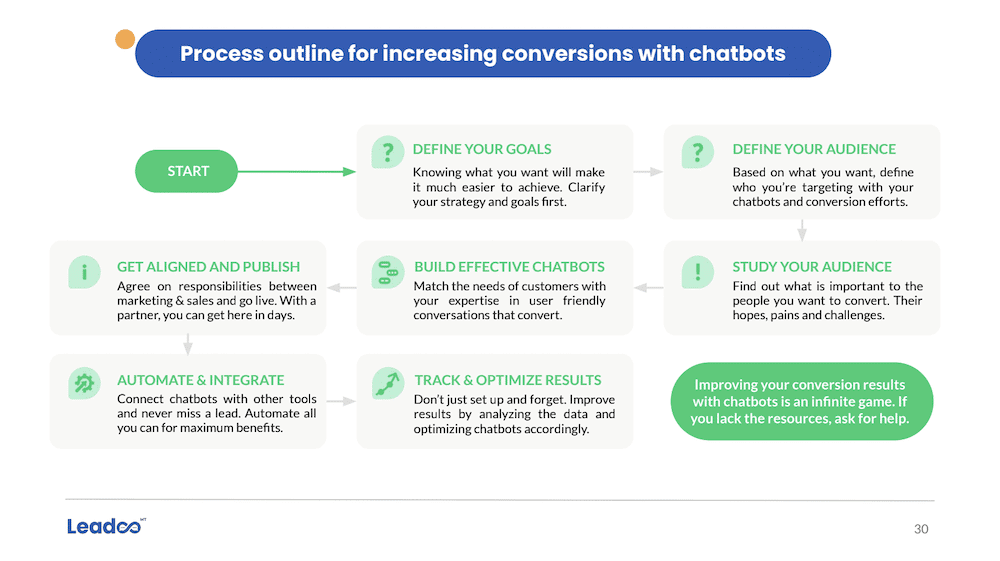 You can get started with chatbots very quickly, and professionally built bots can stay relevant and almost maintenance free for months or even a full year.
However, we suggest you consider chatbots as an ongoing experiment. Check up on the performance and optimize every now and then. This is where easy-to-use analytics tools come in handy. If you can't become or recruit a chatbot mastermind, your best bet is to team up with a partner that will handle the optimization work for you.
We've listed some helpful tips for getting started and succeeding with chatbots. Find them in the chatbot conversion report together with industry specific conversion data.
Alrighty then! You came here to find out if chatbots are any good for converting leads, but hopefully learned something else, too. To understand the results potential of chatbots even better, download our full report right below this – including conversion data from 400 companies in 25 industries. 
If you have any questions about the report, just get in touch and we'll be happy to help.