Leadoo just got bigger and better in every possible way
Founded in 2018, we've become known as the fastest-growing martech company in the Nordics. The beginning of our story has starred different types of chatbots. Now, Leadoo is growing to a complete platform – or as we like to call it – the only lead-driven marketing platform.
Leading Finnish marketing media Markkinointi & Mainonta published an interview with Leadoo Marketing Technologies' CMO Santtu Kottila, where he explains more about Leadoo's focus on lead generation. Our Finnish-speaking audience can read the article for free here.
Psst, download our free guides for choosing the best marketing platform at the end of this post.
Transformation from a chatbot provider to a marketing platform
The product release expands Leadoo from chatbots to covering a broader spectrum of vital marketing technology features. At the same time, launch of the supercharged Leadoo marketing platform puts the firm head-to-head against martech giants like HubSpot, Intercom and Drift.
CMO Santtu Kottila is not afraid to say things the way they are:
"We're past competing for the district championship – it's time to go after the really big players.

In the Finnish culture, it's all too common to avoid making bold statements. To me, saying goals this high out loud is actually liberating.

After acknowledging what we're about to do, all there is left is to go and do it."

– CMO, Santtu Kottila
Big investments in technology and expertise
It's clear that if we want to be a considerable alternative to more established martech tools, product tech and the team's expertise need to be world-class. During the past months, the tech team has grown substantially to make sure that the product can answer to increasingly demanding customer needs. We've now rolled out the first big batch of features, including:
Messaging features that allow companies to stay connected to prospects on and off their website, and serve customers when and where they want to be served.
Advertising technology that takes the interaction of chatbots anywhere on the internet by incorporating it into display ads.
Website visitor tracking and identification features that collect user-level data in one place and let Leadoo customers identify their hottest prospects.
Improved analytics features that make it easy to draw actionable insights and to make plain better decisions.
Naturally, we didn't forget where it all started! Leadoo Bots have been updated to the 2020s by making them even sleeker than before and by pushing the strain on website performance probably lower than anyone else.
Stepping up lead generation
These added features were built to customers to help them go truly lead-driven and achieve better marketing & sales results.
"The number one philosophy for Leadoo is that results always come first. We want to help marketers become more successful and sales teams achieve better results.

At the same time, we would love to see these two join forces and push for shared goals with the help of our product."
Fundamental shifts in consumer behaviour and communication habits have also shaped the platform. Leadoo lets companies connect with their (current and future) customers flexibly and on the customers' terms.
For example, added integrations to WhatsApp and Facebook Messenger improve customer service and allow companies to convert leads who are constantly on the go.
Other mentioned features help Leadoo customers make the most of their lead generation and conversion strategy. Each piece of the platform is designed to support the rest, so Leadoo users can get better results consistently.
Emphasizing the human factor
Leadoo's service aspect remains a key differentiator and part of the value promise. Excellent customer happiness is a top priority, so all paid Leadoo plans include personalized support from our team of conversion specialists.
"Our service and support are something we're very proud of. Our customers have the very best lead generation experts at their disposal.

We also want to emphasize the human aspect in lead generation.

Our goal is to help Leadoo users convert a shitload of leads, but do it one conversation at a time."

– CMO, Santtu Kottila
See how Leadoo compares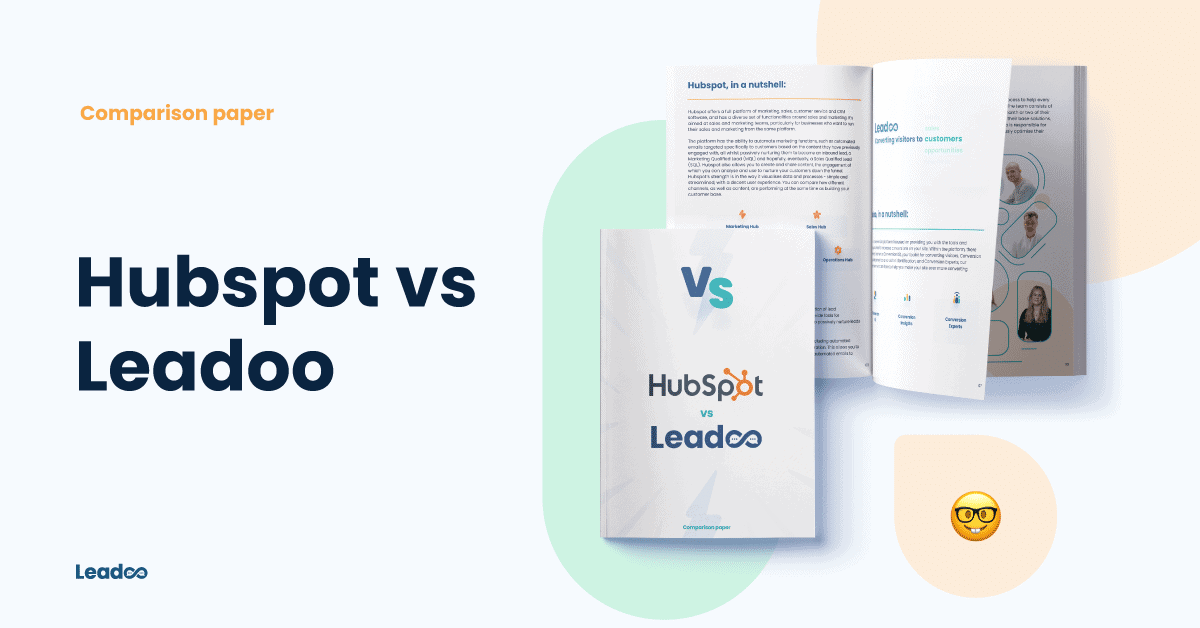 Leadoo vs Hubspot comparison
Comparison of conversion platform vs marketing automation pioneer When trying to choose the best software…
Download
---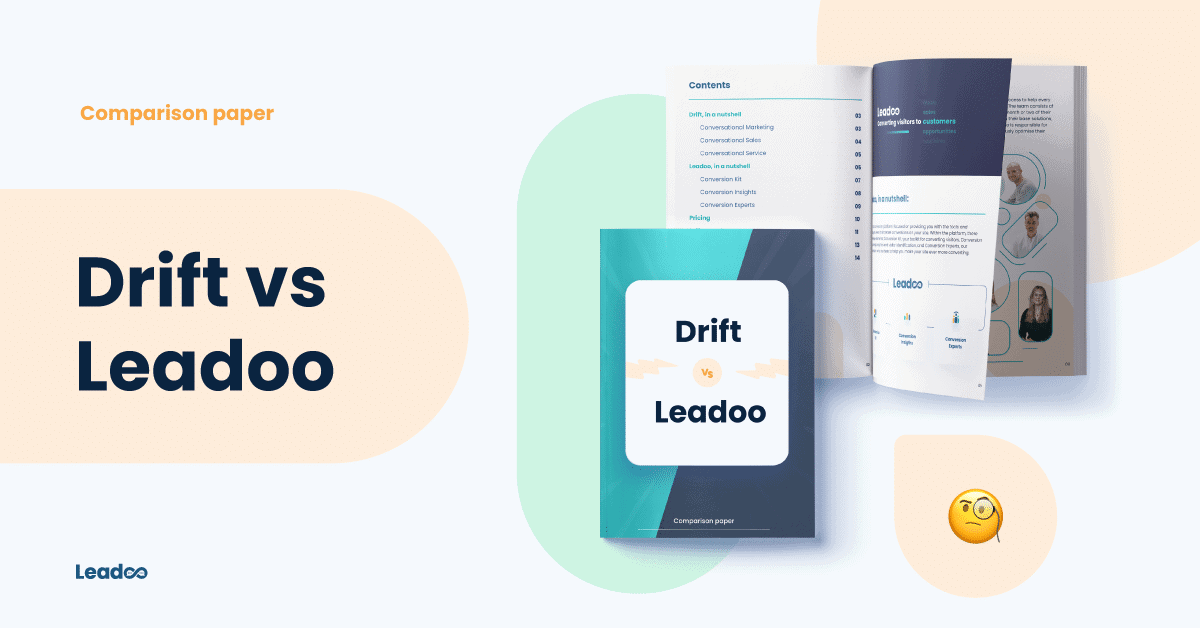 Drift v Leadoo: A Comparison Guide
Drift v Leadoo: A Comparison Guide When trying to choose the best software to go…
Download
---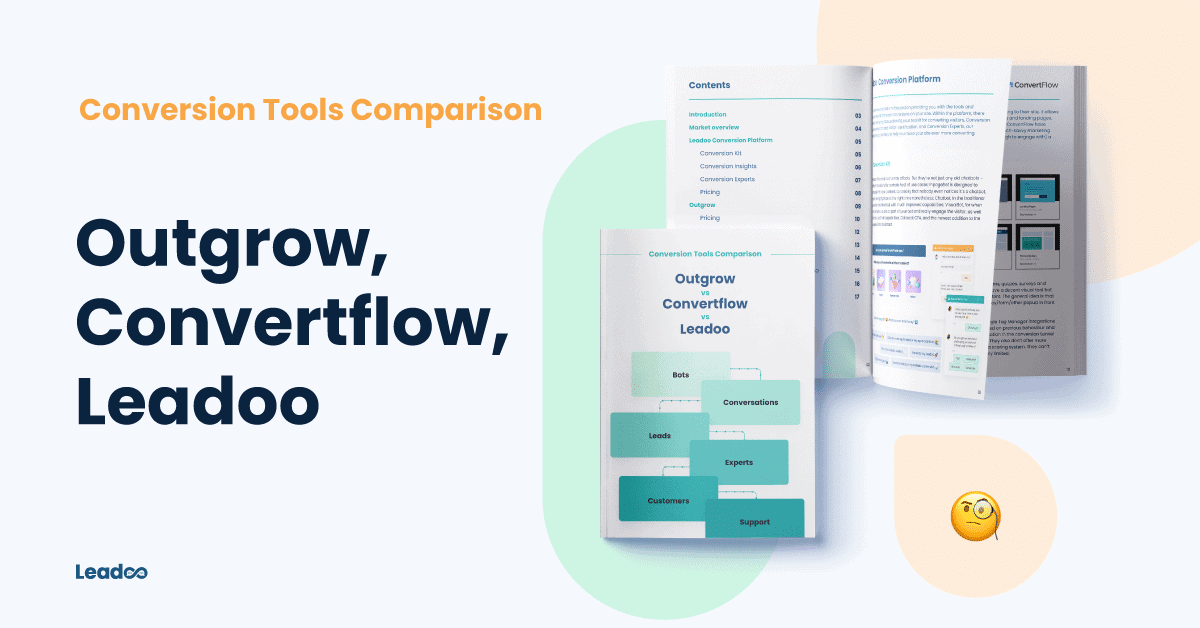 Conversion Tools comparison: Leadoo v Outgrow v ConvertFlow
Comparison of conversion tools: Leadoo v Outgrow v ConvertFlow When trying to choose the best…
Download
---